22 Jun 2021
Automation is the key to supporting and expanding independent community pharmacies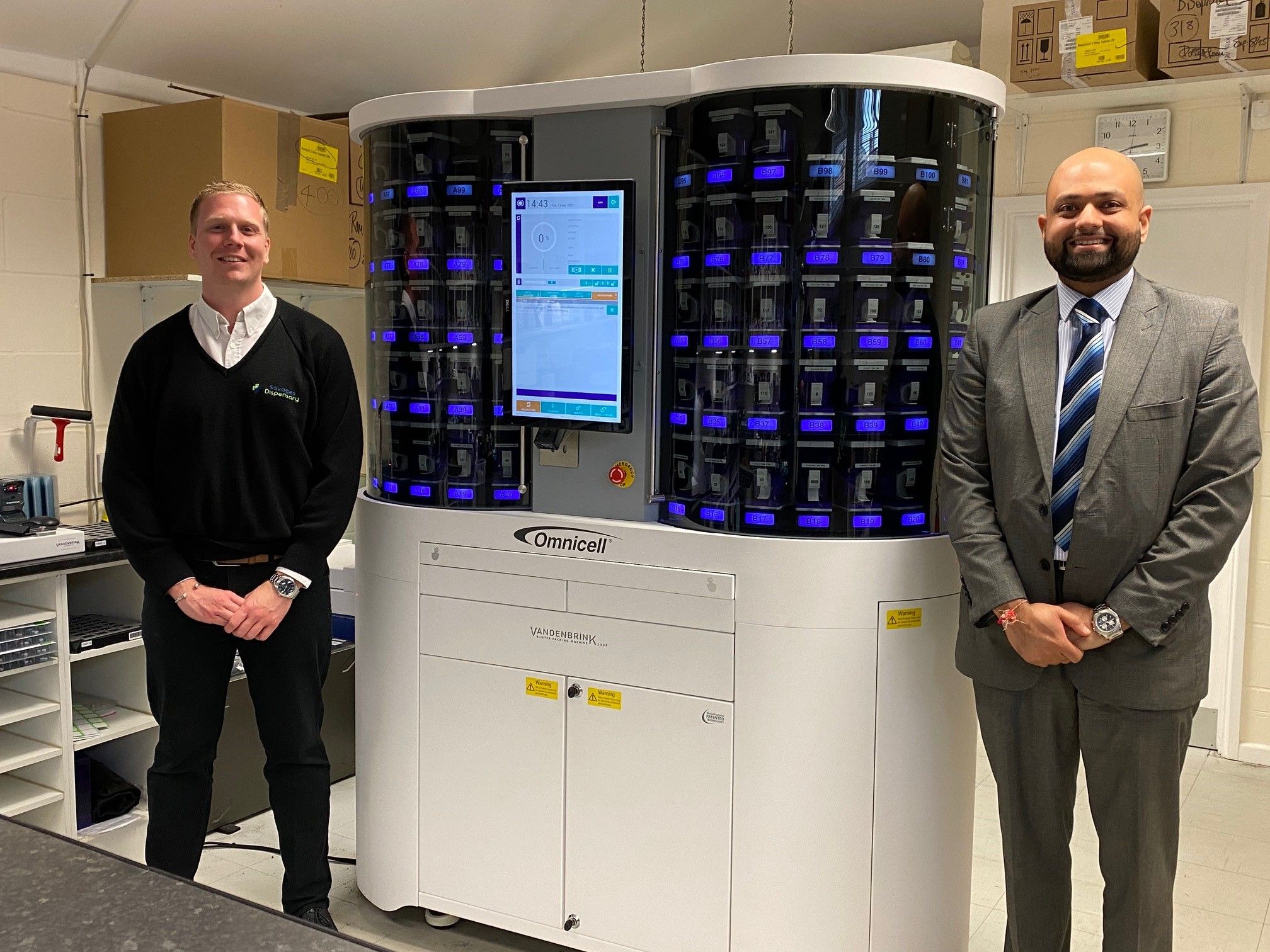 One year on from installing the Omnicell® VBM 200F pharmacy blister card packaging machine we have seen the growth of the business and, most importantly, enhanced patient care. In terms of time management, staff resources and efficiencies, the technology has become indispensable to our way of working and we are incredibly pleased that we took the decision to automate Savages Pharmacy's systems and processes.

Decision to automate
Savages Pharmacy has been serving the people of Burnham-on-Crouch, Essex, since 1924, making it a pillar of community life. We had already expanded our services in several ways including the introduction of a Post Office bureau and a photo service. As a forward-thinking pharmacy always keen to evolve, deciding to introduce automation to our dispensary practice was the next logical step. The goal was to improve the patient experience, ease the pressure on staff members and hopefully expand the business to reach more of the community.
It was after attending the Pharmacy Show in 2019 that we decided on the right solution for Savages Pharmacy. After discussing with colleagues what we needed to do – namely utilise our time more efficiently – we decided that the solution most fitting to our needs was the Omnicell VBM.
Benefits of introducing automation to community pharmacy
The decision to automate Savages Pharmacy's systems and processes has resulted in significant benefits for patients, pharmacy staff and healthcare professionals. Traditionally community pharmacies are held back by one or more of the following rate limiting steps – time, space and staff. The speed, precision and wide-ranging abilities of automated dispensation technology means that the pharmacy does not feel stretched and staff no longer feel overburdened. This is especially important given the relentless impact of COVID-19 on pharmacies. We have seen exponential growth over the last year. We are now comfortable expanding the business, taking on new customers and serving more of the community, thanks to the technology.
Secondly, introducing automation produces an auditable trail of the prescription process. This means patients, carers, clinicians, and pharmacists are fully accountable at each stage of the process as there are multiple levels of logging and tracking users, times, dates, and actions. Furthermore, it means that patients have more certainty about what medication they need to take and when. The fact that the VBM stores a photograph of every blister tray made up on the system means that pharmacists can see what was issued to each patient, avoiding confusion and doubt. We have had wonderful feedback from patients, carers, HCPs, and clinical services about this service because all the pills are easily identifiable. This means the risk of error is significantly reduced. As a consequence of such positive feedback, word has spread and we have taken on lots of new customers, something we would not have had the capacity to do without the help of automated technology.
Fundamentally, automation can result in:
major staff time savings
a reduction in the risk of errors
more productive and efficient processes
a less pressurised work environment for pharmacy staff
a higher standard of patient care
growth for a pharmacy as a business.
Challenges
Deciding to automate is a big decision that should not be taken lightly due to the financial and operational considerations. When training to use the VBM we realised that as a team we would have to erase all previous knowledge of pharmacy workflow practices and re-learn these processes in a new way and work in harmony with technology. This was difficult at first because we had to completely change our way of thinking and operating after years of working the same way. Many staff were concerned that their roles would become redundant with the introduction of automated technology. In fact, the synergy between knowledgeable staff and pharmacy automation generates a much more productive environment. Staff can now see how valuable the VBM is for their workload and working practices. The ability to work more methodically with a visible data trail and expand the business to help more people has given the team a big morale boost because they feel more fulfilled.
The idea of introducing technology into the workflow of a pharmacy can be daunting. In my experience the whole team must be committed to the vision and on board with the benefits that will be realised because it will take the focus of every staff member to drive progress forwards. It is not easy to rethink and re-learn your working practises but putting in the effort to do this in order to work in tandem with technological solutions will help keep independent community pharmacies thriving in a space threatened by bigger rival organisations.
Watch Savages Pharmacy Video Testimonial about the Omnicell VBM here: https://www.youtube.com/watch?v=ZFTh5qTggZQ