12 Oct 2021
Breathe More, Snore Less, Sleep Better with Mute.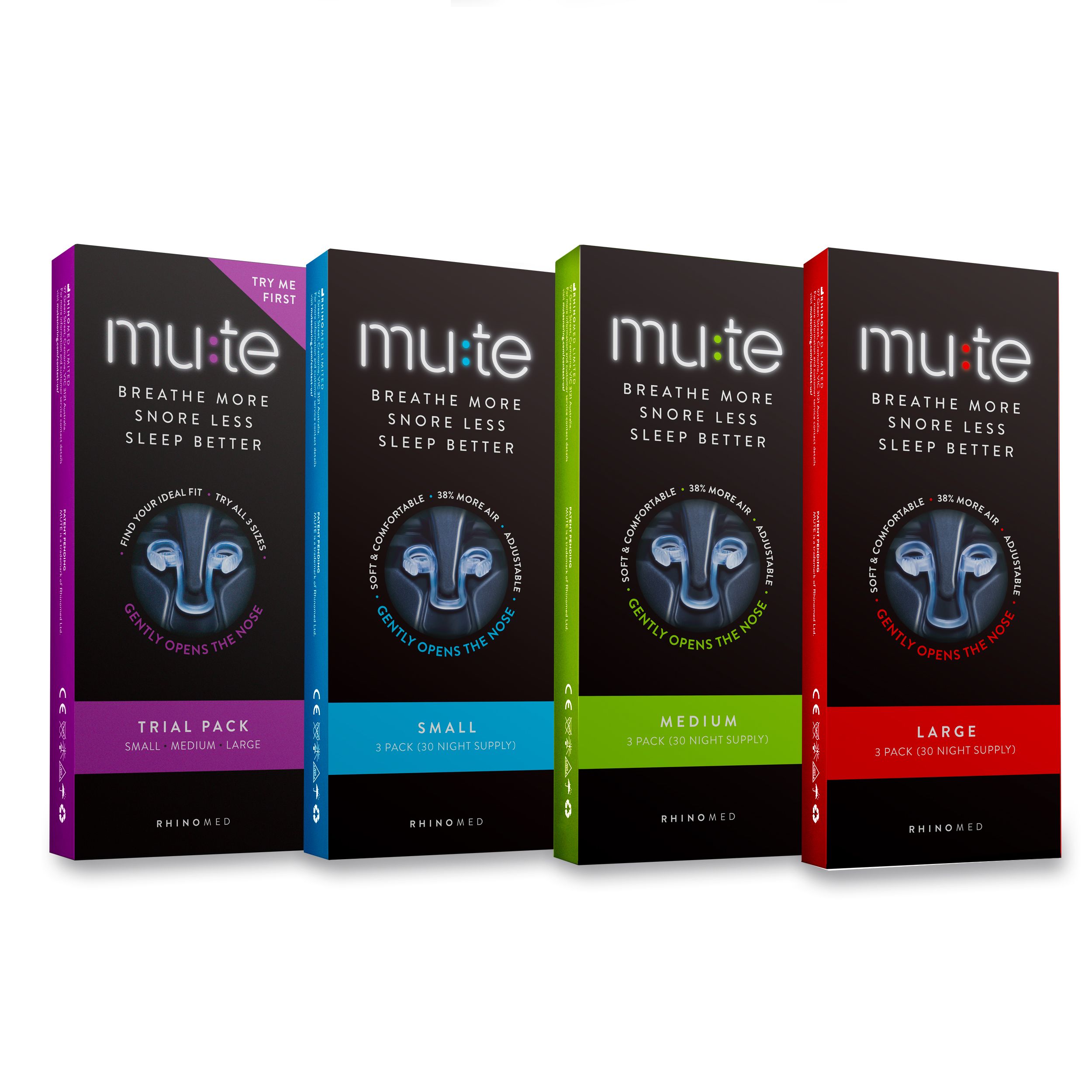 Mute offers pharmacies the perfect opportunity to help millions of UK household solve their snoring problems Breathe More, Snore Less, Sleep Better The Pharmacy Show NEC Oct 17-18, Stand B15
83% of households have a snorer, and close to half of them are embarrassed by their noisy habit[1], according to new research that reveals the market potential for Mute, the nasal dilator that helps to improve breathing and prevent snoring.
The independent research by One Poll, shows how using Mute helps snorers; particularly those with night-time nasal congestion or nasal obstructions, get a better night's sleep. In fact, in a user trial, 75% of partners reported snoring was less/much less when the snorer used Mute.[2]
Mute, which will be appearing at The Pharmacy Show [stand B15] at the NEC, Oct 17-18, is also set to reveal more research exploring why people lose so much sleep and what they do to try to solve their problem. It forms part of this year's consumer PR campaign for Mute that has already seen widespread coverage across mainstream newspapers and magazine, reaching hundreds of thousands of potential independent pharmacy shoppers.
Steve Smith, spokesperson for Mute Snoring (www.mutesnoring.com), which commissioned the research said: ""Mute offers an excellent opportunity for independent pharmacies to help customers get a better night's sleep while at the same time saving their embarrassment. The numbers of people affected by snoring are astounding: thousands of us are very embarrassed by our snoring and will try anything to stop it.
"Whilst it may be amusing to some, it can have a huge impact on your life – whether you are the snorer, or a person living with a snorer. Relationships can really struggle if one person – or even both – snore, as the results show. Reducing snoring by using the Mute nasal dilator can ultimately improve sleep, which in turn improves overall wellbeing - both mentally and physically."
Mute sits comfortably inside the nostrils and gently widens (stents) the nasal passages to improve airflow during sleep throughout the night, without the use of drying nasal sprays, which only work for a limited time.
To help pharmacies fully-explain Mute's benefits to their customers and offer fitting and use advice, there is a wide range of point-of-sale materials, including counter stands, posters, information leaflets and size guides.
Mute comes in three sizes: small, medium & large with an RRP of £16.99, with each box containing one month's supply. All sizes adjust to fit nose shapes, but Mute recommends that pharmacies recommend customers buy a trial pack (RRP £12.99) containing all three sizes to make correct size selection easier.
Mute is available from Boots and all leading pharmacies.
ENDS
For further information about the range, requesting a sample or to speak to one of our experts contact emma@eyepr.co.uk (Mble: 07710 774531) kerry@eyepr.co.uk (Mble: 07799714006) lisa@eyepr.co.uk (Mble: 07540 142354]

Note to Editors
Mute is made by Rhinomed [www.rhinomed.global] a nasal airway technology company that seeks to radically improve the way you breathe, sleep, maintain your health and take medication. It's patented nasal technology leverages the physiology of the nose to optimise our breathing which is essential to restful sleep and to maintaining good health. Rhinomed's vision for the future is to enable medications to be administered through the nose with the aim of improving the efficiency and effectiveness of the therapies, while seeking a reduction in side effects for patients. The company continues to invest in furthering our knowledge of the role the nose, the upper airways and the olfactory system plays in maintaining health and wellness.
---
[1] One Poll survey 2/7/21 – 5/7/21 2,000 adults
[2] 2014 Mute user study, 114 couples.