22 Aug 2023
Bring Clarity to Your Job Search!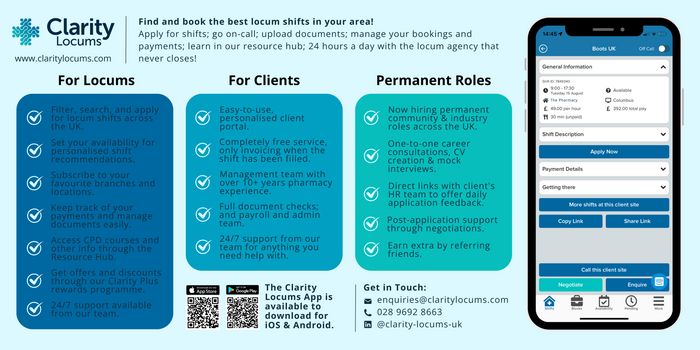 Bring Clarity to your job search! Find and book the best locum shifts in your area with Clarity Locums.
Clarity Group has been placing healthcare professionals in locum roles for over ten years.
Established back in 2012, by Anthony O'Neill, Clarity originated as a temporary staffing agency for pharmacists. Today, Clarity Group consists of two brands: Clarity Locums and Clarity Recruitment; which specialise in sourcing both temporary and permanent employment for pharmacists, accuracy checking technicians, dispensers and other healthcare professionals.
Clarity's team constitutes like-minded healthcare professionals with backgrounds in the pharmacy, medicine, nursing, recruitment and technology sectors. The fusion of these skills has enabled Clarity Group to offer a cost-effective, high quality and professional service that is unlike any other available.
Both organisations within Clarity Group work closely together and use cutting edge technology in order to reduce stress and minimise time spent on job searching for healthcare professions. By offering a broad range of consultancy services to both clients and candidates, paired with our exclusive EU pipeline and easy-to-use online portal, we have established ourselves as one of the most trusted and reliable healthcare staffing agencies throughout the UK and Ireland.
For Locums:
Filter, search, and apply for locum shifts across the UK.
Set your availability for personalised shift recommendations.
Subscribe to your favourite branches and locations.
Keep track of your payments and manage documents easily.
Access CPD courses and other info through the Resource Hub.
Get offers and discounts through our Clarity Plus rewards programme.
24/7 support available from our team.
For Clients:
Easy-to-use, personalised client portal.
Management team with over 10+ years pharmacy experience.
Full document checks; and payroll and admin team.
24/7 support from our team for anything you need help with.
Completely free service, only invoicing when the shift has been filled.
Permanent Roles:
Now hiring permanent community & industry roles across the UK.
One-to-one career consultations, CV creation & mock interviews.
Direct links with client's HR team to offer daily application feedback.
Earn extra by referring friends.
Post-application support through negotiations.
Whether you're a locum looking for opportunities within the UK, or a pharmacy owner looking to reach a new pool of pharmacists; get in touch today and find out how we can help!
Phone | 028 9692 8663
Email | enquiries@claritylocums.com