07 Sep 2023
Finally, a vegan supplement suitable for kids! Presenting: VEG 1 Baby and Toddler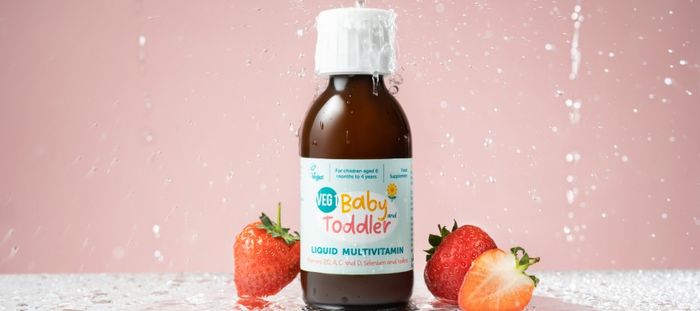 VEG 1 multivitamin is The Vegan Society's supplement range that has provided vegans with affordable and reliable nutritional support since its launch in 2005. Last year in June 2021, VEG 1 was re-branded, and its new-and-improved eco-friendly packaging was revealed. Fast forward to November 2022 and the brand is evolving further, with the arrival of its latest addition to the range: VEG 1 Baby and Toddler.
Baby and Toddler is a liquid multivitamin for young vegan children, including vitamins A, C, D, B12, iodine and selenium. The new product has been formulated with the expert support of paediatric dietitian Angharad Banner. Angharad is a children's dietitian working in the NHS and on a freelance basis, with many years of experience supporting children and their families to meet nutritional needs to support healthy growth and development. An interview with Angharad has been included towards the end of this blog post. But first, why have we developed this product?
Lack of options
With more and more people deciding to raise their children plant-based from birth, the demand for children's supplements has grown substantially. But as many vegan parents will attest, nutritional supplements suitable for young children and formulated specifically for a vegan diet are incredibly hard to come by. As standard, the UK government recommends that all children aged six months to five years are given supplements containing vitamins A, C and D daily, but not all vitamin D is vegan. Other considerations are also specific to vegan children, such as B12 and iodine, which are often not included in infant supplements. This has left vegan parents with a lack of options.
Finally, there is a solution.
The solution
VEG 1 Baby and Toddler has been developed specifically to fill this gap in the market. The product conveniently combines the nutrients that are recommended for this age group by the UK government (vitamins A, C and D), with nutrients that are more specific to a vegan diet (vitamin B12, iodine and selenium). You can find the more in-depth nutritional profile below:
Vitamin B12 (5 μg – 200%)
Vitamin A (400 μg – 50%)
Vitamin C (30 mg – 37%)
Vitamin D (10 μg – 200%)
Iodine (50 μg – 33%)
Selenium (10 μg – 18%)
Strawberry flavoured and taste-tested by children
As great as this sounds, your next question is probably, 'how do we use it?' VEG 1 Baby and Toddler is a liquid multivitamin with a recommended dose of 1 ml per day. Using the syringe provided, one dose can be given daily directly into your child's mouth. You'll be happy to hear that the product is strawberry flavoured and taste-tested by children of the intended age range. Similar to Calpol in both function and taste, we're hopeful that this familiarity will make supplementing easy and hassle-free for you, plus tasty and tantrum-free for your child.
An interview with the expert
Now that you've heard the background of the product, it's time to hear from the expert. We spoke to paediatric dietitian Angharad and asked her some of the more nutrition-focused, technical questions about the product. Our full Q and A has been included below.
Q: You supported and advised The Vegan Society through the production of VEG 1 Baby and Toddler. Why do you think this product is so important?
A: All children should take a vitamin supplement containing vitamins A, C and D until they are five years old. There are limited options for babies and children on a vegan diet as the most common source of vitamin D is from sheep's wool. A vegan supplement that also contains vitamin B12 is useful as this vitamin often needs to be supplemented.
Q: VEG 1 Baby and Toddler contains vitamins A, C and D. The UK government recommends that all children aged six months to five years take a supplement containing these vitamins. Why are these nutrients so essential to healthy development?
A: Babies need vitamin A for their developing immune system, eyesight, and healthy skin. Vitamin C is important for overall health, immune system and it also helps with iron absorption. Vitamin D is essential for helping to absorb calcium for strong bones and teeth.
Q: VEG 1 Baby and Toddler also includes vitamins B12, iodine and selenium, which are particularly important for anyone following a vegan diet. Please tell us a little bit about why these nutrients deserve special attention.
A: B12 is needed to make red blood cells and to keep the nervous system healthy. It is found in animal products and therefore anyone following a vegan diet is at risk of deficiency unless sufficient fortified foods are eaten and so supplementation is usually recommended.
Iodine is essential for brain and neurological development and the main dietary sources are dairy products and fish which are not included as part of a vegan diet. Seaweed can be a rich source, however, levels vary considerably.
Selenium is needed for thyroid metabolism, but intake can be variable due to changes in the selenium content of the soil where the plants are grown.
Q: One dose of VEG 1 Baby and Toddler provides EU Nutrient Reference Values (NRVs) of:
Vitamin B12 (5 μg – 200%)

Vitamin A (400 μg – 50%)

Vitamin C (30 mg – 37%)

Vitamin D (10 μg – 200%)

Iodine (50 μg – 33%)

Selenium (10 μg – 18%)
Some of the NRVs are less than 100% and some are above. Why is this?
A: Dietary sources of vitamin B12 and vitamin D are limited therefore doses above 100% have been included. Vitamin B12 is also poorly absorbed from supplements and a higher dose is recommended. Vitamin D supplementation in the UK is advised at a dose between 8.5 – 10 ug and therefore the 10 ug included here is appropriate for this population. For those nutrients below 100%, requirements can be more easily met through dietary intake. Vitamin A should not be supplemented to 100% as excessive intake can be dangerous.
Q: VEG 1 Baby and Toddler doesn't include other commonly supplemented nutrients, for example, iron, calcium, or omega 3s. Why have these nutrients not been included?
A: It is important to include plenty of iron and calcium rich foods in the diet as they will also provide a good source of protein. Omega 3s are found in a selection of seeds and rapeseed oil and can be easily incorporated into the diet.
Q: Should parents who are raising their children vegan consider supplementing any other nutrients that are not included in The Vegan Society's liquid multivitamin, for example, those mentioned above?
A: Only if their child does not eat a wide range of foods particularly fortified breakfast cereals, milk alternatives and seeds. If there is any concern with dietary intake, then consult a dietitian.
Q: During development, it was decided that a liquid formula would be best suited to the age range. Why is VEG 1 Baby and Toddler best suited as a liquid?
A: As a liquid is safe and can be swallowed easily.
Q: The dose is 1 ml per day and the product includes a syringe for dosage accuracy. What would be your advice to a parent who unintentionally exceeded this dose?
A: If one extra dose is unintentionally taken within a twenty-four-hour period, then this is safe and not harmful. A parent should seek medical advice with any other concerns.
Q: Alternatively, what would be your advice to a parent who had forgotten to give VEG 1 Baby and Toddler to their child for a day or two?
A: I would advise not to worry but to restart as soon as possible at the usual recommended dose, without taking any extra doses to catch up.
Q: Lastly, what is your number one piece of advice for parents who are raising their child(ren) vegan?
A: It is important to plan meals and snacks and offer plenty of fortified foods. There is lots of helpful advice on The Vegan Society website.
Still got a question? Check out our VEG 1 Baby and Toddler FAQs.
Available now
VEG 1 Baby and Toddler is available to purchase NOW from The Vegan Society's webshop, Etsy, and eBay stores. What are you waiting for?
Interested in stocking VEG 1 Baby and Toddler? Contact us on veg1@vegansociety.com.
Written by Bethany Dandy, Business Development and Marketing Officer.
Thank you to children's dietitian Angharad Banner for her expertise and support.
The views expressed by our bloggers are not necessarily the views of The Vegan Society.