13 Sep 2023
Fleming Medical Exhibits at Pharmacy Show 2023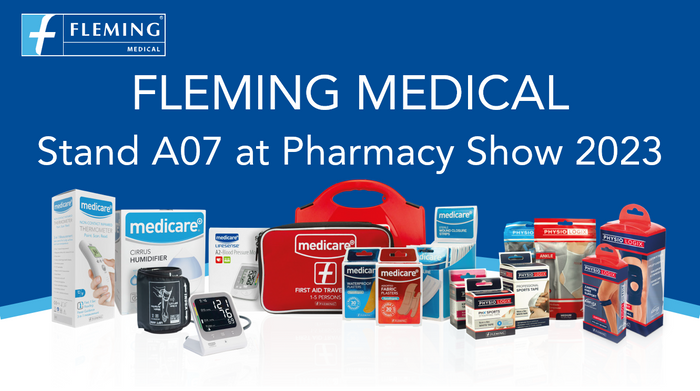 Fleming Medical is happy to be exhibiting for another year at Pharmacy Show, connecting with oyur pharmacy partners in the UK and showcasing our innovative product solutions.
Fleming Medical is a leading innovator of diagnostic, sports therapy, first aid, and wound care products. We design, produce and deliver pharmacy-exclusive products under our Medicare, Physiologix and Medicare LifeSense product ranges.
As a partner in our pharmacy customers' success, our offering extends further than the wide range of products we supply to include robust planogram strategy, conscientious merchandising, as well as in-store training with pharmacy staff. Furthermore, we offer training modules for pharmacy professionals through our online education platform, Fleming Medical Academy.
Our product range is continually expanding due to our focus on Innovation and New Product Development, which is both market-driven and backed by our years of experience in the field.
Medicare is our market-leading pharmacy first aid brand. Our Medicare range includes trusted first aid, home and advanced woundcare, fixation, footcare, infection control and home health products.
Physiologix is a dynamic range of sports supports and tapes developed alongside leading physiotherapists. The range represents the latest in innovative design and fabric technologies to provide outstanding comfort and uncompromising support to aid in the recovery of injuries.
Our Medicare LifeSense range encompasses a suite of pharmacy-exclusive personal diagnostic and medical devices to empower patients to know their numbers and manage their own health at home, with the range including innovative solutions in weight management, respiratory care and blood pressure monitoring. Our Medicare LifeSense app can be used with our range of Bluetooth-connected devices, including blood pressure monitors, pulse oximeters and body analysis scales. Users can track their progress over time, and share results with doctors or caregivers anytime, anywhere.
Fleming Medical Ltd.
Luminous House, 300 South Row, Milton Keynes MK9 2FR, United Kingdom
Corcanree Business Park, Dock Road, Limerick, V94 K6W4, Ireland
Tel: 0800 640 6253
Email: info@flemingmedical.co.uk
Web: flemingmedical.co.uk