10 Oct 2023
GOLD COLLAGEN® FORTE The EXTRAORDINARY PLUS Liquid Beauty Supplement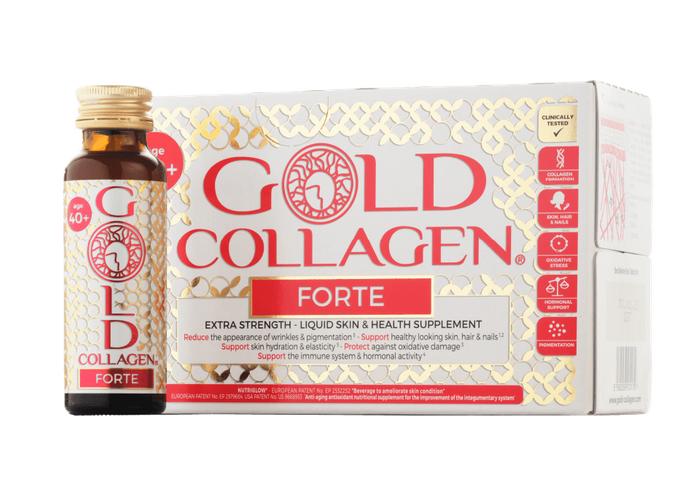 GOLD COLLAGEN® FORTE The EXTRAORDINARY PLUS Liquid Beauty Supplement for women 40+ clinically tested, 16 best in class ingredients to boost skin's health & help with advanced signs of ageing.
What is it?
GOLD COLLAGEN® FORTE is a daily liquid collagen beauty and wellness supplement designed for women over 40 to fight the advanced signs of ageing and oxidative stress. As women reach the age of 40, the effects of time, hormonal shifts and lifestyle begin to take a toll on the skin, leaving it less firm, and drier with wrinkles that appear deeper. The skin's natural defences weaken and the body is less able to fight the oxidative stress, leaving the skin in need of an antioxidant and vitamin boost. GOLD COLLAGEN® FORTE focuses on key areas of ageing by reducing the appearance of fine lines and wrinkles, increasing hydration and boosting elasticity. This extra strength formula has additional unleashed benefits to provide hormonal support, support a healthy immune system and help with pigmentation of the skin. It is naturally sweetened with Stevia and is free from artificial ingredients. A unique combination of high-quality hydrolysed collagen, antioxidants, vitamins and minerals, help to maintain the skin, hair and nails and protect against oxidative stress through its revolutionary peptide form. It also contains vitamin D to encourage calcium absorption for strong bones, helping to prevent osteoporosis. The pioneering formula has been developed for good absorption and increased bioavailability.
Collagen is a major structural protein in the skin that plays a key role in providing the structural scaffolding for cells, tissues and organs. It also gives skin strength and durability and is responsible for the smooth, plump appearance of healthy skin.
HOW DOES IT WORK?
DIGESTION: Hydrolysed Collagen is digested by the gut into amino acids and small bioactive peptides

ABSORPTION: Bioactive Collagen peptides are readily absorbed by the small intestine and pass into the bloodstream.
DISTRIBUTION: Bioactive Collagen peptides reach the skin through the bloodstream, activating the fibroblast cells in the skin.
ACTION: The cells are stimulated by the peptides to produce new Collagen, Hyaluronic Acid, and Elastin to maintain the skin health.
ACTIVE INGREDIENTS
16 Best in Class
Vitamin E: Contributes to the protection of cell constituents from oxidative damage.
Borage Oil & Evening Primrose Oil: Contains a fatty acid which helps with inflammation linked to ageing PLUS keep skin hydrated and smooth.
Lycopene, Coenzyme Q10, Acai Berry, Pomegranate, L-Carnosine & Resveratrol: Act against free radicals to reduce and prevent oxidative stress.
Biotin: Contributes to the maintenance of normal skin and hair. *Vitamin B6: Contributes to normal energy-yielding metabolism
and reduces tiredness and fatigue.
*Vitamin D: contributes to normal absorption of calcium and phosphorous, maintenance of normal bones, normal muscle function, teeth and immune system.
Bioperine® (Black Pepper Extract): Increases the bioavailability of the other active ingredients.
Rocket: Helps support strong hair growth
*Folic Acid: Helps support energy, immunity and muscle function. Vitamin B1: Helps support a healthy heart
Hydrolysed Collagen: Collagen is the most abundant protein in the human body that helps preserve the skins firmness and elasticity.
*Vitamin A: Contributes to the maintenance of normal skin, vision and contributes to normal iron metabolism.
*Vitamin C: Contributes to normal collagen formation for the normal function of skin and cartilage.
Hyaluronic Acid: Contributes to skin hydration.
*Copper: Contributes to normal skin and hair pigmentation and
to the maintenance of normal connective tissues.
N-Acetylglucosamine: Is a precursor for production of Hylauronic acid, which hydrates the skin.
*Zinc: Contributes to the maintenance of normal skin, hair and nails.
*Additionally, contribute to the normal function of the immune system to help support a healthy immune system.
KEY ATTRIBUTES OF GOLD COLLAGEN® PURE PLUS
Clinically tested
From the makers of the UK's pioneer liquid beauty supplement Contains 5000mg of the highest quality bioactive marine collagen Increases natural collagen production
Contains 100% Nutrient Reference Value (NRV) of vitamin B6, C & D daily needs
Supports a healthy immune system
EU Patented Formula NutriGlow® and published in scientific journals No sugar and no artificial sweeteners
No preservatives or artificial flavors
Gluten Free
No-GMO
All packaging is recyclable and designed to prolong the longevity of the active ingredients
Halal and Kosher certified
GOLD COLLAGEN® FORTE (10x50 ML bottles) is available online at gold-collagen.com, Boots.com, Amazon.co.uk and is also available in store at Boots stores nationwide, and John Bell Croydon
RRP (10 Day Programme): £44
For press information on GOLD COLLAGEN® FORTE images or samples, please contact:
LDN COMMUNICATIONS - PR AGENCY
nazer@ldncommunications.co.uk - fiona@ldncommunications.co.uk
NOTES TO EDITORS:
Created in 2009, MINERVA Research Labs has become a recognised health and beauty company by launching reference brands that fundamentally challenge the way consumers look at nutritional supplements and beauty regimes. Understanding the growing interest for healthy nutrition, Tony Sanguinetti was convinced that "you are what you eat and drink" is more than a simple statement and could be the underlying vision of a new holistic approach to health and beauty. Pioneering the collagen-based liquid beauty supplement category, this scientifically developed, clinically tested and carefully formulated range reinvents skincare and nutraceuticals to fit with modern lifestyles.
Dedicated to producing only high quality effective products, they collaborate with renowned universities, gold standard testing facilities, suppliers and manufacturers to deliver clinically tested and scientifically developed products all made with three fundamental attributes: research, high quality and efficacy. In 2015 their formulation was granted a European patent for the advanced complex within GOLD COLLAGEN®. MINERVA Research Labs Ltd is one of the London Stock Exchange Group's ELITE programme. MINERVA Research Labs Ltd has been recognised as a major contributor to the UK export market in the third prestigious Sunday Times Lloyds SME Export Track 100 by being placed at No. 24 in the 2018 ranking.