20 Jul 2023
Lamberts Healthcare; setting the standard for nutritional education in the UK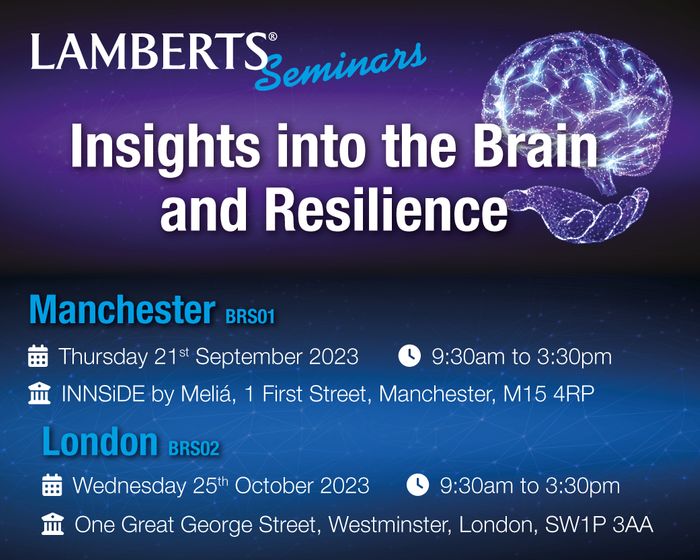 Lamberts Seminars: Dont miss our early bird offer for Insights into the Brain and Resilience
Being at the leading edge of responsible nutrition is at the heart of the Lamberts ethos. To us this means not only supplying products based on a sound scientific rationale, but also assisting you in keeping abreast with the latest developments in this ever-expanding field through our comprehensive education programme.
Quality education has always been a driving force for Lamberts and has always featured as one of our core values. As research continues to develop and changes the face of nutrition so too does our educational offerings to align with the current trends. Demand for high quality, clinically researched educational material is higher than ever, as the thirst for knowledge increases so does the demand. The pandemic acted as a catalyst for changes in the healthcare delivery model, resulting in many healthcare professionals moving their clinics to an online environment. For Lamberts, this meant delivering education to our valued pharmacists and practitioners in a new format and introduced our online webinar and masterclass programme as a result. Aside from our virtual and in person event programme we offer a wide selection of continually developed FREE literature for our practitioners' use, whether this be for personal education or to pass on to customers for reassurance and guidance. Whilst we see the rise of digitalisation and e-commerce, independent practitioners and retailers still have such a need for printed information to share with their customer.
We spend a great deal of time looking at new areas of interest for topics and developments in established fields, ensuring that our programme will enable you to further your continuous professional development (CPD). As such, CPD has been approved by both the British Association for Nutrition and Lifestyle Medicine (BANT) and the Naturopathic Nutrition Association (NNA).
Masterclasses | Online, free events with guest speakers
Our masterclasses offer an impressive line-up of presenters – all of whom are leading experts in the nutrition arena. Covering an array of relevant topics, these FREE events will give you access to leading nutritional therapists, authors, and academics at the cutting edge of nutritional science.
Webinars | Online events with Shoela Currey and Ray Griffiths
Hosted by leading experts Shoela Currey and Ray Griffiths, our webinar programme covers research on a whole range of syndromes and ailments commonly seen in practice, as well as the nutrients that may be used to help with these. Bookings for our current programme are open, with spaces available on the following dates:
Outward Signs of Internal Issues, Part 1: Thursday 14th September, Shoela Currey
Outward Signs of Internal Issues, Part 2: Tuesday 10th October, Shoela Currey
Insights into Optimising Bone Health: Wednesday 8th November, Ray Griffiths
Waist Control or Weight Control? What is the Significance in Blood Sugar Regulation? Wednesday 22nd November, Shoela Currey
'Insights into the Brain and Resilience' | NEW FOR 2023
Lamberts are pleased to announce the launch of our new CPD accredited seminar programme, taking place in London and Manchester. 'Insights into the Brain and Resilience' will provide two expert speaker sessions by Shoela Currey and Ray Griffiths with the opportunity to pose any questions to our panel during the joint Q&A. Bookings at our early bird rate are currently open and can be accessed via our website: https://www.lambertshealthcare.co.uk/trade/lamberts-conferences/
Interested in learning more about our upcoming events? Visit: www.lambertshealthcare.co.uk. To attend our events, you'll need to be registered for a trade account with Lamberts. This is free, and very straightforward. Simply visit our website for further details.