20 Sep 2023
New Tuli programme allows pharmacies to capture rising interest in weight loss injections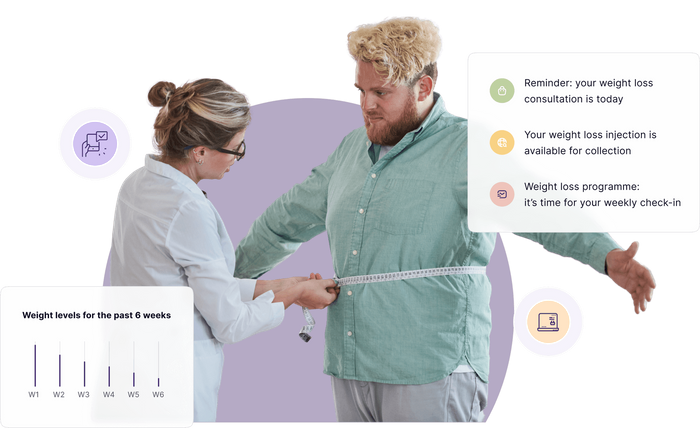 Healthcare provider Tuli Health has launched a weight loss programme in partnership with community pharmacies, where pharmacies are able to dispense private prescriptions from Tuli GPs for weight loss injections over a period of 3-24 months.
The programme combines prescriptions for eligible patients with weekly advice from a dietician and regular supportive check-ins. The injections, which should be taken weekly, cause an average of 15% body weight loss when used alongside healthy lifestyle changes.*
It launches against soaring patient interest in weight loss drugs Ozempic and Wegovy, which are two brand names for the drug semaglutide. The drug works by mimicking the effects of the hormone glucagon-like peptide-1 (GLP-1), which creates the feeling of being full after eating. With feelings of hunger dialled down, patients eat less and therefore lose weight.
The drugs are intended for use alongside healthy changes to lifestyle. Tuli provides weekly advice from a dietician to support patients in making lasting changes, as well as weekly check-ins to monitor progress and offer support.
To join the programme, patients must first complete an online assessment that is checked by Tuli's GPs, to ensure the programme is suitable for them. Then, they will go to their nearest participating pharmacy to have their measurements taken and receive their first prescription. This process is repeated every four weeks when they pick up their repeat prescription.
Pharmacies only need to dispense prescriptions and take monthly measurements to participate.
With 64% of adults in England overweight or obese, and 43% of UK adults looking for help losing weight, the programme comes at a crucial time. Obesity increases the risk of several health problems, including type 2 diabetes, heart disease, some cancers, and more.
Ozempic is currently not available on the NHS for use in treating obesity in people who don't have type 2 diabetes, while Wegovy is only available to those who have been referred to a specialist weight management service. Usually, this means patients must have a BMI of at least 35.
However, the drug can be prescribed safely for some people with a BMI of 30, and in certain cases with a BMI as low as 27. Private prescription enables more people to access the drug and start their weight loss journey.
*New England Journal of Medicine, 2021
About Tuli Health
From health checks to private prescriptions, Tuli works with community pharmacies to deliver a range of clinical services from their stores.
Rather than having patients trek across town to a clinic or wait weeks for an appointment, we're making key services like blood testing available on every high street—so that everyone can get the care they need in their own neighbourhood.
YC-backed and based in London, Tuli are CQC regulated and UKAS accredited, while their test kits are also CE marked.