29 Sep 2023
O.R.S Hydration Tablets: Leading the Way in Kids' Hydration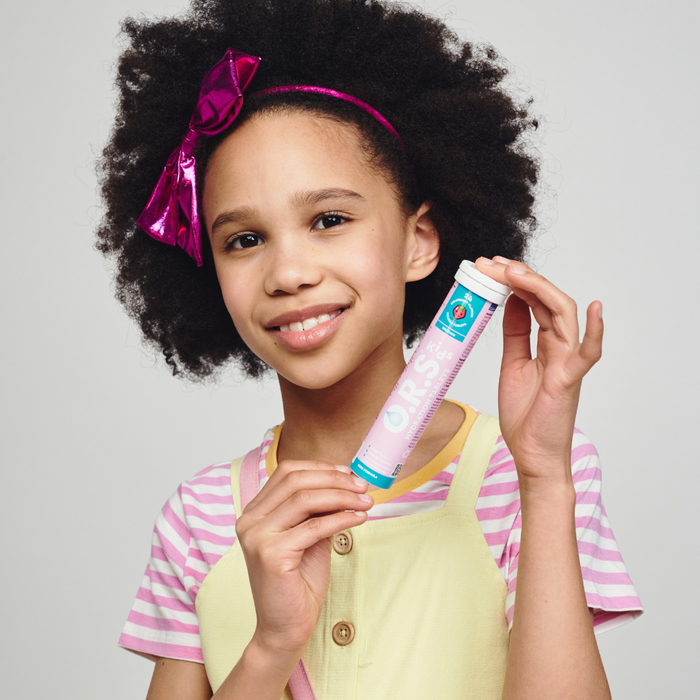 O.R.S Hydration Tablets provide a scientifically-backed hydration solution for children. Trusted since 2012, these tablets adhere to World Health Organisation's hydration guidelines.
O.R.S Hydration Tablets: Leading the Way in Kids' Hydration
Why might kids need hydration support?
Water accounts for up to 60% of an adult's body, whereas a child's body is made up 75% of water, making hydration especially vital for children's wellbeing.
Even a slight drop in hydration levels can impact a child's health, especially during sports, travel, warm climates, or when they are feeling under the weather. Research suggests that even a 1% drop in water weight can lead to reductions in concentration and cognitive function in children.*
O.R.S Hydration Tablets are a game-changer when it comes to creating a scientifically proven hydration formula. By adding a perfectly balanced mix of electrolytes to water, it creates the optimal conditions for hydration. The winning blend, comprising essential salts, minerals, and just the right amount of glucose (17kcal), rapidly restores electrolytes and fluid balance.
Charles Ebubedike, co-founder of Clinova, states: "Our trusted Kids formula is scientifically proven to help your little ones restore and maintain lost fluids. We take pride in creating electrolyte blends that do not compromise on flavour".
The success of O.R.S isn't just about a superior product; it's about recognising an opportunity to address a critical need. By providing a versatile and high-quality solution, O.R.S meets the diverse needs of parents seeking a better way to keep their children hydrated.
O.R.S Hydration Tablets aren't just a popular choice, but also a medically endorsed one. O.R.S Hydration Tablets are the UK's no.1 healthcare professional recommended Hydration Tablet.
Made with natural flavours and natural sweeteners, the O.R.S Kids formula underwent an impressive 50 rounds of taste testing. Recognising the challenge of children resisting traditional rehydration solutions due to unappealing taste, O.R.S created a strawberry blend with palatability as a top priority, which has proven to be a big hit with kids.
In an era where health-consciousness is paramount, O.R.S stands out with its great-tasting low-sugar and low-calorie natural hydration formula. It's the healthier alternative to sugary drinks or high-calorie beverages, aligning with the World Health Organisation (WHO) rehydration guidelines. This underscores O.R.S's commitment to adhering to established medical standards, providing parents with peace of mind that their children are receiving an effective and medically endorsed hydration solution.
Find O.R.S Hydration Tablets at stand K49 to learn more about the importance of hydration!
About O.R.S. Hydration:
At O.R.S, our mission is simple: to make the world a healthier, more hydrated place. We bridge the gap in dehydration with innovative solutions, ensuring effective hydration is accessible worldwide.
Created by pharmacists in 2012, our hydration supplement contains the perfect blend of electrolytes and minerals to create optimal conditions for hydration. We formulate with only the necessary amount of minerals per the World Health Organisation hydration guidelines. All of our products are formulated with vegan and gluten-free ingredients that curate delicious natural-tasting flavours.
O.R.S. is backed by some of the biggest names in healthcare, including John Molter, former Global Head of Customer Sales at Procter & Gamble; Ernesto Levy, former head of Novartis' consumer division in the United States; and John Honey, former Senior Vice President at Reckitt Benckiser.
O.R.S Hydration Tablets are available to purchase nationwide from Boots, Sainsbury, Tesco, Amazon, orshydration.com and all good pharmacies.

O.R.S. Hydration
For more information, please contact the team on:
Tel: +44 (0) 2380 302032
Email: info@orshydration.com
---
*D'Anci KE et al. (2006) Hydration and cognitive function in children. Nutrition Reviews 64(10 Pt 1), 457-64. 9.
*Adan A (2012) Cognition performance and dehydration. Journal of the American College of Nutrition 31(2), 71-78