The PDA LGBT+ Network's fight for inclusion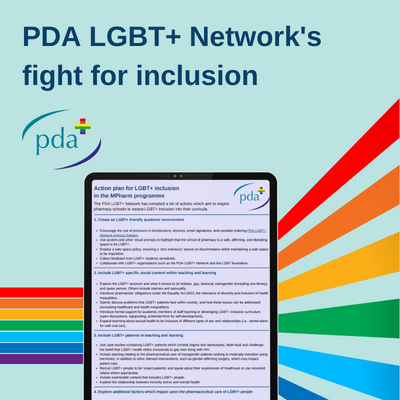 The past year has been very successful for the PDA LGBT+ Network. After identifying a lack of LGBT+ inclusive education in the MPharm degree, the network has worked tirelessly to ensure that this changes.
LGBT+ patients have many unique needs that were not being addressed adequately, and the curriculum was not representative of these needs. It's important that pharmacy students are educated about LGBT+ issues, so that LGBT+ students themselves feel included, LGBT+ discrimination in education and healthcare settings is tackled, and so the care of LGBT+ patients is improved.
Scott Rutherford, President of the PDA LGBT+ Network said, "People within the LGBT+ community experience a range of health inequalities, from higher rates of mental ill-health to difficulty accessing the care they need. Incorporating teaching about LGBT+ identities and inequalities into the initial education and training of pharmacists is overdue; although some pharmacy schools are doing great work in the arena of inclusion, all pharmacy schools should be ensuring that students are given the knowledge they need to be respectful to their patients and colleagues and provide culturally competent care."
After highlighting these issues, the PDA LGBT+ Network launched a successful campaign, where they sent letters to the GPhC and the Pharmacy Schools Council (PhSC), two of the bodies responsible for setting the MPharm curriculum. They also campaigned on social media with #LGBTplusMPharm, and spoke at various events, including at the Pharmacist Education Summit on EDI. The committee also produced a campaign video highlighting the issue.
In order to continue building on the #LGBTplusMPharm campaign, the PDA LGBT+ Network recently launched resources to support LGBT+ inclusive education. The resources include an action plan, case studies, and a resource list, all of which will hopefully contribute to pharmacy schools integrating LGBT+ inclusive teaching for the MPharm. The launch happened on 2 June, coinciding with the beginning of Pride month, which celebrates LGBT+ communities around the world.
Scott also said, "Last year, we introduced the profession to the need for LGBT+ inclusion in the MPharm programme. This year, we are giving pharmacy schools a menu of actionable changes to aid them to diversify the curriculum, make LGBT+ students feel more secure, and improve the care of LGBT+ patients. The network encourages pharmacy educators to reach out and share best practice and receive feedback on their ideas on how to implement an #LGBTplusMPharm."
One of the first points of the action plan is to encourage the use of pronoun badges. In August 2021 the PDA LGBT+ Network launched their pronoun badges and an accompanying flyer. LloydsPharmacy has also introduced personal pronouns on name badges in July 2022, showing the influence that the PDA LGBT+ Network's resources may already be having on the profession.
Although there is still much more work to be done by all organisations and individuals in the pharmacy industry, this is still a huge success and a step closer to equality for the LGBT+ community.