09 Oct 2023
PocDoc Brings Innovative Health Technology to The Pharmacy Show 2023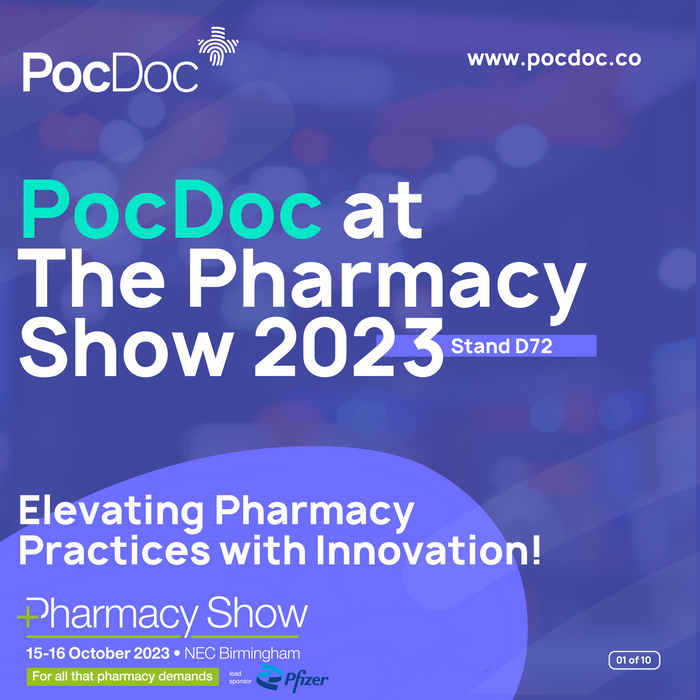 PocDoc Brings Innovative Health Technology to The Pharmacy Show 2023
PocDoc Brings Innovative Health Technology to The Pharmacy Show 2023
Birmingham, UK - PocDoc is thrilled to announce their attendance at The 2023 Pharmacy Show, the UK's premier trade event dedicated to the community and primary care pharmacy sector, taking place from 15-16 October 2023 at NEC Birmingham.
Revolutionizing Cardiovascular Health Checks at PocDoc Stand - D72
Attendees at PocDoc stand D72 will be introduced to innovations that allow healthcare to meet cloud-based technology, as PocDoc unveils its ground-breaking app-based technology platform. The platform offers a comprehensive cardiovascular disease check using a lab-grade 6-marker lipid test, delivering results in under 10 minutes. Live demonstrations of the PocDoc app and test will show examples of real-time results, illustrating how our technology enables pharmacists and healthcare professionals to deliver outstanding patient care.
In addition, visitors will have the opportunity to interact with PocDoc's CEO and Founder, Steve Roest, along with the rest of the PocDoc Team, having deep discussions about the future of digital healthcare pathways and exploring how PocDoc can seamlessly integrate into various healthcare settings, including pharmacies.
Why The Pharmacy Show?
The Pharmacy Show, with over 300 exhibitors and educational content delivered by esteemed speakers, has been a flagship event for Pharmacy Professionals for over a decade. The Show offers an unmatched opportunity for accessing the latest knowledge, innovations, and technology in pharmacy, making it an essential event for healthcare professionals in this field.
"Being part of The Pharmacy Show 2023 allows us to introduce healthcare professionals to our amazing innovative 6-marker lipid test with our proprietary app-based approach to the cardiovascular disease pathways. Together, PocDoc can revolutionize healthcare delivery within primary care and across all pharmacies worldwide."
- Steve Roest, CEO of PocDoc
Be a Part of the Future with PocDoc
This show is a great opportunity for all attendees to explore new methods and innovations in pharmacy practices and comprehend how PocDoc can be a transformative force in cardiovascular health monitoring and patient care.
Join us on two exhilarating days of discovery, learning, and networking at the heart of the pharmacy world, and let's collectively take a stride towards innovative healthcare solutions.
To register for The Pharmacy Show 2023, please visit The Pharmacy Show Registration.
To learn more about PocDoc's innovative solutions, visit PocDoc Website.