15 Oct 2021
PROVACAN TO PIONEER NEW SUPERCHARGED TERPENE FORMULATION TO UK MARKET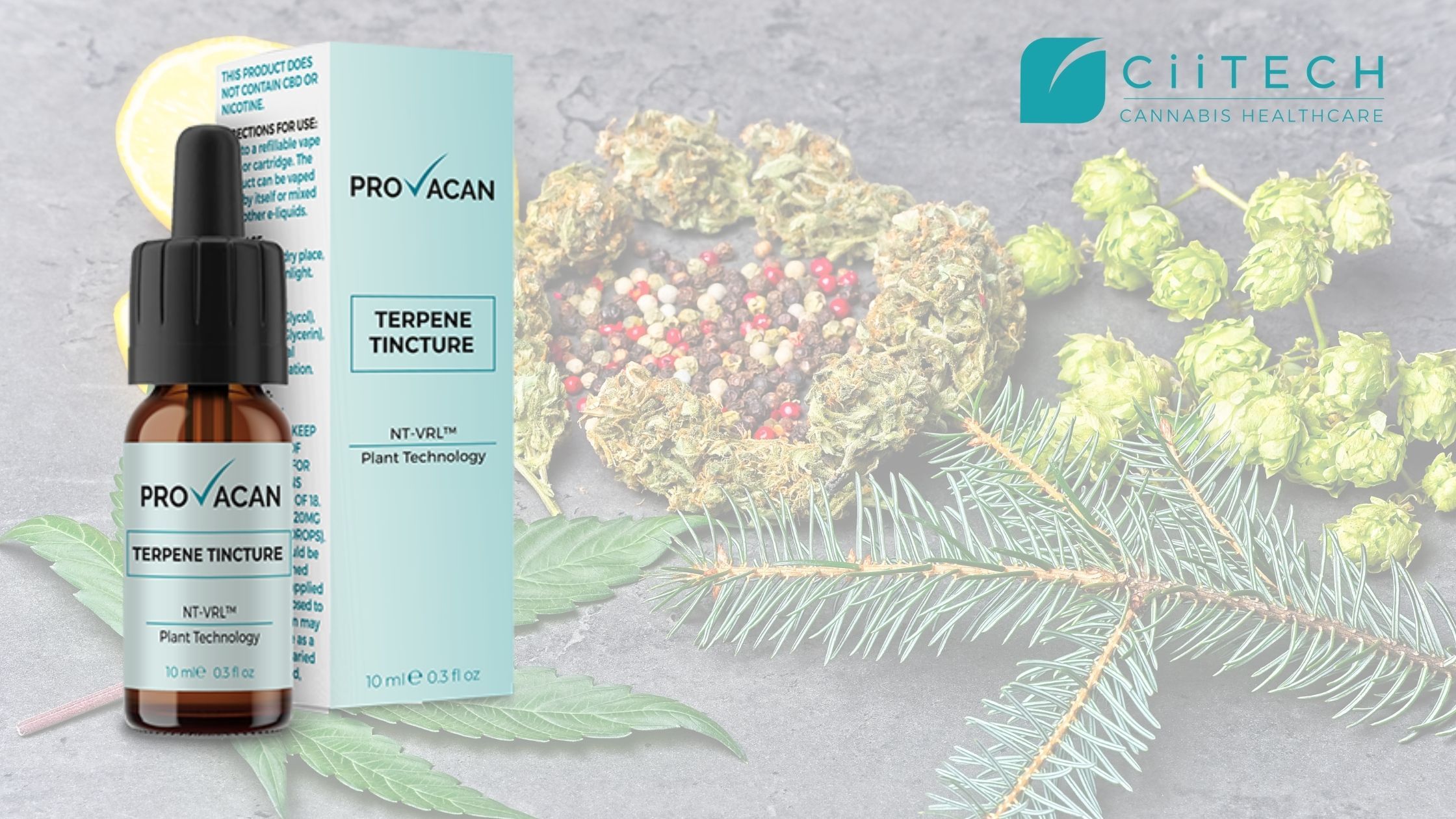 Leading UK CBD brand Provacan, owned by Cannabis healthcare company CiiTECH, has today announced the launch of a patented terpene formulation (NT-VRL™) that works best when used together with CBD.
The new Provacan NT-VRL™ range, which consists of oil tinctures and an e-liquid, can be used alongside daily CBD intake to promote better wellbeing. The formulation includes 30 carefully selected terpenes, found in cannabis as well as other plants. It is the proprietary formula of CiiTECH partner Eybna, the terpene technology company that researches NT-VRL use alongside CBD.
Terpenes, found in all plants, fruits and herbs are commonly known for and used extensively in essential oils for aromatherapy. Cannabis plants have one of the highest concentrations of terpenes and, used together with active cannabinoids such as cannabidiol (CBD), generate enhanced benefits than if used solo. This relationship contributes to what is known technically as an entourage effect.
With the CBD market in the UK estimated to be worth over £3bn by 2025, founder and CEO of CiiTECH, comments: "The CBD category is fast growing so it is imperative we stay at the forefront of new developments. This partnership with Israeli based terpene company Eybna allows us to leverage best of breed science for our products, giving our customers a unique proposition and optimised wellness experience."
Terpenes have been part of the aromatherapy scene for hundreds of years providing many antioxidant benefits. The difference with Provacan NT-VRL™ is that it has been expertly formulated and optimised for use with CBD. Rich hemp extract CBD oils naturally contain terpenes and minor cannabinoids but we're seeing a trend towards purer forms of CBD that strip these elements almost completely from the oil. Adding carefully selected terpene profiles to daily CBD use encourages the depleted entourage effect, without implicating legal status of THC and controlled cannabinoids.
"We are excited to bring NT-VRL™ to the UK market with CiiTECH, and trust them to make it available for UK consumers looking for effective data-driven products." Eybna CEO & Co-founder, Nadav Eyal.
The NT-VRL™ formulation was tested by CannaSoul Analytics in Israel for Cytokine Storm inhibition. There is growing evidence of the therapeutic effect of terpenes on the human body and particularly when combined with CBD. To evaluate NT-VRL™ efficacy, Eybna tested the formulation in a validated biological in-vitro model that mimics an inflammatory response in the human body. The terpene formulation combined with CBD was shown to be twice as effective as using CBD on its own.
The most well-known terpenes in the Provacan NT-VRL™ formula include beta-caryophyllene, eucalyptol, citral, and myrcene. Early research suggests that these high antioxidant terpenes may have a host of beneficial properties including anti-inflammatory and anti-viral properties.

To find out more about Provacan NT-VRL™ and the full CBD range head to - https://provacan.co.uk/shop/