29 Jun 2022
The role of remote monitoring in reducing pressure on the NHS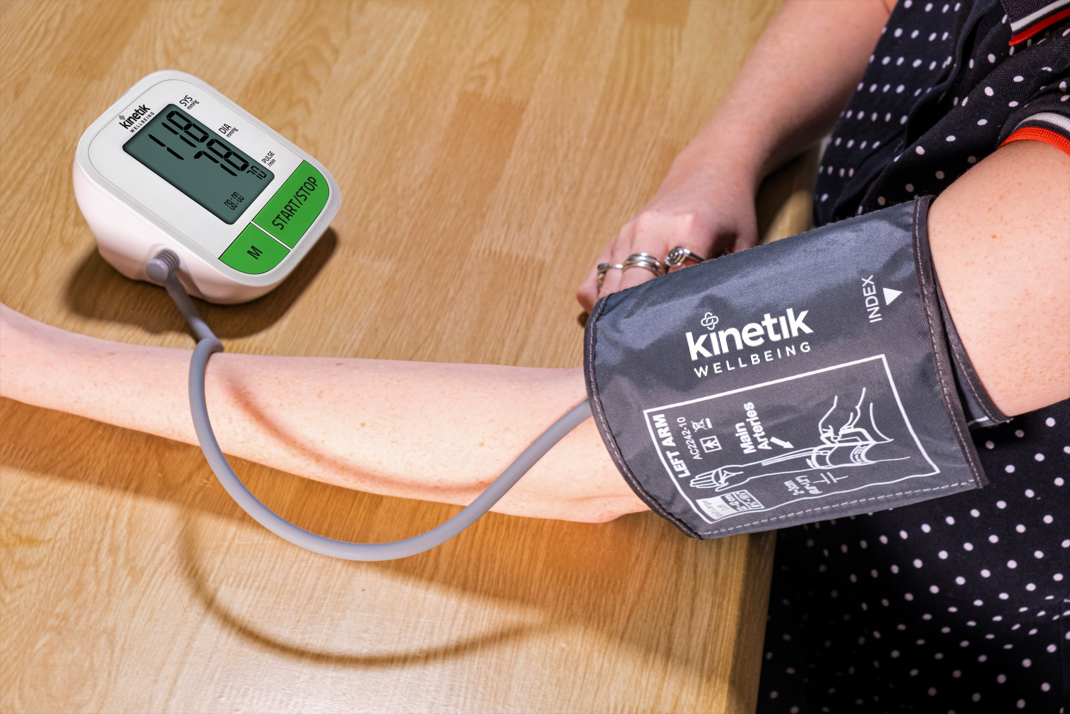 Managing your health from home is not only empowering but can have a positive impact on the burden on our overstretched NHS. Wait times have hit new highs (or should that be lows?) with 24,000 patients waiting two years for treatments; GP appointments are difficult to secure; and much more time must be spent sanitising both spaces and ourselves in order to meet at the GP surgery. As a private medical company, we believe our role at Kinetik Wellbeing is to relieve some of this burden through enabling individuals to remotely monitor and catch common, treatable conditions, with straightforward, easy-to-use equipment.
The role of remote monitoring
A recent NHS-backed study showed that a majority of patients were happy to see their GP remotely. This practice was not only useful during the pandemic, but continues to be so now, and remote monitoring, by the GP and individuals, should be seen as a solution with long term benefits. Although there are situations where an in-person examination is necessary, such as when a hands-on examination is needed, medical expertise is not always required when it comes to checking blood sugar, temperature, and other vital signs. Rather than needing to go to a GP to monitor vital signs, easy-to-use devices are empowering people to manage their own health at home.
Remote monitoring and health technology can play a critical role when it comes to easing the strain on the NHS and reducing wait times for those that need urgent and professional medical attention. In fact, our recent survey found that 61% of people actually prefer to manage their health at home and 76% believe home health monitoring to be more important since the pandemic. However, only 1 in 4 people reported that they had been recommended the use of home medical devices by their GP.
Remote monitoring – which in this context refers to the gathering of vital signs data such as blood pressure, blood sugar, body temperature, heart rate or oxygen saturation directly by the patient – became even more important during the pandemic when there was limited access to healthcare professionals.
When could remote monitoring be used?
England currently counts around 5.5 million adults with high blood pressure, and hypertension is the third biggest risk factor in the country for premature death. In light of this, being able to carry out a blood pressure check regularly – rather than just once a year – and in the comfort of your home rather than in a more stressful medical environment, can really make a difference in picking up potential issues before they lead anything serious.
It is important to note here that medical expertise is not necessary when it comes to checking blood pressure, and there are a variety of machines available that are both reliable and affordable, such as the Smart Blood Pressure Monitor, which keeps a record of readings to be shared with the GP. According to a government report, high blood pressure costs the NHS over £2 bn considering the disease it leads to but without accounting for costs in time and money to the GP in managing the blood pressure alone. If more people can check their blood pressure at home, more cases of hypertension can be picked up before they lead to problems, without the additional cost burden of regular checks via in-person appointments.
We've also seen an increase in the use of pulse oximeters in the last two years. As many of us have learned, one of the complications of COVID-19 is breathing difficulties. Being able to measure oxygen levels in your blood can help catch signs of a lung infection – whether linked to COVID or not – early on. In many cases, using a pulse oximeter can help a patient become aware of a potentially silent need to get medical help sooner than if they were relying on just monitoring symptoms alone.
Regular remote checking enables the patient to notice any changes from their own baseline statistics quickly, before they lead to larger problems.
The long-term benefits of remote monitoring
Kinetik Wellbeing believes that remote monitoring can be a long-term solution in helping to alleviate pressure on the NHS. It allows doctors to focus on patients who need in-person examinations while checks on vital signs are measured, monitored and reported regularly and remotely, and patients are called in only when necessary. It reduces the need for multiple nurse appointments, thus cutting costs and cancellations further, as readings can be done at home with the added benefit of greater accuracy because of the 'white coat' effect.
In the same way you can use remote monitoring to spot any early signs of something wrong, equally you can see the impact of positive lifestyle changes which can certainly be rewarding to see. But more than this, taking an active role in and increasing awareness through monitoring our own health is empowering and beneficial, both for ourselves and for the NHS.