09 Aug 2023
SureScreen Diagnostics receives two prestigious King's Awards for Enterprise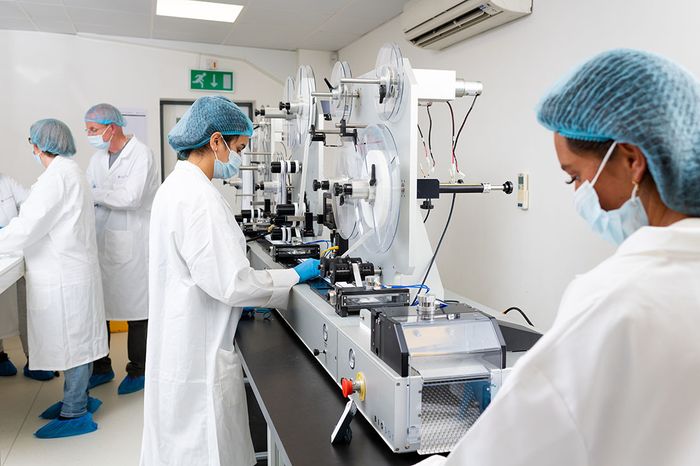 SureScreen Diagnostics receives two prestigious King's Awards for Enterprise
SureScreen Diagnostics is celebrating its achievement of being a double awardee of the King's Award for Enterprise, in the categories of Innovation and International Trade.
The King's Awards for Enterprise recognise outstanding achievements by UK businesses in the fields of innovation, international trade, sustainable development and promoting opportunity through social mobility. Awardees attend a Royal reception hosted by His Majesty the King at Buckingham Palace, and are presented with their award(s) by a Lord Lieutenant acting on behalf of the King.
Founded in 1996, Surescreen Diagnostics is a Derby-based point-of-care lateral flow rapid diagnostics manufacturer focused on bringing innovation to people around the world to improve lives through early and accurate diagnosis.
During the Covid pandemic, Surescreen Diagnostics developed the UK's first antigen test which passed strict laboratory validation at Porton Down, to identify SARS-CoV-2. The test was designed to maximise sensitivity and specificity whilst allowing detection across multiple mutations of the virus across variants of concern. Due to its high accuracy and sensitivity, the test was used widely in the NHS Test and Trace Programme.
"We are delighted and proud to have been acknowledged for our outstanding achievements in Innovation and International Trade," said David Campbell, Director of Surescreen Diagnostics. "This prestigious award is a testament to the hard work and dedication across the team, who worked around the clock to develop a valuable test in what was a very difficult time."
SureScreen Diagnostics has been manufacturing lateral flow tests and helping people across the world for over 25 years, and has become recognised nationally and internationally as a mark of high quality diagnostics.
With its global reach, SureScreen Diagnostics continues to research and develop cutting-edge products with world-first biodegradable tests. More recently, Surescreen Diagnostics has produced and manufactured lateral flow tests for Mpox and the first dual Influenza + Covid test to be approved for use in the UK.
The company is founded on a belief that quick, simple and cost-effective tests - which can be done by the patient's side in minutes - can have a tremendous impact on individuals' day-to-day diagnosis and treatment, and the ability to save lives.
"Innovation is at the heart of our business," said David Campbell, "and we will continue to research and develop systems for the early detection of diseases to allow better treatments and monitoring for the future, with a continued focus on improving people's lives through early and accurate diagnosis.
"The King's Awards for Innovation and International Trade will help us to gain further international recognition as we continue to develop world-leading point-of-care rapid lateral flow tests."