04 Oct 2021
Take the complexity and monotony out of purchasing medicines.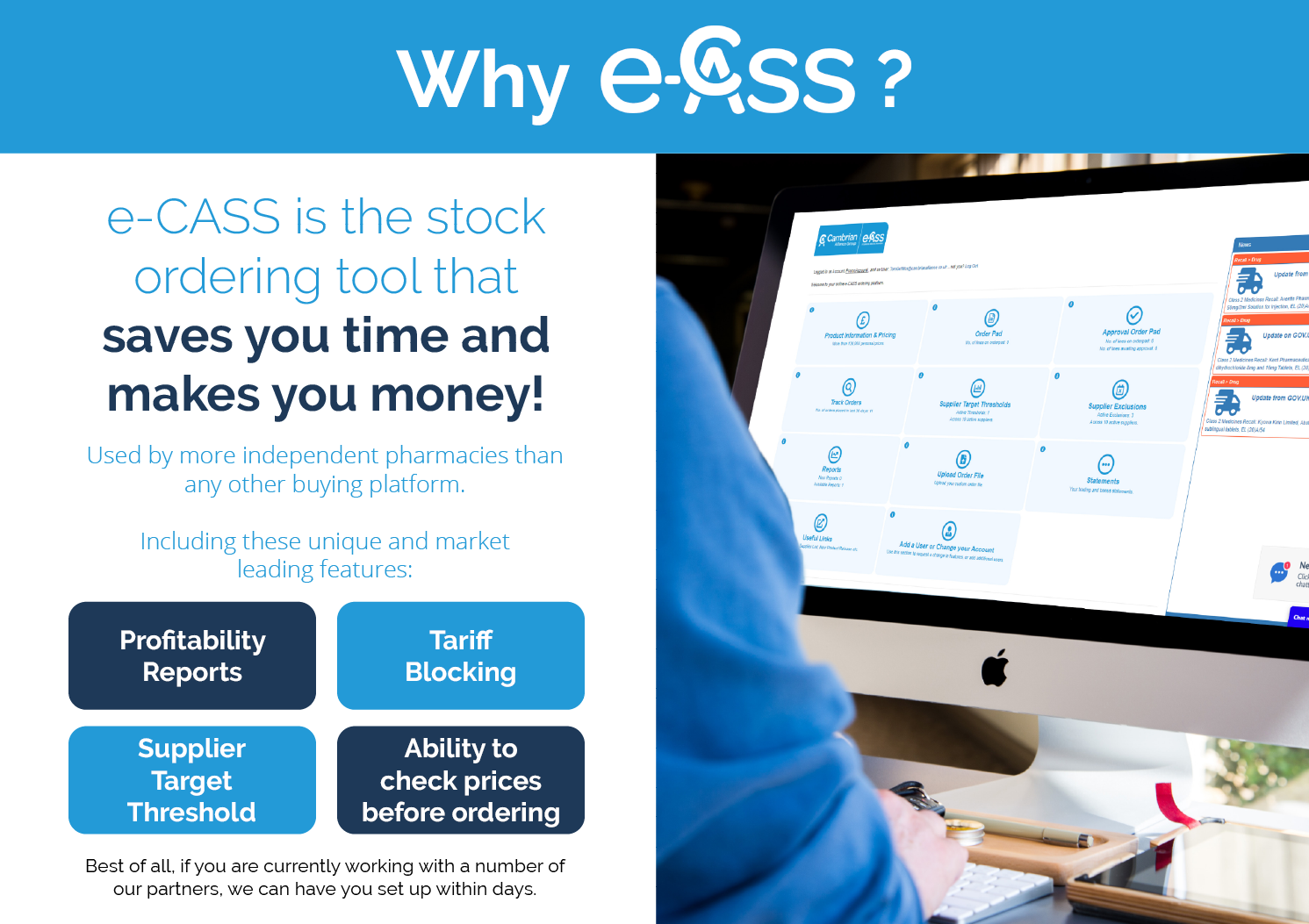 e-CASS, from the Cambrian Alliance Group, is the most widely used buying platform of independent pharmacy in the UK, with an array of tools and features to help ensure you purchase medicines at the very best prices for your pharmacy business. Configured in a way that supports your existing buying preferences and using your choice of wholesaler, e-CASS transmits orders to the wholesaler with the best possible price based upon actual stock availability. Better still, e-CASS applies all your pharmacy specific discounts and price tier detail to ensure the most accurate and transparent price comparison in the market.
You can choose to use e-CASS as a fully integrated order pad within your existing PMR system, use it as a standalone web-based platform, or use them simultaneously to give you and your pharmacy business maximum control. If you've ever struggled to make sure that your team purchase products in a way that meets with your instruction, then e-CASS is the perfect way to ensure all orders placed meet with your parameters or prior approval and avoid costly mistakes!
We know that you will typically be placing orders at the usual peak times for pharmacy ordering, don't worry, e-CASS has you covered and is the most reliable buying platform available. We transact over 2 million items every week and our cloud-based, scalable servers, can transact unrivalled numbers of items every minute. Plus, with the support of our fantastic 5* rated account services team, you can be confident that support as always available.
But buying better is more than just ensuring greater levels of margin, we believe that all pharmacy contractors should be in control, that's why we have some of the most sophisticated reporting available to independent pharmacy. At the click of a button, access your detailed profit reports, understand the direct impact of cat m changes, and make decisions on future purchasing based upon supplier performance comparisons. e-CASS has it all, come and visit us for a demo of all our products and services and see how we can help you start saving time and money today.