06 Oct 2021
Taking you one step ahead of the game.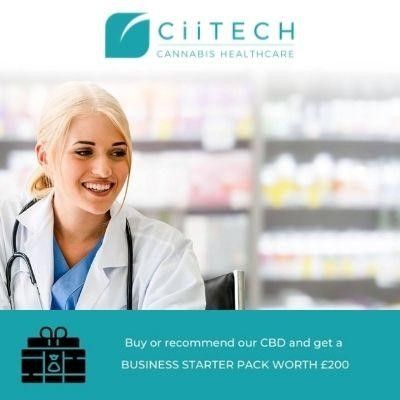 CiiTECH Cannabis Healthcare is taking care of business. With so many cannabis products on the market, it can be overwhelming not only for customers, but also for pharmacies and businesses.
CiiTECH wants to make it easier for you to choose the right CBD products and get the support you need.
Below we have outlined three reasons why:
Selecting the right brand
Choosing the right brand, or brands, is the first step! A good brand will have certificates of analysis and lab reports, clear and easy-to-understand labelling, a responsive marketing and sales team to assist you, as well as onboarding materials and support. Fortunately, CiiTECH has it all!
CiiTECH currently offers over 80 different products, under three brands. Having a clear understanding of products makes it easier for you or the customer to choose the exact product that they want. CiiTECH's award winning brands are also recognized as some of the most trusted brands on the market in the UK. The CBD content in all three brands is high-quality, legal, and verified by third-party certificates or lab reports. Each brand is tailored for a niche market.
Provacan:
The flagship brand of CiiTECH, Provacan, focuses on presenting CBD products that offer transparent and clear information. In addition to the clear distinction between oils, edibles, topicals, and cosmetics, Provacan also clearly labels the dosage instructions and ingredients.
IMPACT:
The sports focused brand curates products to help support athletes. IMPACT works closely with players and coaches from various sports, but it is especially close to the pro rugby world. A sport with high impact and strain.
HuGG:
HuGG emphasizes self care and skin care. A range of delicately scented products that are perfect for daily use and support. The beautiful packaging will stand out on any shelf, but we recommend the cosmetics section. Each CBD product contains high-quality CBD and complementary ingredients that keep your skin looking and feeling its best.
Educating Pharmacists and Employees
An important step has to be taken here. CBD remains a very confusing subject for many and is often misunderstood. CiiTECH offers online courses through the CiiTECH Academy. Courses cover the fundamentals of cannabis for healthcare professionals to help them gain a deeper understanding of cannabis products. After completing the 14 module courses, you will feel confident in addressing queries related to cannabis and products.
When you choose CiiTECH for all your CBD needs, you will be gaining access to an exclusive network of knowledge gained from leading industry experts. CiiTECH is renowned for its partnerships with prestigious research institutions and industry experts. In addition, CiiTECH's full in-house marketing and sales team provides support to help businesses drive traffic and become more competitive in the marketplace.
CiiTECH is your one stop shop for successfully stocking CBD products. Let's get your business set up today with an exclusive offer. Visit the link below and complete the form today.