Lamberts NEW Neuro-Logical PLUS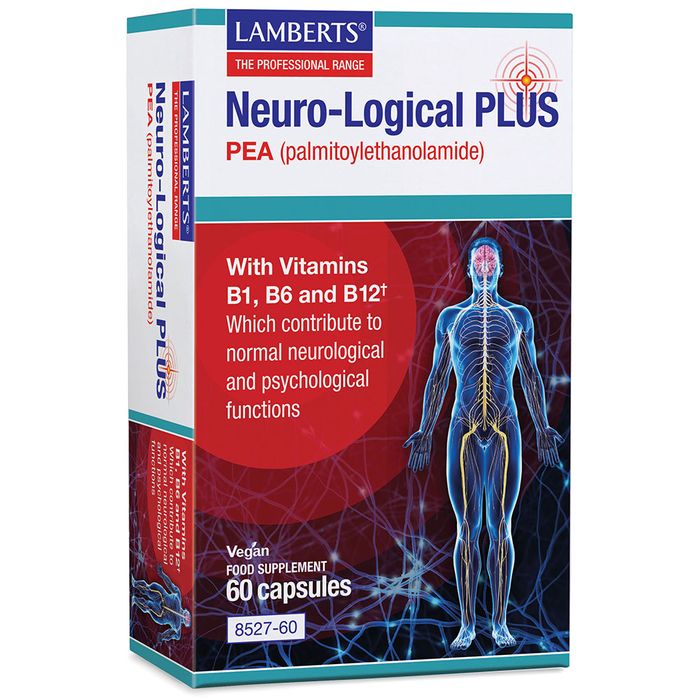 Neuro-Logical Plus
Double strength Palmitoylethanolamide (PEA) with vitamins B1, B6 and B12
Neuro-Logical Plus uses the highest quality PEA (OptiPEA®)
Twice the dose of PEA (400mg) compared to our original Neuro-logical formula.
The efficacy of PEA has been demonstrated in multiple clinical trials
The body naturally produces PEA as a response to inflammation-induced discomforts
With vitamins B1, B6 and B12, which contribute to normal neurological and psychological functions.
Following a solid and growing research base to clarify the value and safety of palmitoylethanolamide otherwise known as PEA (OptiPEA®), Lamberts are delighted to introduce our new double strength Neuro-Logical PLUS into the range. Neuro-Logical PLUS uses only the highest quality palmitoylethanolamide and contains twice the level of PEA (400mg) as our original formulation. Similarly to our original Neuro-Logical, our new formulation is enhanced with vitamins B1, B6 and B12 which are known to support normal neurological and psychological functions. Our capsules are made, tested and packed in the UK to ensure consistent high quality, and are suitable for vegans.
Palmitoylethanolamide (PEA) is a lipid naturally produced by the body in response to inflammation and pain. Often described as an 'alternative to CBD', studies suggest that the therapeutic actions of both compounds overlap in their biochemical roles in humans, however, PEA is endogenously produced, whilst CBD is not made by the human body.
PEA does not bind to cannabinoid receptors, it does however increase their expression and activity, working as a direct response and repair mechanism to inflammation and pain ensuring that the body can keep up with demand. The human endocannabinoid system is responsible for many vital body functions and as an endogenous molecule, PEA is involved in some of these metabolic processes. The main receptors are CB1, which is found in the brain and nerves of the spinal cord, and CB2, which is found in the digestive and immune system.
Whilst initially discovered over 50 years ago, the past few decades have seen renewed research to understand PEA's mechanism of action. Until the 90s no one knew why that was, until Nobel Prize laureate Rita Levi-Montalcini found that PEA can calm overactive mast cells.