09 Feb 2022
Aero Healthcare 'MAKE IT BETTER' with More Support for the Community Pharmacy sector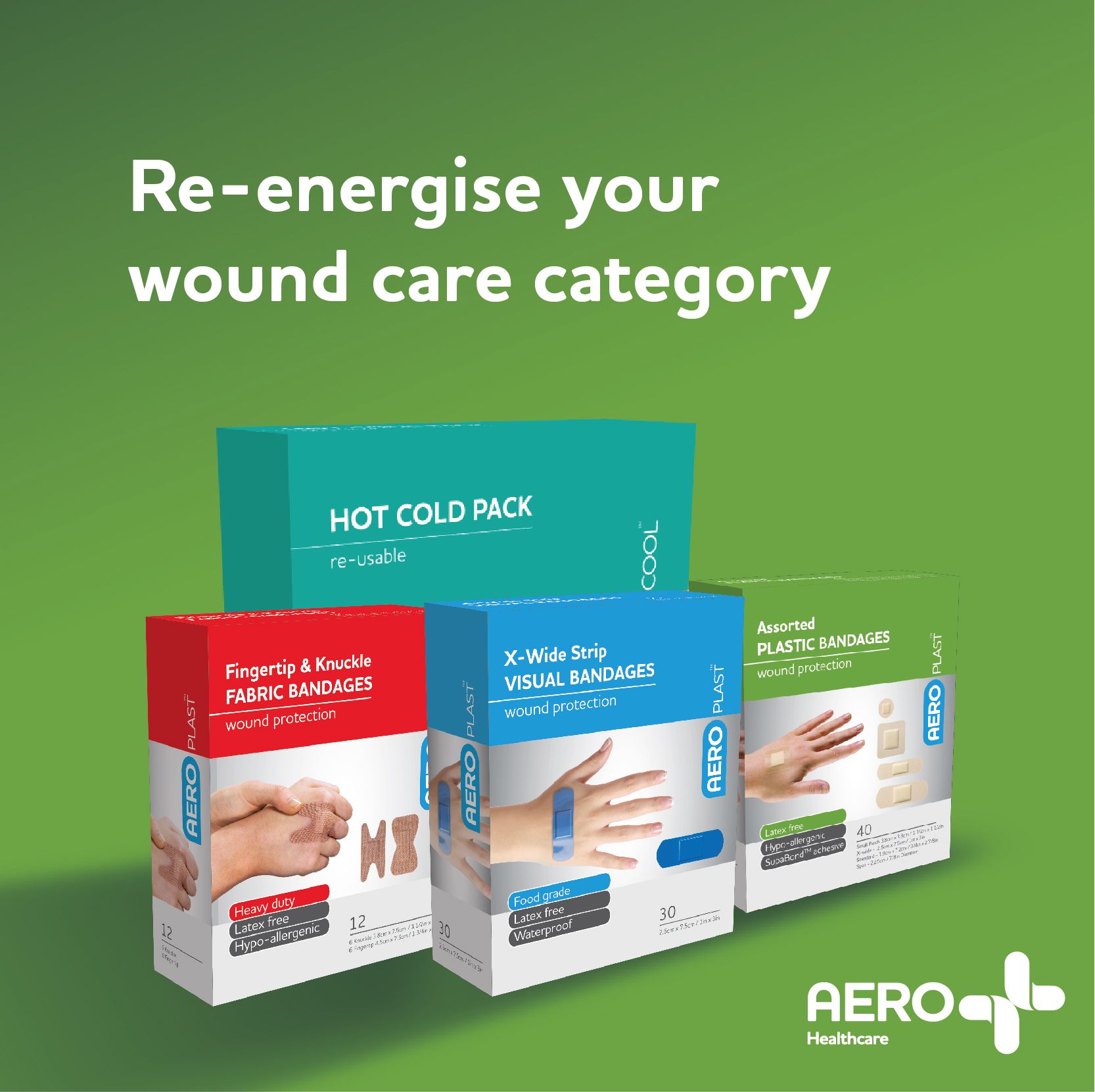 Providing even more support for the community pharmacy sector, Aero Healthcare has extended its comprehensive and national pharmacy distribution network to include Hampdens.  By further increasing their extensive supply chain, which incorporates the UK's dispensing giant AAH and Enterprise Wholesale, the addition of Hampdens reinforces Aero Healthcare's dedication to drive and re-energise the First Aid and Healthcare pharmacy sector. 
Explaining the importance of their distribution partnerships, Reuben Gilmore, Sales Director at Aero Healthcare said "Every local pharmacy is now able to access and maximise the benefits from our innovative community support products and initiatives.  Aero Healthcare's partnership with these important pharmaceutical wholesalers, ensures that we provide a comprehensive and reliable supply across the country, to all the UK's dispensing points.  This includes over 8,000 independent and multiple pharmacies."
Drive OTC growth
With in-store support, a quality product range, merchandising and eye-catching packaging; the sector exclusive first aid and wound care range is an integral component for pharmacy chains such as Whitworth, MB Health and McKeevers.  And, with distinct positive sales, Aero Healthcare's ongoing promotion of the local pharmacy as the 'go to' provider for quality first aid, is driving OTC growth and repeat customer business.
The core product lines boast superior and unique user benefits for the category; and as a global brand leader and established suppliers to the UK Emergency Services and NHS, both pharmacies and consumers can be confident of the range's efficacy.  
 
Premium products provide a competitive lower unit price-point for consumers and a guaranteed full range, consistent profit of return (POR) for pharmacies. Product categories range from Aero's plasters that use trademarked premium adhesive, so that they 'really do stick,' along with burns care dressings, bandages, wound pads and ice packs.  And, the specially designed retail packaging with clear signposting for customers, makes customer choice and across range purchasing easy. 
Optimisation
The provision of enhanced retail fixtures and tailored planograms enable easy merchandising and the optimisation of limited shelf space.  This is further supported by bespoke point-of-sale materials to ensure the section is a defined destination point, with the focus on purchasing decisions switching from a distress buy to an impulse purchase, to maximise and further increase in-store revenues.
 
Bringing their global expertise to the pharmacies, Aero Healthcare is invigorating and expanding the sector. Community pharmacies can now benefit from a comprehensive suite of product training modules, along with marketing, media and community initiatives specifically developed to drive footfall to store.  
 
Customers come back for products that work when they need them most; and Aero healthcare's robust supply chain ensures that products are maintained on shelf.  Aero Healthcare 'Makes It Better'.  'Once you've tried it – you'll stick with it!' Trust in Aero Healthcare.
 
Find more information on Aero Healthcare's first aid and wound care pharmacy range, visit https://hubs.la/H0Z2vD20 or email sales@aerohealthcare or call 01403 790704.
For further information, comment, or to set up an interview, please contact Heather Joy on: 
Phone: 01403 599322
Mobile: 07968 805422
Email: media@aeroheathcare.co.uk
Aero Healthcare are available to provide comment on all relevant First Aid and Consumer Wound Care matters.
Editors Notes:
Aero Healthcare is a global leader in the First Aid and Consumer Wound Care sector; providing security and status with worldwide professional expertise. Spanning more than a 100 years, with a heritage of knowledge and unique innovation that matches consumer needs; global purchasing power provides reliability, continuity and supply chain assurance, which is coupled with the dependability of manufacturing and sourcing across 22 countries
Competitively different by manufacturing own brand products, Aero Healthcare leads the market with unique product innovation.  Exceptional products such as: AeroPlast Detectable Blue Plasters, Rapid Stop Bleed Control, SupaBond®, CardiAct Defibrillation Solutions and AeroForm Snake Bite Bandage, carry the exacting International Quality Standards marks, a 100% guarantee and the new UKCA mark. Full compliance with the new Medical Devices Regulation is assured. 
Aero Healthcare's global production and distribution reach encompasses Europe, Middle East, North America and Oceania.  Committed to excellence and 'Reducing Preventable Deaths', comprehensive research and development processes ensure every product is efficacious, fast to apply, intuitive, available and affordable for all.