28 Jul 2022
Announcing The Primary Care Pharmacy Show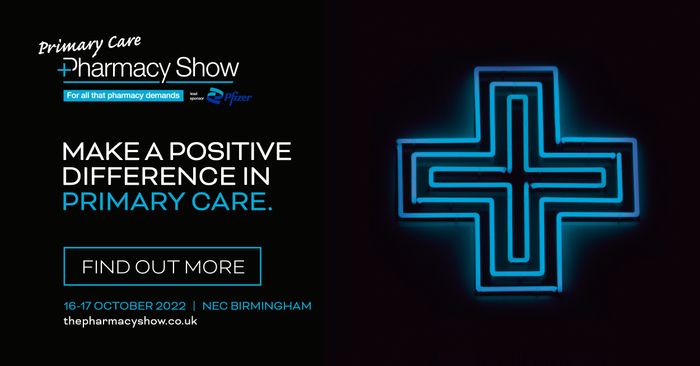 (LONDON) 28th July 2022: The Pharmacy Show has announced today that it will host the 'Primary Care Pharmacy Show' within the event, an enhanced feature bringing together primary care pharmacy and community pharmacy making it the largest gathering of the UK's integrated healthcare mode.
Pharmacy professionals have become an integral part of general practice teams over the last seven years. Their role in supporting patients through structured medication reviews, improving screening and diagnosis of chronic and common conditions, prescribing, and improving medicines safety has been vital to patient outcomes.
That is why at The Pharmacy Show, we have advanced our show to provide specialist speakers, exhibitors, and products specifically for primary care pharmacy professionals.
Background:
On 1 July 2022, Integrated Care Systems came into force as statutory bodies. Just a few weeks before this, all 42 CEOs of the new systems signed their support of the Fuller Stocktake Report, which outlined a new vision for integrating primary care, improving access, experience and outcomes for communities:
The Fuller Stocktake highlights, 'we are going to need to look beyond a traditional definition of primary care and understand that NHS urgent care is what patients access first in their community', whether that is online advice on symptoms and self-care, going to a community pharmacy, a general practice appointment, an urgent treatment centre, or 111.
Pharmacy professionals in community pharmacy, and those working within general practice and PCNs, are absolutely vital to the vision set out. Pharmacy professionals are also creative trailblazers when it comes to playing their part in streamlining access to care and advice, providing proactive and personalised care for people with complex needs and helping people to stay well for longer.
Enhanced Conference Programme:
The Pharmacy Show programme has plenty of sessions to highlight and share this work, discuss new ideas and inspire change – whilst recognising the challenges pharmacy professionals face.
Along with sessions in the Keynote Theatre on the Fuller Stocktake and the implementation of ICS and what it means for pharmacy, the Primary Care Pharmacy Theatre at the Pharmacy Show is designed to offer practical examples of best practice, support and inspiration for primary care pharmacy professionals. Join our lineup of speakers to help you navigate the new system and provide the best care for your communities.
So, join us on 16th and 17th October 2022 at NEC Birmingham, and make a positive difference for yourself and your community.