29 May 2020
Award Winning Clinical Pharmacist Reveals Struggles of Working with Homeless during COVID-19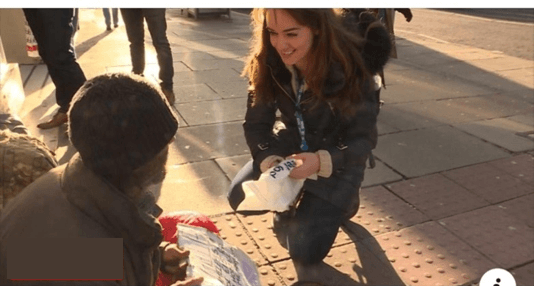 Prescribing clinical pharmacist Kate Stock and fellow members of the Pharmacy Homeless Outreach Engagement Non-medical Independent Rx (PHOENIx) service in Glasgow scooped the Excellence in Clinical Community Pharmacy Practice award in June 2019. Judges were impressed by the team's innovative, clinical pharmacy-led approach to caring and supporting the city's homeless, offering help to those who would otherwise fall through the gaps of healthcare provision.
Together with Megan Knapp, a Simon Community Scotland outreach worker, Kate described how the PHOENIx team have risen to the challenge of the current pandemic and what they have learnt.
With COVID-19 forcing Britain into lockdown, Kate and Megan believed it was more important than ever to act as advocates for the homeless at this difficult time. However, until they were finally able to access adequate PPE on April 14th, they could only offer remote support, phoning round patients on their case list and working closely with Glasgow's Homeless Health Service in Hunter Street.
Kate and Megan, two incredible individuals, highlighted some of the major issues surrounding providing health care and support for the homeless, nonetheless that most do not have access to a mobile phone. Before the pandemic, drug misuse was already widespread amongst the homeless population in Glasgow, primarily due to the high rates of mental health problems compared to the rest of society (65% vs 45% MH foundation) but since the outbreak, these issues have only snowballed.
Kate noted a rise in drug overdoses, though not yet quantified, due to the homeless being given longer prescriptions for controlled drugs, including opioid maintenance therapy drugs like methadone.
"Suddenly you have got a week's worth of methadone and prevalence of other controlled drugs that are highly valuable on the streets of Glasgow."
This combined with social distancing rules, which have affected the homeless in particular due to the closure of community spaces like shelters and soup kitchens, have severely increased their vulnerability to life-threatening overdoses due to overwhelming feelings of isolation.
Although Simon Community Scotland has attracted support from companies such as Ibis who are providing hotel rooms for some 30 homeless people in Glasgow during this pandemic, the move from life on the streets to life in isolation has been devastating for many rough sleepers. Glasgow City Council are funding
Although the Scottish Government are currently funding and supporting Simon Community Scotland to allow some 30+ service users to stay in the Ibis during the pandemic, the move from life on the streets to life in isolation has been devastating for many rough sleepers. Megan revealed that currently 450 homeless people are currently being accommodated in Glasgow's hotels and B&Bs.
She noted, as many homeless individuals have their support systems on the street, "their normality is ruined much more than ours. The rug has been pulled from under their feet."
Given this, it is no wonder there is such a crisis surrounding mental health and drug abuse among the homeless at this particular time, and though support is being provided by the hotel staff on a day-to-day basis, they are lacking the proper social care training needed to deal with the complex issues this community faces.
Furthermore, Megan and Kate both described problems surrounding gaining a bank account and accessing benefits, caused by a lack of communication between agencies: "The bank and the benefits office don't talk to each other, on the one hand, you've got the benefits office saying they need your bank details to process this, and on the other, you've got the bank asking for a note of benefits approval from the DWP to make an account."
These added stressors, which make the future even more uncertain, are only worsening the mental health issues experienced by the homeless at this time.
Sadly, the award winners also shared accounts of the misunderstanding and prejudice homeless individuals are sometimes met with when trying to access health care. Kate described how the challenges she has faced in advocating for the homeless at some GP surgeries have made her "feel strongly about connecting people and having the confidence to challenge people." Quite often patients, when faced with stigmatised attitudes from a mainstream GP practice, end up in confrontational situations that results in them being removed from the practice list, which is overall damaging for their wellbeing.
She also commented that "as a professional, I have been quite shocked at how other professionals have been towards our patient group," which truly brings home the severity of the prejudice the homeless are facing in healthcare, pandemic or no pandemic.
Since winning their award, the PHOENIx team has expanded to consist of four prescribing clinical pharmacists, three outreach workers from the Simon Community Scotland Street team and four staff from The Marie Trust homelessness charity. Working in pairs, the pharmacists and outreach workers deliver services within a specialist health clinic for homeless people in Glasgow and via outreach in the city's day centres, temporary accommodation, and on the street. Pharmacists offer health checks, diagnose, prescribe, follow-up and refer to other services, while the street team worker addresses housing, welfare benefits, and other related issues.
Recent analysis of Glasgow's Homeless Health Service patient-level data revealed very high levels of multimorbidity amongst the city's homeless population: the average patient age was 42.8 years, but levels of multi-morbidity recorded were comparable to individuals aged 85 or older in the general population.