05 Oct 2023
Get behind your profession's charity this Pharmacy Show!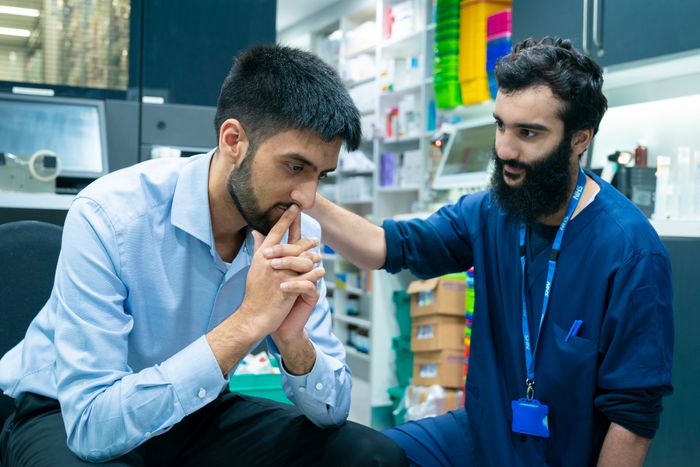 Who we are
Pharmacist Support is an independent, trusted charity providing a wide variety of support services to pharmacists and their families, former pharmacists, trainee pharmacists and pharmacy students.
From counselling sessions and our peer support service, to financial assistance, addiction support and beyond, our team works tirelessly to be there for people across our profession to make sure no one in our pharmacy family has to face challenging times alone.
Why we need to exist
We understand that the impact of our services on our beneficiaries is invaluable. Our recent Impact Report shows that 100% of service users were satisfied with the help they received, with 78% reporting that the support they had received had a positive impact on their wellbeing. The feedback we receive also illustrates the positive impact our services have on our pharmacy family, with one service user saying: "I genuinely don't know if I would be sitting here writing this if it wasn't for the counselling sessions and financial support."
Why we need you
We will always be here to support our pharmacy family, whenever they need us. But we can't do it without support ourselves. As an independent charity, we rely on donations to keep our vital Support Services running. Sadly, since the Covid-19 pandemic and the start of the ongoing financial crisis, our charity has faced several fundraising obstacles, and at the same time, because of the fallout of Covid-19 and the cost-of-living crisis, Pharmacist Support has seen an unprecedented demand for our services. With the increasing pressures on the profession, we foresee that this demand will continue to grow.
This is where you can help. If you are in a position to do so, we're asking everyone across our pharmacy family to get behind Pharmacist Support this Pharmacy Show and make a donation. Text PHARM001 to 70970 to donate £5 or to 70191 to donate £10. Your valuable donation, however big or small, can help us change the life of a fellow pharmacist, trainee or pharmacy student who is facing difficult circumstances. Thank you.
Where to find us at the Pharmacy Show
We're delighted to be the nominated charity at this year's Pharmacy Show! Come and chat to us about how we can support you and your pharmacy team at stand C46 in the exhibition centre. You can also join in the wellbeing conversation at our theatre sessions: Building resilience and a growth mindset in your pharmacy team (Professional Development & Careers Theatre on Sunday 15th October, 11:55 – 12:25) and Do you feel supported? (Joint session with CPPE and APTUK – Professional Development & Careers Theatre on Monday 16th October, 15:40 – 16:10).