23 Oct 2023
BOPA launch 'Play Your Part' for the world of community pharmacy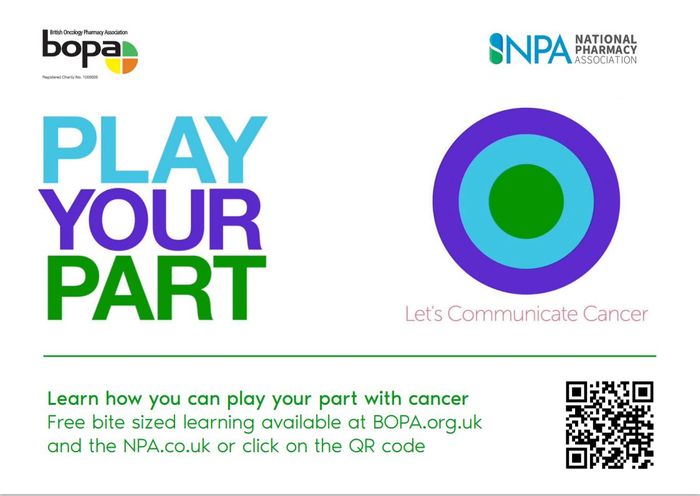 Mat Peters (NPA) and Jackie Lewis (BOPA, Lewis Pharmacy) were delighted to launch, to the world of community pharmacy, a new campaign called Play Your Part housed within BOPA's successful e-learning series Let's Communicate Cancer. This campaign sees the start of a welcome relationship between the British Oncology Pharmacy Association (BOPA) and the National Pharmacy Association (NPA) and a continued partnership with Pfizer for funding. Although Let's Communicate Cancer is comprehensive in covering the whole cancer pathway and early diagnosis, feedback has highlighted the need for some welcome additions. We have also taken this opportunity to create CancerHubs for both organisations which are located at CancerHUB: Home Page - BOPA and NPA CancerHub - NPA » NPA. Both hubs presently contain the same information and enable you to find all of Let's Communicate Cancer, Play Your Part materials and other comprehensive information to help you help your cancer patients.
Play Your Part educates and encourages and enables all patient facing pharmacy staff and other interested healthcare professionals through several types of media – we have created:
Short animations on red flag symptoms for types of cancer to improve your recognition of these during conversation with your patients.
A new module called the Patient journey which contains 7 x short videos following a patient journey to improve your understanding of the emotional side of cancer.
Downloadable factsheets in two series: Treating side effects of cancer (Rashes, neutropenic sepsis, mucositis, nausea and vomiting, diarrhoea, constipation, peripheral pain) and Understanding types of cancer treatment (Chemotherapy, radiotherapy, hormone therapy, targeted therapy and immunotherapy.
These factsheets provide fingertip information to improve your understanding and help your patients undergoing cancer treatment.
Last but not least we have put together a healthy living guide which enables access to free downloadable and printable materials for pharmacies to run 4 healthy living campaigns over the next year. This is also situated in the BOPA and NPA CancerHUBs under Play Your Part.
All of these new training materials can be accessed here: CancerHUB: Play Your Part - BOPA or Let's Communicate Cancer - Play your part - NPA » NPA
Andrew Walker (co-chair BOPA community pharmacy sub-committee) presented the results of a pilot study undertaken in London pharmacies by NHS WTE (formerly Health Education England. This was carried out to assess the impact of Let's Communicate Cancer. From the feedback the first series of factsheets was born detailing types of cancer and red flag symptoms. These can be found in the BOPA CancerHUB here: CancerHUB: Series 1 Red Flag Symptom factsheets - BOPA.
Not Normal For You? a simple service for community pharmacy teams to help early cancer diagnosis was also launched at the pharmacy show. This was a partnership between Jackie Lewis, The Health Education Foundation, Alliance Healthcare, BOPA and funded by Bristol Myers Squibb. Community pharmacy teams can order a Not Normal For You? pack from Alliance free of charge. At present this service is available to order for Alphega members only but it is expected to be rolled out to all pharmacies soon. Any non Alphega members who would like to obtain a pack should contact Jackie directly (jackie@lewispharmacy.co.uk).
The service is designed to be simple and the pack to contain all materials needed to get the service up and running straight away. Pharmacy teams will benefit from looking at Module 1 of Let's Communicate Cancer which was a part of the Pharmacy Quality Scheme for 2022-2023. The idea is that when a suspected red flag cancer symptom is elicited from a patient during conversation in the pharmacy (or other healthcare setting), the symptoms are written on the back of a Not Normal For You? card and the patient is encouraged to make a non-urgent appointment to see their GP to have the symptom checked out.
All of the project teams across the organisations mentioned are excited to be launching these invaluable resources to help pharmacy staff Play their part in cancer and thank the Pharmacy Show for providing the opportunity to do so. If anyone is interested in joining the BOPA primary care and community pharmacy sub-committee you would be most welcome. Please use the contact form on the BOPA website. BOPA is looking to increase it's membership of community pharmacy staff.