09 Sep 2021
Celebrating Pharmacy Professionals Far and Wide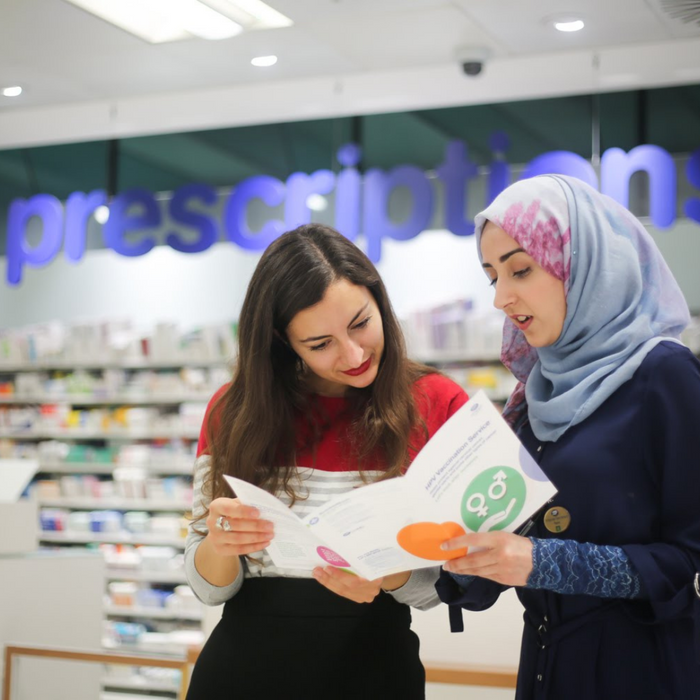 There's no denying the important contribution pharmacy professionals make to the care, treatment and safety of patients and society at large. Pharmacy professionals continue to work tirelessly in increasingly diverse roles across the UK – in hospitals, general practice, community pharmacy, care settings, education and research to improve patient health. It's no wonder that for many years, pharmacy professionals have been named among the top five most trusted professionals in national surveys.
As this year's World Pharmacists Day approaches, there's no better time to acknowledge and give tremendous thanks to the dedicated pharmacy professionals improving health in every corner of the globe.
World Pharmacists Day 2021
Celebrating pharmacists far and wide, World Pharmacists Day has touched on several key themes since it was established – from 'safe and effective medicines for all' to 'transforming global health' in 2020. This year is no exception, with 'pharmacy: always trusted for your health' announced as the (very fitting) theme for 2021.
At a time of uncertainty and with Covid-19 vaccine hesitancy remaining a significant hurdle, public trust in pharmacy has never been more important. Across diverse clinical settings, patients have reported greater satisfaction with treatment, showed more beneficial health behaviours and fewer symptoms, and experienced improved quality of life when they had higher trust in their healthcare professionals.
Where it all began:
Going eleven years strong, World Pharmacists Day was founded in 2010 by the International Pharmaceutical Federation (FIP). Renowned scholar, author and expert in the pharmaceutical industry, Dr. Halil Tekiner planted the seed that it should take place every year on September 25. Tekiner first suggested the date in an article published on FIP's website in 2009 – the same year the FIP Congress in Turkey was to take place.
After conducting research at the FIP Bureau, Tekiner discovered it was this day in 1912 the FIP was officially established, which kick-started his efforts to give World Pharmacists Day the same meaningful date. Tekiner officially asked the Turkish Pharmacists' Association (TPA) for their support, as well as asking many pharmaceutical historians for their comments and suggestions.
After getting some encouragement, he submitted a short note later published in the Pharmaceutical Historian 2009, titled 'when shall we celebrate an International Pharmacy Day?'. At the 2009 Council meeting of the FIP Congress in Turkey, the TPA suggested celebrating an annual 'World Pharmacists Day' on September 25 – which was met with universal acceptance, and so it became celebrated internationally on this day.
Shining a light on industry issues
Although World Pharmacists Day is a time for us to celebrate all that the profession has achieved, it's also a time for us to firmly consider aspects of the practice that no longer support our societies adequately enough – from a lack of equality and diversity to the mental health of pharmacy professionals across the country.
Mental health matters
A total of 959 pharmacy professionals across the country took part in the Royal Pharmaceutical Society (RPS) Mental Health and Wellbeing Survey of 2020, which revealed serious issues affecting the industry. From the impact of Covid-19 to the effects of a poor work-life balance, the mental wellbeing of pharmacy professionals remains at significant risk. A staggering 89% of survey respondents had a high chance of burnout – according to the Oldenburg Burnout Inventory, a standardised tool for measuring burnout in healthcare professionals; with major factors including lack of work enjoyment, frequency of sick leave, making mistakes at work and workforce retention.
Left unchecked, the impact of burnout will likely worsen, leaving some so overwhelmed they simply wouldn't have the energy to devote to a given task, activity… or career. With two thirds of survey respondents considering leaving their job in the past year or leaving the pharmacy profession altogether, it's clear that pharmacy professionals are lacking the support they so often provide to others.
The importance of inclusivity
According to results of the latest RPS Survey, a whopping 83% of respondents felt it was important for RPS to strategically support I&D (Inclusion and Diversity) – which reveals quite a lot about the status quo. With issues of inequality being reported across the pharmacy industry, many companies are putting plans in place to ensure their leaders and teams are promoting equality, valuing diversity and being inclusive in all work practices.
Chief Pharmaceutical Officer at NHS England, Dr Keith Ridge – together with RPS, Association of Pharmacy Technicians UK (APTUK) and other industry partners have been doing just that in England, by initiating a series of roundtable events. The first one took place last August and saw approx. 60 pharmacy professionals from numerous organisations and several patient representatives contribute valuable insights and expertise. The goal is to develop key priorities for action that can be worked on collectively, reporting back to a second roundtable, explains Dr Keith Ridge:
"Our aim is to work collaboratively to develop and embed inclusive pharmacy professional practice into everyday care for patients and members of the public, to support the prevention of ill-health and address health inequalities within our diverse communities."
Showing support at The Pharmacy Show
At the Pharmacy Show, we're proud to offer support, expertise and networking opportunities to pharmacy professionals nationwide. At this year's show we'll be shining a light on mental health issues… Pharmacist Support will be taking centre stage to talk about wellbeing; the Mental Wealth Academy will have sessions exploring mental health; and we'll be running our own wellbeing theatre that touches on more of these topics. The PDA will also be hosting sessions discussing the importance of race equality and women in pharmacy.
In the face of today's challenges and the increasingly important role of pharmacy professionals in providing healthcare, it's crucial we continue to celebrate them and the ongoing value they provide. So, let's not stop at World Pharmacists Day – let's appreciate them, every day.