27 May 2020
Disappointment as Pharmacy not given Access to New PPE Portal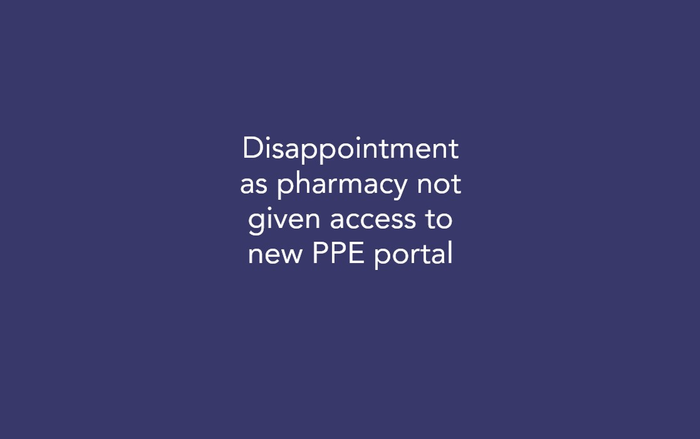 GPs and small care homes can register on the newly formed PPE Portal. This is a new online portal developed in collaboration with eBay to help primary and social care providers to order critical PPE, as it is scaled up nationally.
Pharmacy has not been allowed access to the PPE Portal at this stage.
The PPE Portal has been tested and is now being scaled up nationally over the coming weeks. During this phase of the roll-out, GPs and small residential and domiciliary social care services will be invited to register on the portal.
The government has said that they are focusing on small care providers because their data shows that, although they account for half of all care provision, they seem to be less likely to be registered with wholesalers. They have said that it is therefore important that they ensure that they have the option of quickly joining the portal should they need to.
This forms part of our national effort to ensure critical PPE continues to be delivered to those on the frontline.
The Royal Pharmaceutical Society English Pharmacy Board Chair Professor Claire Anderson has expressed disappointment that pharmacists do not appear to have been given access to the PPE hub at this stage. She commented:
"It's really disappointing to see pharmacy being left behind in this phase of the roll-out.
"Pharmacies are one of the last places keeping their doors open to the public without an appointment and yet seemingly an afterthought when it comes to sourcing PPE for staff.
"We've raised this repeatedly with the Government and have called for pharmacy to urgently being included in the PPE Portal.
"People working on the frontline of COVID-19 should get the same support wherever they may be, including across the whole of primary care."
This news comes as the government announced a 'significant' boost to PPE supplies that is intended to help meet demand in the health and social care sectors has been announced by the government.
It has signed deals with more than 100 new suppliers from around the world in a challenging global market, including securing a further 3.7 billion gloves to help meet the expected demand.
The government has said that it has also supported industry to significantly boost domestic production with companies signing contracts to manufacture over 2 billion items of PPE in the UK, including facemasks, visors, gowns and aprons.
Since the start of the outbreak, over 1.48 billion items of PPE have been delivered to the frontline in England, and tens of millions more items distributed in Scotland, Wales, and Northern Ireland. Just yesterday alone, 3.3 million masks, 11.8 million aprons, 33,000 gowns and 36.2 million gloves were delivered to health and social care settings in England.
As demand for PPE hit record levels during the global pandemic, government and industry joined forces to build a PPE distribution network from scratch. With the help of the Armed Forces, the NHS Supply Chain now delivers PPE to 58,000 settings including care homes, hospices and community organisations.
Health and Social Care Secretary Matt Hancock said:
"Last month, I set a national challenge to ensure we continue to supply enough PPE to those on the frontline of this battle.
"We have now signed deals with over 100 suppliers across the world to secure more PPE, and at the same time we have ramped up domestic production. We have now ordered 2 billion pieces of PPE from homegrown firms which is also great news for jobs and the economy, and over 3 billion pieces from abroad.
"Worldwide demand for PPE has never been higher so I want to thank Paul [Lord Deighton] for his work in ensuring that PPE continues to be delivered to where it is needed.
Lord Paul Deighton is leading the government's efforts to secure PPE and ensure this gets to where it is needed. As part of this, he is driving forward the coordination of the end-to-end process design and manufacture of new domestic PPE supplies.
Lord Paul Deighton said:
"As unprecedented demand for PPE continues around the world, British industry has stepped forward to strengthen the UK's response and increase PPE supplies.
"We have already secured millions of PPE items through deals with British industry, and continue to work with hundreds of potential manufacturers to further bolster our domestic supply chain now and in the future."