11 Sep 2023
Discover the latest tool for enhancing your patients' well-being!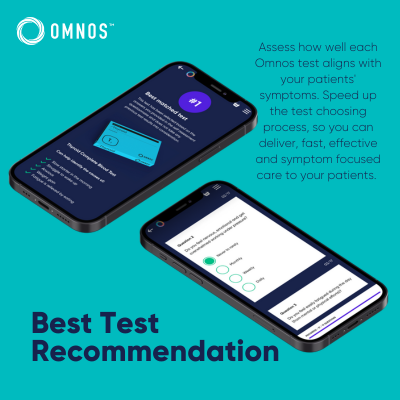 At Omnos, we equip practitioners with top-tier health info for precise care. Our 'Best Test Recommendation' tool simplifies test selection based on symptoms, streamlining patient care.
At Omnos, we place a strong emphasis on symptoms as key indicators of underlying health issues when analysing test results.
The "Which Test Recommendation" tool assesses how well each Omnos test aligns with your patients' symptoms. With the completion of the questionnaire, the top-ranked test will be unveiled, and the entire range of tests available on our platform will be ranked, conveniently displayed on your dashboard. This tool can help speed up the test choosing process, so you can deliver, fast, effective and symptom focused care to your patients.
The Mini Questionnaire
For those patients not yet ready to complete the full questionnaire, we've designed a Mini Questionnaire. This concise set of questions allows you to evaluate the suitability of an individual test, still based on your patients' symptoms. Simply click on "Is this test right for you?" to access this feature.
What happens when a patient updates their symptom questionnaire?
When your patients update their symptom questionnaire as part of their health journey, the test rankings adjust based on the new answers provided. We firmly believe in the importance of re-testing, so that both you and your client have the most updated information about their health. Additionally, tests not intended for a patient's gender will be excluded from recommendations.
We are excited to bring these innovative features to practitioners like you, empowering you to enhance the health and well-being of your patients.