09 Sep 2021
Encouraging Emollient Adherence – with Emollin® Emollient Spray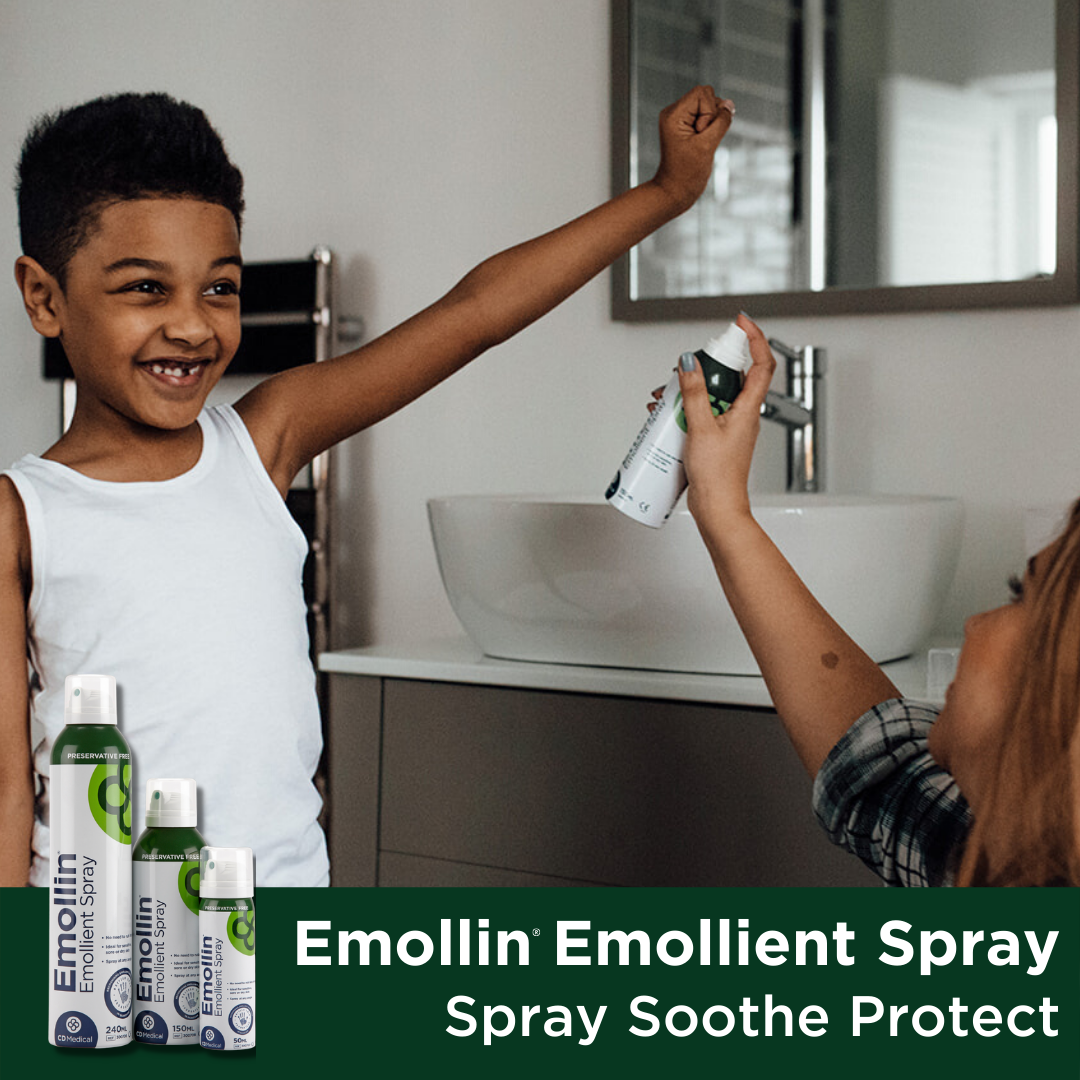 While a consistent emollient routine is considered the mainstay of treatment for many dry skin conditions such as eczema, it is acknowledged that patient adherence is generally poor.1 
Emollients work by reducing transepidermal water loss (TEWL), hydrating the skin, and increasing barrier function. They provide a protective barrier against external irritants penetrating the skin.[1] As well as improving symptoms of dry skin conditions they also have a steroid sparing effect, reducing the amount of topical corticosteroids required. [2]
Emollients can also reduce symptoms of itching, helping to break the devastating itch-scratch cycle. [3]
Despite their numerous benefits, it is understood that emollients are commonly under-prescribed and under-used, resulting in the sub-optimal treatment of dry skin and eczema. [4]
So, what are the common adherence issues faced by patients with dry skin conditions?
Inconvenience of Application
Often patients will use emollients to manage eczema in the short term, but day-to-day life gets in the way of long-term use: "If you forget, or we're out, or I haven't got the cream with me or whatever, it's worse the next day. If he's been away to his dads over the weekend and he's not done it… it just goes on and on." [5]
We understand that re-applying emollients throughout the day can prove difficult for many patients. Emollin's spray-on application was designed to allow for quick and easy application, even when away from home or at school. With 3 x sizes available for convenient use on-the-go.
Patients, and parents of patients, report concern over ingredients contained within emollients, "The prospect of putting on a cream that had 40 chemicals in them, just didn't sit well." [6]
Emollin is the only aerosol to apply pure White Soft Paraffin BP and Liquid Paraffin BP to the skin, with no preservatives, additives or SLS. Free from all known potential sensitising agents listed within the MIMS Potential Skin Sensitisers as Ingredients of Emollients table. 
Sensory Processing Considerations
The act of emollient application can be extremely distressing for those with hyper-sensitivity, often experienced by those with Autism Spectrum Disorder (ASD).  
Emollin's spray on application has been reported to be of great help to parents of children with sensory processing difficulties, "The spray honestly changed his eczema journey. He would scream at me when I was applying creams saying I was making it worse, he wouldn't hug me for fear of cream. The spray is the best thing in his eczema journey."
For patients with extremely dry skin conditions, the skin can be painful to touch. As such, the act of applying emollients can be extremely uncomfortable. This can often make emollient application a battleground between parent and child, with one study citing that 30% of respondents commented that their child refused application of emollient.[7] 
Specifically designed to remove the need for direct hand contact, Emollin's spray-on application is ideal for tender, sore skin, allowing patients to keep on top of management without enduring painful application or risking cross contamination.
Educating patients and carers of patients to better understand their skin condition and the treatments available has been shown to have a significant positive impact on emollient adherence, with one study showing an 800% increase in use of emollients after repeated education and demonstration of topical therapies by a specialist dermatology nurse. [8]
We've worked with consultant dermatologist Dr Kathy Taghipour to create a series of short, easily digestible YouTube videos tackling a variety of frequently asked questions on common skin conditions.
We know that the best emollient is one that is used, and that offering patients with dry skin conditions a choice of emollient is key to finding one that fits in with their life. For this reason, Emollin Emollient Spray has been designed to be a patient friendly, quick and easy, emollient delivery.
To find out more visit us at http://www.emollin.co.uk/  or come and chat with us at stand B11 at the Pharmacy Show, 17th-18th October, at the Birmingham NEC.  
[1] Ridd MJ, Wells S, Edwards L, et al Best emollients for eczema (BEE) – comparing four types of emollients in children with eczema: protocol for randomised trial and nested qualitative study BMJ Open 2019;9:e033387. doi: 10.1136/bmjopen-2019-033387
[2] Grimalt R, Mengeaud V, Cambazard F; Study Investigators' Group. The steroid-sparing effect of an emollient therapy in infants with atopic dermatitis: a randomized controlled study. Dermatology. 2007;214(1):61-7. doi: 10.1159/000096915. PMID: 17191050.
[3] Penzer, R et al. "Best Practice In Emollient Therapy, A Statement for Healthcare Professionals December 2012." Dermatological Nursing 2012, Vol 11, No 4.
[4] NICE  (2007a) Atopic eczema in under 12s: diagnosis and management. National Institute for Health and Clinical Excellence.
[5] Santer, M et al. "Parents' and carers' views about emollients for childhood eczema: qualitative interview study." BMJ open vol. 6,8 e011887. 19 Aug. 2016, doi:10.1136/bmjopen-2016-011887
[6] Santer, M et al. "Parents' and carers' views about emollients for childhood eczema: qualitative interview study." BMJ open vol. 6,8 e011887. 19 Aug. 2016, doi:10.1136/bmjopen-2016-011887
[7] Oakley R, Lawton S.Views on unwanted effects of leave-on emollients and experiences surrounding their incidence. Dermatological Nursing 2016 15(4): 38-43
[8] Cork MJ, Britton J, Butler L, Young S, Murphy R, Keohane SG. Comparison of parent knowledge, therapy utilization and severity of atopic eczema before and after explanation and demonstration of topical therapies by a specialist dermatology nurse. Br J Dermatol. 2003 Sep;149(3):582-9. doi: 10.1046/j.1365-2133.2003.05595.x. PMID: 14510993.