11 Sep 2023
Freeing the Pharmacist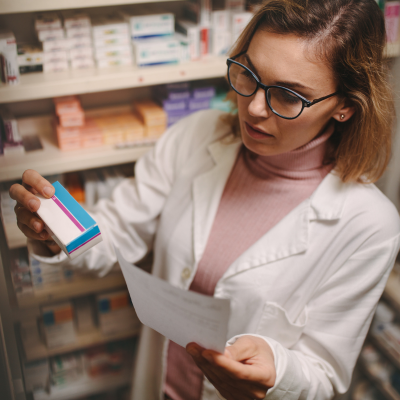 We often hear from pharmacists who want to escape the dispensary 'invisible box', so how close are you to breaking free?
Pharmacists play a critical role in the communities they serve, they are trusted by their patients, but their potential remains underutilised. Given that only a third of pharmacies feel they have capacity to take on new services, and 90% are now spending less time with their patients, the challenges are complex and there is no silver bullet. Action to improve the utilisation of pharmacists to their full potential will require a multifaceted approach, but technology can enable this shift to free up time and move to delivering more services.
We often hear from pharmacists who want to escape the dispensary 'invisible box', an imaginary 2mx2m space at the end of their checking bench, so that they can spend more time with patients; delivering services and unlocking the potential of an additional revenue stream. Many feel restricted by a workflow dictated by both their systems and habit but, if you are open to adapting your workflow, then the benefits, from both time and accuracy efficiencies, could be transformative.
Workflow Reimagined
Analyst PMR supports the reorganisation of the workflow to free up a pharmacist's time, by shifting the clinical check or assessment to the beginning of the prescription workflow. Once a script has been downloaded, or scanned, it enables sunny-day repeats to be approved for assembly in bulk, cutting down the number of full clinical checks performed. This means that a clinician can complete all their checks quickly, efficiently and in an organised and structured way, right at the beginning of the prescription workflow. Importantly, this needs to be their only touchpoint within the PMR workflow.
The pharmacist is then free to speak with patients, deliver services or anything else until they bulk check the next set of scripts. It's easy to see that once this change is completed it can deliver time efficiencies straight away for the pharmacist, but what about the rest of the workflow? We have solutions to help there too.
Alone amongst PMRs, our system fully integrates not just scanning, but mobile scanning. Although globally adopted in other industries to optimise workflows, such technology is unique to Analyst in pharmacy. Following the clinical check, items can be batch picked with an optimised pick order and scanned for an accuracy and expiry date check with our mobile picking app, Quickpick. Labelling can then be actioned, followed by assembly then a 6-way scanned assembly and accuracy check. The process can be flexed to label followed by picking instead to suit your needs.
Working hand-in-hand with Quickpick, our Handout app, using the same scanning technology, to professionalise your shelf management and bag retrieval – no more "hunt the bag", no more bags or scripts left behind and a hugely enhanced customer experience. Full integration into your choice of delivery option and, critically, auto claiming, complete the fully revised workflow.
Workflow Focus
Many pharmacies are still working through their script queue in the same way they did 20 years ago before EPS was introduced, but it's simply not feasible to continue working the same way in today's modern era so our software now allows you to filter script queues so that tasks are allocated by person and by priority. Technology is delivering the ability to work more efficiently and adopting these changes in your pharmacy can open up much more opportunity for your business, will reduce stress and burnout, and provide more room for growth in both prescription numbers and service provision. It can all be done right now within Analyst PMR supported by the additional modules of Analyst QuickPick and Analyst Handout.
Making the change
Implementing a change like this isn't easy, especially when pharmacy teams are used to working a different way and adapting to a whole new way of working can seem daunting, but it doesn't have to all be changed overnight. By taking a phased approach, you can make incremental changes each of which builds confidence to take the next step. For instance, many of our customers have begun by implementing Analyst Handout first as they identified collections as the pain point in their pharmacy, before moving on to adapt the other changes.
Hard Facts
However exciting the theory is, we do recognise the need to contextualise this which is why we've been working hard with our customers who have adopted our new workflow and carried out our time and motion studies to see just how much time could be saved compared to a workflow without these efficiencies. Although all savings are dependent on the specific workflow of your individual pharmacy/pharmacies, our conservative estimates are a real eye opener.
Learn more
In our webinar on our Workflow Utopia, Ian Lynch, Business Consultant, discussed the workflow in more detail and how you can implement in your pharmacy. He covered all areas including; Clinical Checks/Assessments, Quickpick, Accuracy Checking, Assisted Dispensing, Shelf management and Handout, Delivery & Post and Auto Claims. You can watch a recording of the webinar now.
You can also join our session at The Pharmacy Show on Sunday 15th October in the Technology Theatre at 13.25 'What are you going to do with 45 hours extra a week?' Where we will be discussing how our exciting new technology can save you 30% of the time in your pharmacy. If you are open to adapting your workflow, and changing old habits, the benefits, from both time and accuracy efficiencies, could be transformative. Better still, we will discuss how you can use that saving to spend more time with patients, drive new revenue streams and take your business to the next level.