08 Nov 2021
GROWING PHARMACY OPPORTUNITY TO MANAGE DRY EYE DISEASE IN THE COMMUNITY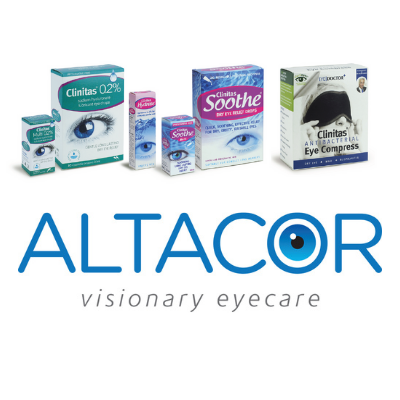 Altacor showcased its Clinitas® range of dry eye products at this year's pharmacy show, where discussions confirmed that dry eye disease is an increasingly common condition.
Dry eye is a growing market with a significant opportunity for community pharmacy, especially as NHS England has advised CCGs not to routinely prescribe for dry eye as the condition is appropriate for self-care.

What is dry eye3
Dry eye disease (DED) is a condition where the eyes do not make enough tears, or the tears evaporate too quickly.
It is a common condition that becomes even more prevalent with age, especially in women. Up to a third of people age 50+ may have dry eye disease.
There is no cure, meaning patients having to address their lifestyle/environment and continue to maintain their treatment compliance.
Patients are more likely to get dry eyes if they wear contact lenses, smoke or drink alcohol, take certain medicines (e.g., antidepressants) and have an underlying health condition (e.g., Sjögren's Syndrome).
A full list of factors that can increase the risk of dry eye disease are shown in the below infographic1.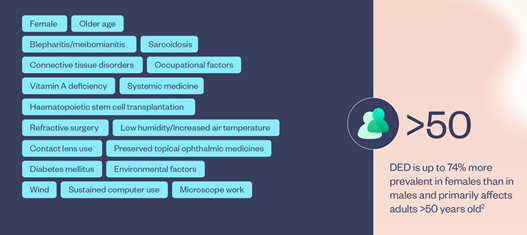 A topic frequently discussed at this year's show was that modern day living and frequent exposure to environmental risk factors such as reading and looking at digital screens for a long time, or spending too much time in air-conditioned or heated environments will contribute to a patient's dry eye, and is something that pharmacists can educate and address with patients.
From these factors, patients may show signs and symptoms of dry eye disease if their eyes are4:
Itchy
Sore
Gritty
Red
Blurry
Sensitive to light
More watery than normal
About Clinitas®
The Clinitas® brand has been available in the market for over ten years and is a name that can be trusted by pharmacists and consumers alike.
It is a simple yet flexible range of products for multiple stages of dry eye disease.
The Clinitas® range of dry eye disease products include our sodium hyaluronate preservative eye drops in a choice of two strengths and two presentations.
Clinitas 0.2% provides long lasting relief for early presentation of DED, and our Clinitas 0.4% product offers soothing long lasting relief for chronic DED. Both products are available in a choice of our 10ml multi dose bottle which will last up to 3 months once opened, or our resealable daily dose vials.
All our eye drops are preservative free and contact lens friendly.
Clinitas Hydrate® is a liquid gel, containing 0.2% Carbomer. It is an easy-to-use gel drop for everyday ocular use, provided in a 10g tube.
The Clinitas® Antibacterial Eye Compress is recommended to help relax away the symptoms of...dry eye disease, MGD (Blepharitis) and chalazion (Eyelid Cysts), and the associated symptoms of grittiness, irritation and sore eyes.
The combination of warming, massage, cleansing and lubrication is the best way to tackle blepharitis, eye lid crusting and blocked meibomian glands.
____
Products available to order via AAH and Sigma wholesalers, with various offers available in October and November.
To find out more about our range of products, please visit our website www.altacor-pharma.com, or contact us on +44 (0) 1182 210 150, or via email info@altacor-pharma.com
References
BMJ Best Practice. Dry eye disease. Last updated: October 2019.
Stapleton F, et al. Ocul Surf. 2017;15(3):334-365.
www.moorfields.nhs.uk/content/dry-eyes
www.nhs.uk/conditions/dry-eyes/