04 Aug 2021
Guidelines for Pharmacy provides up-to-date clinical guideline summaries from professional bodies, to support learning and best practice delivery of patient care at the point of consultation.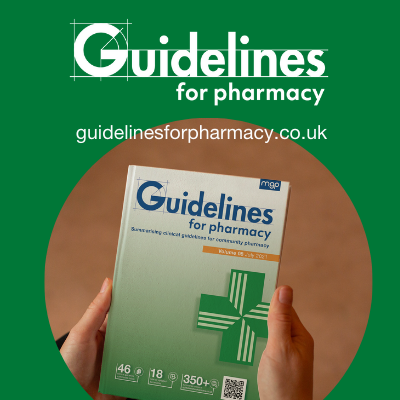 Guidelines for Pharmacy supports your delivery of best practice care and advice to patients and the public by:
• Delivering clinical guideline summaries in our quarterly handbook
• Providing access to over 350 online at guidelinesforpharmacy.co.uk
• Developing our content with over 60 UK independent professional bodies
• Offering on and offline access via the Guidelines app.
Create your free account today at guidelines.co.uk/register where you can access all our summaries, bookmark your favourite content, and opt in to receive emails tailored to your role. Don't forget that reading and reviewing clinical guideline summaries counts towards your CPD.
The landscape of community pharmacy continues to evolve, in the light of the new NHS structure and exacerbated by the COVID-19 pandemic. Although the general public may not be fully aware of the behind-the-scenes activity, it is evident that many people are looking upon community pharmacy as their first port of call for healthcare advice. You may be fielding queries from patients in an increasing number of clinical areas or providing advice and guidance to people in a more general way, and this is where Guidelines for Pharmacy can help.
Along with summaries on allergy, COVID-19, diabetes, pain, men's and women's health, skin and wound care, and many more, we are delighted to have recently launched a series of clinical guideline summaries on a brand-new topic, oral health, covering common conditions such as:
• Gingivitis
• Caries
• Periodontal disease
• The link between diabetes and periodontal disease
• Maintaining good oral health in pregnancy.
Community pharmacy plays an important role in the delivery of oral health advice, and it's vital for pharmacy teams to be knowledgeable on the latest clinical guidance on oral health-related topics that are likely to be raised in the community pharmacy environment.
The Guidelines for Pharmacy quarterly handbook is circulated free to all UK community pharmacies. Join our online network of over 4700 registered users from community pharmacy at guidelinesforpharmacy.co.uk and start to benefit immediately.