11 Jun 2020
How to re-define your pharmacy business within 6 months?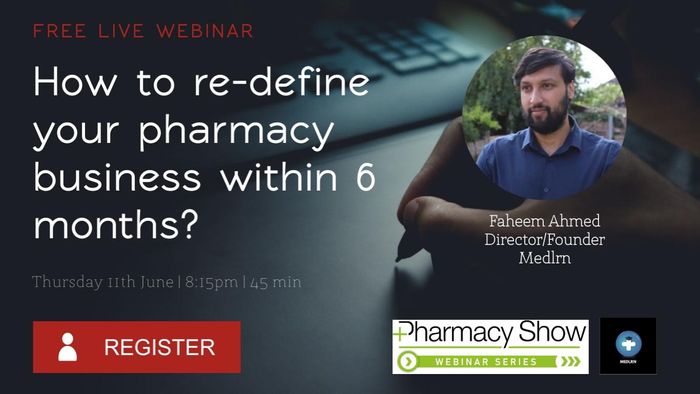 With over 9000 pharmacies in the UK and over 90% of people in the England able to access a pharmacy by foot within 20 minutes, community pharmacy is an untapped resource waiting to be utilised.
However, with the ever rising cost of healthcare and an ageing population with disease, the NHS has a vision to offer quality healthcare with efficiencies. Sadly, this has resulted in funding cuts to community pharmacy leaving some pharmacies no longer sustainable with the current contract.
However, if pharmacies were to re-define their business and offer a range of private and government led services they would not only benefit patient care but become a viable business that continues to grow, innovate and excel.
At the end of this webinar attendees should be able to:
Explain the vision and aims of the NHS
Explain how pharmacy can in sync itself with the vision of the NHS
Identify gaps within the healthcare market
Develop and implement new business ideas which will ensure the business is sustainable and profitable
Explain why they need to up-skill and identify individual learning needs
PRESENTER: Faheem Ahmed, Director/Founder Medlrn
BIO: Faheem is a highly experienced pharmacist, cosmetic and laser expert with over 10 years of experience. He has gone on to set up his chain of pharmacies in england. His passion for education, laser and cosmetic dermatology led him to set up his private practice in Oxford and develop MEDLRN; is a new company providing a suite of courses that deliver continuing professional development in skills for clinicians. Comprising a multi-disciplinary team of registered health professionals the MEDLRN philosophy reflects the current demand for face to face courses to improve professional knowledge and confidence amongst a multidisciplinary workforce. We believe in high-quality teaching and interactive learning reflecting contemporary health policy and practice.
SPONSORS: Medlrn