12 Aug 2020
ICU COVID ERA LESSONS, PRIMARILY FOR JUNIOR PHARMACISTS: A SEMI-COHERENT ESSAY.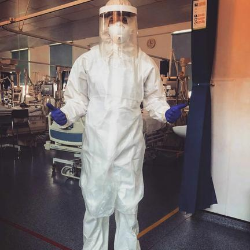 When did you realise this was a Black Swan event? For me, it was the end of February, whilst making a thorough survey of the local tapas in Barcelona[1] and hearing the news from Italy. We spent the next fortnight preparing, then I developed a cough…[2]
For extreme events in complex systems, the past is a poor indicator. Easy hindsight causes value overestimation of speculative foresight. We buy insurance in anticipation of severe adversity without consideration of specific threats, but do not act similarly with our clinical systems; redundant capacity, reducing over-centralisation and overspecialisation.
What does this mean for COVID era clinical pharmacy? As the sole site ICU pharmacist, expanding the clinical team was not feasible, but other measures were. I needed to harness existing expertise to tackle worst case needs without micromanagement, briefing requirements in terms of outcomes rather than methods. I needed to design the specialist out of logistics (myself!)[3]. In chaotic circumstances, decentralisation avoids systemwide collapse. What would happen when I caught this thing?
There was some good fortune. We had never consolidated our first line ICU formulary, an inefficient starting point. Some sites favoured fentanyl as a workhorse ICU sedative, our site favouring alfentanil. Similar circumstances existed for paralytics and dialysate. What this meant was that our trust was more robust to failings of just-in-time supply chains. We still came within hours of running out of most critical agents frequently, but these issues tended to be smaller and manageable – the optionality of equivalents from other sites was our saviour. Efficiency vs robustness can be considered as scalar opposites in chaotic/dynamic circumstances[4].
Science and engineering both ask questions about the unknown, but science takes no position until the evidence arrives. Engineers do not have this luxury. You cannot build two bridges to see which collapses. Risk engineering principles can guide strategy design for low-data/chaotic/dynamic situations, without necessarily specifying the nature of the situation.
Read NN Taleb[5]. Befriend your purchasing team. Avoid mixing green and blue scrubs where possible[6]. Everyone is as scared as you. Practice self-care. Practice more self-care[7]. Breathe.

Richard Ladner
Specialist Clinical Pharmacist|Critical Care and Surgery|Whipps Cross
Barts Health NHS Trust
[1] Exquisite
[2] False alarm: antibody negative. Also vexing.
[3] I could not have done any of this without the superlative Whipps stores and purchasing teams
[4] Interested to see what happens next – is this a paradigm shifting moment?
[5] Who could have used half the words to say twice as much
[6] COVID has no impact on aesthetic imperatives
[7] MOST IMPORTANT POINT