30 Oct 2023
Introducing Vitaminnica: Revolutionizing the World of Vitamins and Supplements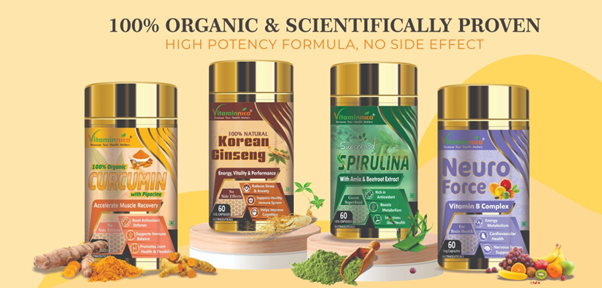 Thank you for attending the Pharmacy Show!
The Pharmacy Show, held at the NEC in Birmingham from October 14th to 15th, 2023, marked its remarkable 16th year.
Event Highlights
Showcasing Our Products: We had the fantastic opportunity to present our latest vitamin and supplement offerings. Your valuable feedback helped us better understand the community's evolving needs.
Networking with Professionals: With professionals from community pharmacy, primary care, and industry present, it was an enriching experience to learn, exchange ideas, and build connections.
Learning from the Best: Esteemed speakers shared insights into the latest trends, research, and advancements in the pharmacy and wellness industries.
Introducing Vitaminnica: Revolutionizing the World of Vitamins and Supplements
The health and wellness community is set to welcome a game-changing player in the vitamin and supplement space: Vitaminnica. The groundbreaking brand has officially launched its range of premium-quality products, thoughtfully crafted to meet the diverse health needs of modern consumers.
For our loyal newsletter subscribers: Get 10% off your next purchase. Subscribe for the offer.
Innovation Meets Nature
Understanding the needs of the 21st-century individual, Vitaminnica's range boasts clean, transparent, and ethically sourced ingredients. Experts have formulated every capsule, tablet, and drop to ensure premium quality and efficacy.
"With an overwhelming market saturated with numerous options, we recognised the need for a brand that people can trust - both in terms of effectiveness and ethical standards," says Founder, the visionary behind Vitaminnica. "Our mission is to create a world where wellness is accessible to everyone and where our customers can feel confident in the choices they make for their health."
Diverse Range of Products
Vitaminnica is proud to unveil a vast, diverse product lineup that includes some of the following.
Collagen Supplements: Harness the power of collagen to promote radiant skin, stronger nails, and healthier joints.
Black Garlic Capsules: Experience the antioxidant-rich goodness of aged black garlic, known for supporting heart health and overall vitality.
Multi-Vitamin Tablets: This comprehensive blend of essential vitamins and minerals ensures that men's and women's daily nutritional needs are met.
Vita Youth: Loaded with antioxidants and essential vitamins, our blend ensures a glowing complexion, minimising signs of ageing and promoting skin hydration
The Vitaminnica team comprises passionate health enthusiasts, nutritionists, and experts who believe in the power of nature and science. Their collaborative efforts have resulted in the creation of products that are both potent and pure.
Discount Code: PS2023
Discount of 30% off on shopping of £20
Core Values
What truly sets Vitaminnica apart from other brands are its core values:
Integrity: Offering transparent ingredient lists, sourcing details, and no hidden fillers or binders.
Innovation: Continually researching and developing products that align with the latest scientific findings and traditional wisdom.
Sustainability: Commitment to eco-friendly packaging, ethical sourcing, and minimising environmental impact.
Quality: Prioritize every product's highest purity, potency, and safety standards. Recipe of the Month: Berry Bliss Smoothie
A delicious way to incorporate our Collagen powder
Ingredients:
1 cup mixed berries (blueberries, strawberries, raspberries)
1 banana
1 scoop Vitaminnica Collagen Powder
1 cup almond milk
1 tbsp chia seeds
Why Choose Vitaminnica?
Vitaminnica aims to be a trustworthy and innovative brand in an oversaturated market. Its uniqueness lies in the fusion of age-old natural remedies with contemporary scientific research. The brand's unwavering commitment to sustainability and ethical practices ensures that every purchase supports a healthier planet.
In the words of Team Vitaminnica, "We've created Vitaminnica not just as another brand but as a promise. A promise of purity, potency, and a brighter, healthier future for all."
Did you miss us at the show? Do you have follow-up questions? We're here to help! Please reply to this newsletter or contact our customer support with your queries.
To explore the full range of products or to learn more about Vitaminnica's mission, please visit https://www.vitaminnica.co.uk/ or contact info@vitaminnica.co.uk
About Vitaminnica
Vitaminnica is a forward-thinking vitamin and supplement brand that believes in merging the power of nature with scientific research. With a commitment to quality, sustainability, and innovation, Vitaminnica seeks to make a difference in the lives of its consumers and the world.
Vitaminnica Healthcare UK Limited is a nutraceutical label with a mission to offer meticulously crafted, rigorously tested, and authenticated products, ensuring the utmost quality.
Our goal is to transform the healthcare landscape by providing holistic solutions. We are committed to delivering comprehensive health solutions to our customers.
For more information, please visit www.vitaminnica.co.uk or contact:
Public Relations Team
Vitaminnica Headquarter
Email: info@vitaminnica.co.uk