03 Aug 2021
It doesn't matter where your pharmacy is anymore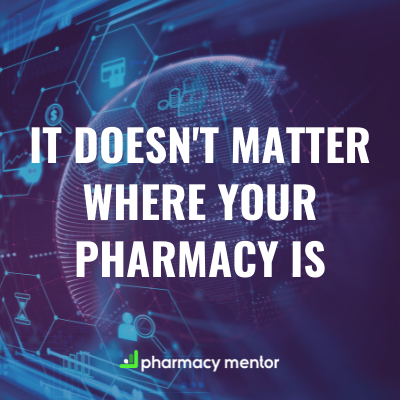 If the majority of people find you online, footfall becomes irrelevant
The fact that you're reading this proves that people find businesses online before they'll ever find them physically. Pharmacy Mentor has hundreds of clients and I can count the number of people who've visited our physical office on one hand.
This is, of course, the core reason Online/Internet pharmacies exist. As long as you can deliver the product/service to the person needing it, it doesn't matter where you're based. Basing yourself somewhere with significantly lower overheads than a high street increases your margins and so the online pharmacy logic concludes. If you want to profit from other services, location still matters, but not for footfall.
Location still matters if you need people to physically show up
Of course, the hyperbolic title "It doesn't matter where your pharmacy is anymore" doesn't mean location isn't important at all. The point is it matters less for passing trade.
The significant factor of your location now is convenience. Convenience is a major deciding factor of where people shop. That's why we all still use Amazon Prime despite knowingly creating a global oligarch.
Convenience means different things for different people. Are you convenient for people to walk to? For people to park near? These are the individual decisions you need to weigh up as an independent location, and it's dependent on the services you're looking to offer, as well as, naturally, what's available.
If you're weighing up where to purchase pharmacies, the online premises and assets are considerations too. Is the first page of Google highly competitive? In big cities like London, you will find it much harder to be found online for your Aesthetics Clinic, because there are so many competitors. It isn't impossible, far from it, but the more competitive markets cost more to win the marketing battle.
If you've got a good reputation, people will travel to inconvenient locations.
There's a beauty parlour right by our office, and it is pretty much the last place I'd expect one to be, in amongst a bunch of office spaces, away from the city centre.
They are always rammed with business and you can't get in without booking weeks in advance. Why do people come all the way out there? Because they've got the second-best reviews on Google and they show up when you type in "where to get eyebrows done". (Presumably, the first place is fully booked too!)
This obviously requires a good service that people will leave good reviews for, a good process of asking for reviews or an incentive, and a good online setup, so that when potential customers click on The Secret Brow Society, they can see more details.
So how do you get found online?
Pharmacies are found online in one of two ways. Direct, or indirect searches. A direct search is where someone types in the name of your pharmacy into Google.
Direct Search
To do that, they have to already be aware that they want you. In wider terms, this is brand awareness. That's why Nike pays athletes so much to wear their trainers. So that when people search for trainers online, they type in "nike trainers" rather than "trainers." When they do that, Nike's website shows up. And if it isn't Nike's own website, it's other websites selling Nike shoes. Try it. See how far you get before you find Adidas trainers. Showing Adidas' website to someone who has asked to see Nike trainers would be poor service by the search engine.
Direct search works everywhere. You search for Nike trainers on Google, Facebook, Instagram, all you'll find is Nike trainers. Which is great for Nike. Because it doesn't give their customer any chance to be persuaded to buy from any of their competitors. And that works for your pharmacy too. (Or it should, if you've set up right.) So one majorly important goal for your pharmacy should be increasing your brand awareness*.
*in a good way...don't go spray painting the name of your pharmacy on people's cars.
Indirect Search
Different, but equally important, indirect searches are where people aren't searching for you by name, but they find you anyway.
To return to our example, if I type in "trainers" into Google, Nike's website shows up too. But this time it isn't top. This time it's halfway down the page. And a bunch of other manufacturers are there too, vying for the attention of the prospective shoe buyer. So naturally, an indirect search is less likely to secure a sale than a direct search. BUT. There are far more people searching for "trainers" than there are searching specifically for "Nike trainers".
There are far more indirect searches than direct searches. Also, Nike clearly has better brand awareness in the UK than Adidas, as they have more direct searches.
Indirect search is less of a "sure thing" when it comes to capturing the customer. But with the volume of people searching, it pays to be competitive in this area."
Indirect search is essentially important in this transitionary period of pharmacy. The public as a whole does not understand the services that pharmacies can offer. They won't be searching for "pharmacy" when they want a travel vaccine. They'll be searching for "yellow fever vaccine", "what vaccines do I need to go to Thailand" and other related searches. You need to make sure your website is found when people search for your services. That's how you get people's feet back in your pharmacy.
For more details on how to be found online:
Check out our articles on SEO & blogging on our website.
Attend the Pharmacy Show by our CEO, Saam Ali.
Stay tuned to our articles with the Pharmacy Show.
Come and see us at the Pharmacy Show and talk to us about it. (We're proving you don't need to have a prime location to attract visitors!)