21 May 2018
Jonny Wilkinson delivered motivational seminar at the pharmacy show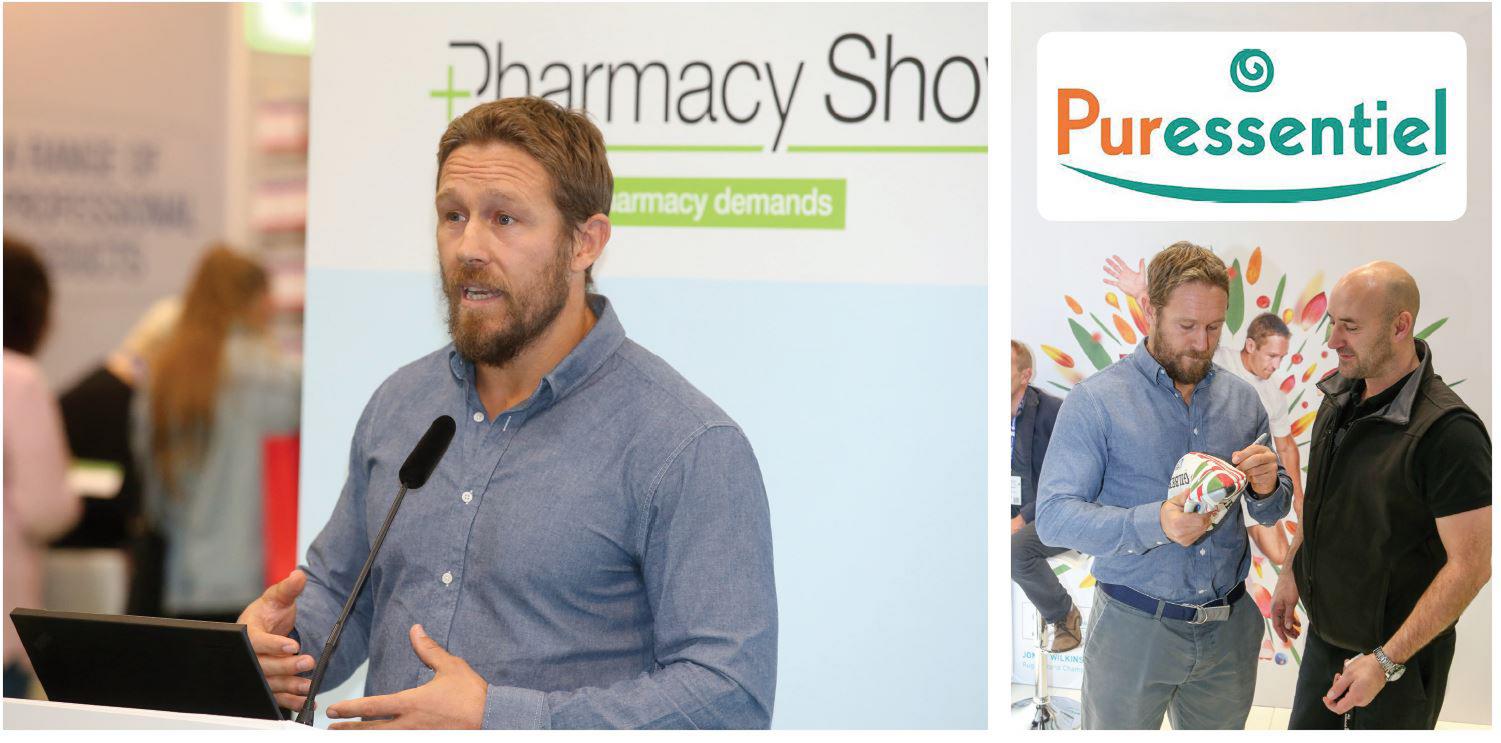 On Sunday 8th October, Jonny took the stage at the Local Pharmacy Innovation Theatre to talk about how he has tackled the ups and downs in his career and discussed his natural approach to health and wellness. His talk was followed by a Q&A section, giving attendees the opportunity to ask the rugby star burning questions.
Visitors to the show could also pop by the Puressentiel stand to meet Jonny, have a photo taken and find more about Puressentiel's ethos and products.
Jonny Wilkinson is the brand ambassador for the Puressentiel Muscles & Joints range, along with basketball player and NBA Champion Tony Parker. Puressentiel has a long-standing tradition of bringing together athletes and high-level performers from across the globe and various sports including basketball, surfing and rugby. Puressentiel is also an official partner of World Rugby until 2019.
Jonny said: "When I was younger, we were very limited by what was available to deal with injuries. There were anti-inflammatories (NSAIDs) and pharmaceutical medicines together with physio etc. While great at the time I wish I had also had the opportunity to use more natural therapies such as essential oils as well. I really believe in natural remedies and think nature provides an effective solution for most things."
"I wish a range like Puressentiel had been around when I was starting out, but at least everyone has that choice now. It gives pharmacies a great opportunity to provide new alternatives for those customers who prefer natural remedies or don't like pill-popping for common health woes like minor muscle and joint injuries."
The Puressentiel Muscles and Joints range is 100% pure and natural and provides a proven effective way to manage and treat aches and pains. It uses essential oils from across the globe, such as Wintergreen, Turpentine and Scots Pine, to help relax muscles and has anti-rheumatic and anti-inflammatory properties to get to the core of pain, combined with an uplifting and exhilarating fragrance.
---
About Puressentiel – the efficacy of nature
A family-run business, Puressentiel was created in 2005 by Isabelle and Marco Pacchioni, and is the European leader of natural healthcare products sold in pharmacies. In 12 years, Puressentiel has developed a range of more than 240 pure, natural and effective products that combine essential oils and the purest active ingredients and carried out 266 clinical studies on the efficacy and tolerance of its formulas. It has become the youngest company to enter the Top 20 OTC laboratories in France and is now the fastest growing Pharmacy brand in Europe, present in more than 80 countries. Its UK range includes products for Purifying, Anti-Lice, Respiratory, Rest & Relax, Muscles & Joints, Firming, Anti-Hair Loss and Diffusion.