29 Jun 2020
Multidisciplinary Team Launches COVID-19 Self-care App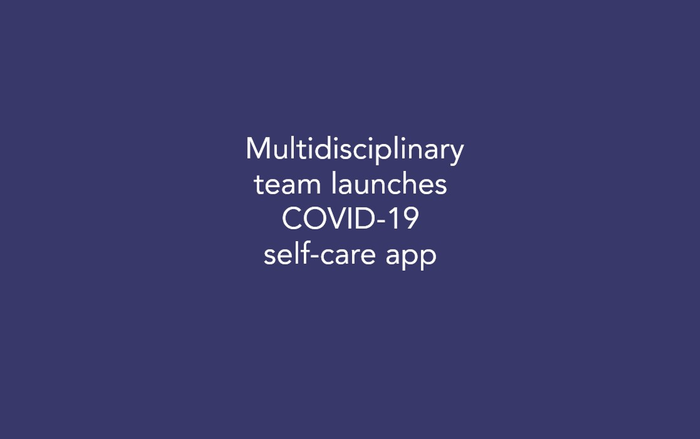 A new free-to-download app to help people navigate the coronavirus pandemic has been launched for Apple and Android devices. The Coronavirus Support App (UK) has been created by Expert Self Care, alongside an interdisciplinary team of volunteers and nine partner organisations.
People need easy access to reliable information to avoid getting infected with coronavirus, reduce the risk of giving it to other people, know what to do if they do get ill and cope with the practical, social and financial consequences of the pandemic.
The not-for-profit Coronavirus Support App is aimed at people in the UK aged 16 and over who would like to learn more about coronavirus and COVID-19. Accurate information can help people to protect themselves, the people close to them and the wider public, and reduce avoidable pressure on the NHS.
The app aims to help by giving users easy and quick access to evidence-informed information about coronavirus and COVID-19 all in one place, even when offline. It also signposts to reliable, trusted sources of information.
It answers key questions like:
Who is at risk?

What the symptoms are?

How can people stay healthy during lockdown?
It also offers advice for a range of situations, including for anyone feeling anxious, at risk of domestic violence and abuse, or in need of medical treatment.
The app can also be customised for local areas to provide links to local support.
Dr Austen El-Osta, Director Self Care Academic Research Unit (SCARU) at Imperial College London, said:
"The coronavirus pandemic has drastically altered the lives of many people, but it also highlighted the singular importance of self care in preventing the spread of this communicable disease by changing our lifestyle and behaviours. The Coronavirus Support App can be used as a tool to improve health literacy levels, raise awareness about the virus, how to shield, and how to identify and manage symptoms."
Sophie Randall from the Patient Information Forum said:
"It is essential people have access to trustworthy and easy to use information on coronavirus when they need it. The Coronavirus Support App puts essential bitesize information in people's pockets. It helps the public deal with the impact the pandemic has on their daily lives and their mental and physical health."
Dr Pete Smith, President of the Self Care Forum, commented:
"The Self Care Forum is delighted to be part of this initiative to provide trustworthy self care advice during the pandemic and beyond. Providing information and resources to help people look after themselves, their loved ones and those in the community has always been at the heart of the work of the forum. This app offers a simple way of accessing authoritative, up-to-date information to help with self care for ourselves during the time of coronavirus."
Project Lead Dr Knut Schroeder, a practising GP, Honorary Senior Clinical Lecturer in General Practice at the University of Bristol and Founder of Expert Self Care, said:
"In the current coronavirus crisis, reliable information is more important than ever. We designed this app to bring together all the best sources of information to support people during the pandemic and beyond. False information leads to rumours and myths that can hamper public health efforts, which may result in preventable disease and deaths.
"We haven't received any external funding for this app and it's available to download for free, so we are grateful to the team of volunteers who have made this app possible. They have been amazing during a very difficult time for everyone."