11 Sep 2023
Pharmacist Support's annual ACTNow campaign is back!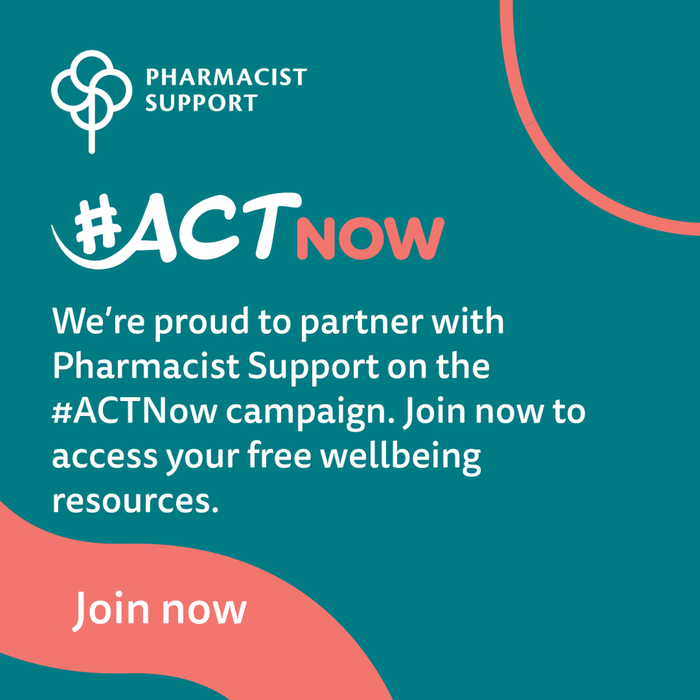 If you're looking for free mental health and wellbeing support for you and your pharmacy team, the profession's independent charity is looking to stimulate conversations and provide support to tackle workplace wellbeing issues.
Why the focus on workplace wellbeing?
In 2021, many across the sector signed up to the RPS's Wellbeing and Inclusion Pledge and, as the profession's charity, we wanted to provide practical solutions to assist organisations to be able to deliver on this commitment and embed wellbeing practices into the workplace. Our own research also highlights high levels of potential burnout within the profession coupled with low take up of mental health and wellbeing support. The barriers identified to accessing this support include concerns around confidentiality and the impact on career – a sector wide issue we need to challenge. This is where, as an independent charity, we can help. In autumn 2022, our Pharmacist ACTNow campaign focused specifically on workplace wellbeing and encouraging pharmacy leaders, managers, teams and individuals to prioritise their mental health and wellbeing at work. The campaign was a success and many across our profession shared their personal stories about overcoming mental health difficulties.
Through the campaign, we recognised that tackling workplace cultural issues is an important, ongoing process, and to allow individuals to thrive, it's incredibly important that the sector provides workplace environments that enable this to happen. So, our Pharmacist ACTNow campaign will follow a similar theme this year – supporting an inclusive and positive workplace culture and looking at what the workplace can do to prioritise good mental health and wellbeing within the profession.
What's in it for pharmacists?
By signing up to the free campaign, pharmacists and pharmacy teams will be able to hear from teams, managers and individuals across the sector who'll be sharing their personal stories and practical tips on how they've supported colleagues with their mental health and wellbeing. People who sign up will also be able to access a wealth of resources to support with prioritising positive workplace culture and individual wellbeing.
The campaign is running for three weeks from Monday 16th October – Saturday 4th November, with activity coinciding with key sector events in autumn. As usual, the ACTNow campaign encourages individuals and teams across the profession to Allow time for wellbeing, Consider the needs of others, and Take action.
How to get involved
We're encouraging everyone across the profession to make a commitment to prioritise their wellbeing and get behind the campaign. Sign up now and receive free, dedicated and exclusive Pharmacist Support wellbeing information and practical materials specifically for pharmacy organisations, teams and individuals.
Visit pharmacistsupport.org/support-our-work/our-wellbeing-campaigns/ to find out more and sign up!
By Danielle Hunt, Chief Executive at Pharmacist Support