08 Apr 2021
Pharmacy and Stress in the Workplace with Richard Thomas, Editoral Director at Communications International Group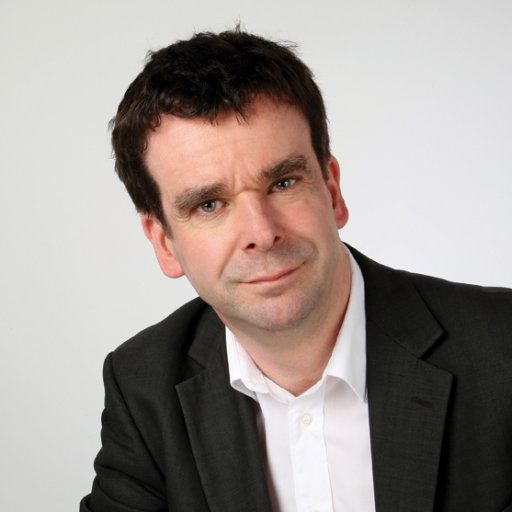 From community pharmacy on the frontline to hospital pharmacy in Australia, pharmacist graduate Richard Thomas (now Editorial Director at publishing company (Communications International Group) knows from first-hand experience the rewards and challenges pharmacists face day-to-day. As the world continues to deal with the mounting pressures of a global pandemic, we spoke to Richard to find out how he's helping his team manage stress, why communication is more important than ever and his top tips for pharmacists to manage their wellbeing for the long-term.
ON HIS CAREER JOURNEY
'After graduating in 1986 from Aston University, I did my pre-registration year with Boots, stayed with them for the first part of my career and then moved back to Wales where I worked in an independent pharmacy. For the first 6-7 years I was a community pharmacist on the frontline, which I really enjoyed. Following that, I took a year out in Australia to try something different, working in a hospital pharmacy in Melbourne before coming back to the UK. By this point I wanted to look at other options and fell (quite literally) into journalism.'
'It was 1994 when I saw a job advert for Editorial Assistant at Independent Community Pharmacist Magazine, now part of the Communications International Group. Based in my village in Hampshire, I was amazed there was a publishing house there, so I knocked on the door with my CV – and got the job! Thanks to great support, mentors and fantastic colleagues (some of whom I still work with today), I enjoyed the experience and discovered that I find pharmacy journalism really rewarding. I felt invested because I'm a pharmacist, and I think in those days all journalists in trade press were pharmacists whereas nowadays, this tends not to be the case. So that's how it started…'
'I was made editor in 1996, and then moved to the Communications International Group in 2001 to take the role of Editor at Pharmacy Magazine. Now that I have wider responsibilities within the group, I'm speaking to you today as the Editorial Director of the Communications International Group– which means I'm the senior editor within the group, but my day job is editing Pharmacy Magazine and all of our various print and digital platforms.'
ON MANAGING STRESS AND WELLBEING DURING 2020
'Publishing is deadline-driven, pressurising and you have to juggle constantly. But it's nothing compared to our readers and pharmacy professionals on the front line – especially during the pandemic. I'm humbled by how resilient community pharmacists and their teams have been under such intense pressure, they've been magnificent. Every job has its elements of stress, but pharmacists experience this to the highest degree.'
'In terms of how we coped, initially it was the challenge of working remotely at home and getting the right integration and communication systems in place. But we were very conscious of issues such as the mental health of our team. For us, as everybody was working remotely, we set up systems to ensure we were communicating all the time – this was absolutely essential. For example we use Slack on the editorial side (which we used before the pandemic), but during this time it really came into its own. Whether talking about news stories or personal chit-chat, it was a way to keep the team connected to minimise feelings of isolation. Introducing group discussions on a Friday also helped with this, allowing people to just talk to each other about anything.'
'I keep a close eye on my direct reports, to help wherever possible and encourage them to talk and be open. I think we've done quite well as a company in terms of mental health and stress. It can be difficult, especially trying to establish clear boundaries between work and home life while working from your bedroom. I find it difficult sometimes, so I believe it's important to help others with this.'
ON COVID-19 AND THE MENTAL HEALTH OF PHARMACISTS
'My wife, who's a pharmacist, would get home after a 14-hour day and talk about how the phones were ringing off the hook, queues were forming outside the door and that they'd never been busier. At this time the growing number of reports from our readers and pharmacists telling us about the pressures and many issues made me really concerned the sector might not be able to cope. It was only when they started closing for a few hours in the day to catch their breath that those in the sector were able to reset. In the first three months it was pretty much all we reported on – we were providing a rolling digital Covid-19 news service.'
'We were reporting on the many issues pharmacists were dealing with – like the pressure, increased workload, medicine shortages, financial concerns, abuse and intimidation. So even though I was working in a completely different way, we'd never received as much contact from our readers as we did during that time. They wanted to raise awareness, so we needed to get that message out there to a wider audience. We're very aware about the serious challenges community pharmacists were and still are facing.'
'Pharmacy probably never had a higher media profile before then – the state of community pharmacy became a national news story with lots of coverage about the abuse pharmacists were facing, and we were talking to national newspapers and institutions like the Guardian and the BBC. We were grateful that pharmacists wanted to share their stories, because this helped shine a light on the issues pharmacists face as a whole.'
ON THE FUTURE IMPACT OF COVID-19
'The pharmacy industry was already battling a mental health crisis before the pandemic in terms of stress and burnout, so with the added stress of Covid-19, an even bigger problem is developing when it comes to the mental health of pharmacy teams. Like many others working in the NHS, pharmacists are exhausted. The immediate pressure of the pandemic may have lessened slightly, but what will the cost of this be to their wellbeing? That will be a big issue going forward.'
'More than ever people need to take time off, but with the current restrictions there isn't much to do – so there isn't really a proper opportunity to get away and recharge. You can give people time off, but in these circumstances it isn't quite the same.'
ON HIS TOP TIPS FOR PHARMACISTS
'Acknowledge your feelings and be open about them. If you feel your mental health is suffering, talk to someone – do not suffer in silence.'
'Make sure you're listening to team members and looking for signs of stress or burnout. The worst thing any of you can do is to ignore them.'
'Charities like Pharmacist Support provide a lot of helpful resources. Early intervention is key in addressing mental health issues – you don't want to let them build up. It isn't always easy to recognise it, but it's important to work on your self-awareness.'
'Learning what your triggers are, you can then develop coping mechanisms for them. What helped me is being as structured as I can, so I can deal with any unexpected issues that arise'.
'Listen to your own internal signals and be disciplined with yourself about taking breaks, going out for lunch and setting your phone to 'do not disturb' or turning off alerts'.
My message to pharmacists would be not to internalise, bottle up or ignore any mental health issues you're facing, and to get help. There is support out there.
More about Communications International Group
Communications International Group (CIG) is the UK's leading provider of OTC content and communication to pharmacy. CIG's enviable reputation in community pharmacy, training, journalism, publishing and events amounts to more than 350 years of healthcare industry experience.
Communications International Group's official charity for their Recognition of Excellence Awards, the pharmacy support staff awards programme, is the Mental Health Foundation.