11 Sep 2023
Propel your personal development at The Pharmacy Show 2023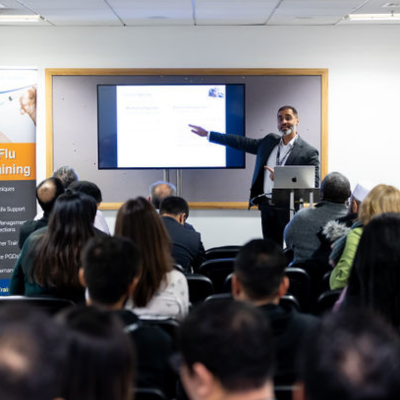 With access to unmissable new content and invaluable training & development opportunities, this year's Pharmacy Show is the place to be if you want to grow and develop as a pharmacy professional. From seminars and interactive workshops to expert panels and speakers, the show's new and returning features will present a plethora of resources to help take your career to the next level.
Level-up your skill base
There are so many reasons to get involved at The Pharmacy Show that will benefit you and your career…
Upskill – with expertise from over 150 live education seminars and talks
Learn – both planned and unplanned for Revalidation
Be inspired – by the huge line up of expert speakers
Network – with thousands of colleagues and peers
At the end of two jam-packed days, you'll have all the information and education needed to improve your knowledge, and your professional skills will be up to date.
There's plenty more to explore…
Secure your seat at our Professional Development & Careers Theatre – where our must-see speakers will be delving into topics such as leadership, diversity & inclusion and wellbeing. Plus, we reveal an exciting new theatre for live scenario training as well as CPD Accredited and free training workshops. You won't want to miss it!
Unmissable speakers
From learning about bias-free language to interact with people from diverse communities, to exploring how cultivating a growth mindset can help your pharmacy team – here's a taster of our lineup…
Leadership Training
Michelle Styles, Regional Manager, Centre for Pharmacy Postgraduate Education (CPPE)
Unveiling Workplace Equality Diversity and Inclusion (EDI) initiatives in London's Pharmacy Workforce
Umeh Ali, Clinical Fellow for Equality, Diversity & Inclusion (EDI), NHS England
Inclusive And Person-Centred Language Learning Resources
Sneha Varia, Regional Manager, East of England, Centre for Pharmacy Postgraduate Education (CPPE)
Building Resilience and a Growth Mindset in Your Pharmacy Team
Danielle Hunt, Chief Executive, Pharmacist Support
Melissa Cochrane, Wellbeing Development Manager, Pharmacist Support
Be sure to register and get the latest speaker updates!
Taking matters into your own hands
We're providing a unique opportunity for you to enhance your expertise with hands-on training at the show…
NEW! Live Scenario Training
We're excited to announce the latest addition to The Pharmacy Show, in collaboration with Meducate Academy. At this new cutting-edge theatre, you and your team will be able to engage with highly skilled and clinically trained medical role players in various consultation scenarios – from effectively handling referrals & tests and conducting focused consultations with precision, to learning how to quickly build rapport through the use of active listening techniques.
Places are limited, so get your free ticket now to be part of the action!
Vaccination Training Course
Updated for The Pharmacy Show 2023, RX Advisor is thrilled to bring you a comprehensive and CPD Accredited vaccination training course for pharmacists, nurses and other health care professionals who need to up-skill or update their knowledge. Combining a practical face-to-face workshop with high-quality digital online learning at your own pace – the course includes:
NHS Flu Vaccination Training Course – Adults, Children and Infants
FREE access to our Travel Vaccination Training Course
FREE access to our COVID Vaccine Training Course
Mohammed Ibrahim, Clinical Services Director & Consultant Pharmacist of RX Advisor is looking forward to providing training to more healthcare professionals at this year's show:
"[We] have trained over 1,000 pharmacists and other healthcare professionals on how to safely and effectively administer flu vaccines. We're pleased that the face-to-face workshop has been well-received by participants…"