02 Oct 2023
Save Time, Make Money with Positive Solutions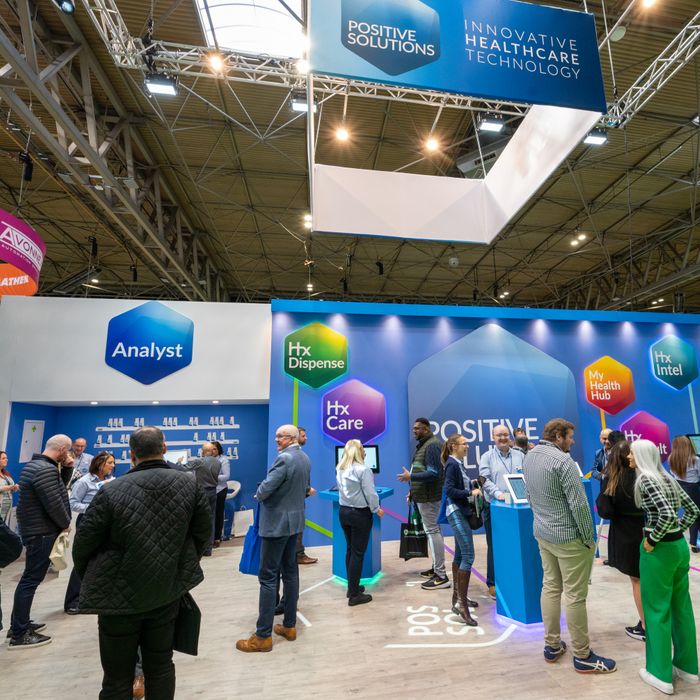 At this year's Pharmacy Show we'll be showcasing our exciting Hx product suite and a re-engineered workflow using Analyst that delivers paperless dispensing and incredible time savings for pharmacies.
We've exciting news to share this year with most of our Hx product suite now available to see in full and we anticipate lots of signups at the show and a busy stand. We've lots of innovation to offer Analyst customers and prospects with a re-engineered workflow that delivers paperless dispensing and incredible time savings across the pharmacy team. Conservatively, we believe those savings equate to about a full third of time in a typical pharmacy every single week. By freeing up pharmacists so that they can focus on spending more time in a clinical role with their patients, delivering services, we're making technology drive efficiency and add additional revenue streams.
Analyst PMR now supports the reorganisation of the workflow to free up a pharmacist's time, with an enhanced clinical check at the beginning of the prescription workflow. This means that a clinician can complete all their checks quickly and efficiently, right at the beginning of the prescription journey and this feature alone can save pharmacists 2 hours every day.
Assisted Dispensing, one of the most recent features added to Analyst, has been described as 'revolutionary' by customers who have adopted it and who are taking full advantage. This delivers one click, automated batch labelling. It automates the choice of medication items when dispensing so that the system requires minimal user input as the items that should be dispensed are determined based on set rules. Assisted Dispensing is saving customers around 3 hours, per pharmacy every day!
At the heart of our drive to automate pharmacy operations is our mobile scanning technology with apps like Quickpick, mapping out optimal picking routes and Handout, professional shelf management and bag retrieval, which, crucially, actually improve clinical safety whilst speeding up previously labour intensive tasks.
Those open to adapting their workflow and making huge time savings should join our session 'What can you do with 45 hours every week?' in the Technology Theatre at 13.25 on Sunday 15th October or at 14.45 on Monday 16th October at the Pharmacy Show.
For a fully hands on experience, come over to stand E35, to see Analyst take your pain away and to check out our new pharmacy software ecosystem Hx. Designed to address the critical needs of a transforming market, Hx includes:-
HxConsult, our services platform which manages referrals and service delivery simply and easily. Including CPCS referrals, Blood Pressure Checking, Private MultiVac as well as Contraception, NMS, DMS, Smoking Cessation and NHS Flu/COVID all coming very soon.
MyHealthHub, the most innovative and powerful patient app on the market and the only one with full integration into Analyst PMR. MyHealthHub allows patients to order repeat prescriptions, book appointments and offers Royal Mail Local2Local delivery. An optional expert marketing service supports you in driving new patients and retaining existing ones.
HxIntel, the only product in the market to surface live data from your core pharmacy systems as well as National data sets onto simple and easy to digest dashboards. This supports pharmacies in maximising revenue and highlights potential efficiencies to truly power your business.
HxCare is an integrated EMAR solution between Care Homes and Pharmacy to improve communication and collaboration between healthcare providers in both settings. Available free of charge to pharmacy customers who sign up.
HxDispense is a cloud based and device agnostic PMR, with an intuitive and modern interface and simplified workflows. Whilst it isn't available to pharmacies just yet, as the team are continuing to perfect the product and will be available for pharmacies to come and get an early look at the system and its functionality at the Pharmacy Show.