08 Nov 2021
Showcasing the technology landscape at the Pharmacy Show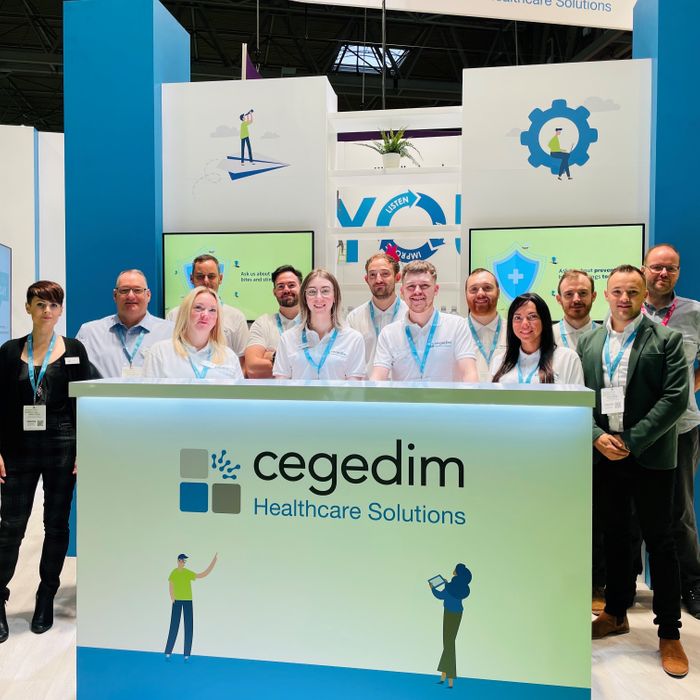 It was great to see Pharmacists from across the country return to the Pharmacy Show this year – coming together after two years to reconnect with colleagues, discuss the changes that have occurred and gain insight into what's coming next. Cegedim Healthcare Solutions was there to greet them with a showcase of their complete pharmacy business solution. Pharmacy Manager now includes a full suite of products and services to support smarter dispensing, intelligent stock and order management, remote prescription fulfilment, integrated clinical services, in-store marketing, patient management as well as real time actionable intelligence for effective business management.
Tracey Robertson, Product & Technology Director explains: "Since we last exhibited back in 2019, we have accelerated the delivery of innovative new products and services for pharmacy. This year we were extremely proud to be showcasing our complete pharmacy business solution that we have developed in collaboration with a number of key customers and industry players. The show gave us a great platform to demonstrate how technology solutions can help solve problems and promote change."
Alongside Andrew Gent, Senior Product Lead, Tracey also addressed the importance of a collaborative approach to solving real pharmacy problems in a presentation, entitled "Changing the Pharmacy technology landscape for the better through strong customer collaboration and partnerships". The pair explored ways in which pharmacies and their technology providers are able to collaborate to deliver intuitive technology solutions for smarter and more efficient working.
Embrace Change
Delegates attending the session gained significant new insights into the pace of technology change – and, recognising how challenging this can appear, Tracey reinforced Cegedim's commitment to easing the digital transformation experience.
Using the message "Embrace Change" the focus was firmly on customer collaboration and Cegedim's discovery model. By working with pharmacies across the UK to understand pain points, recognise obsolete practices and acknowledge processes that are hindering the business, the development team can ensure the core PMR continues to evolve to enhance pharmacy businesses.
A great example of the value of close customer collaboration is the development undertaken to support pharmacies address shrinkage. Despite many pharmacies experiencing significant financial losses often running to £1000s, even £10,000s, shrinkage is not an issue that is generally discussed. It was during a conversation explaining the value of the data surfaced within the Pharmacy Intelligence Hub that one pharmacy raised shrinkage as an issue, questioning whether the hub could help to identify fraud. As Tracey said, "We listened and acted."
Collaborative Value
In addition to talking about the technology changes that will have the greatest impact on pharmacy, Tracey and Andrew also outlined the role of smart technology in facilitating and automating pharmacy workflows, using recent enhancements to Pharmacy Manager to highlight the value of the collaborative approach.
Delivering continuous and easily visible prescription visibility through the new Hub and Spoke solution to ensure pharmacies have real-time view of prescriptions throughout the process is another development inspired directly by customer feedback. As is the new Clinical Services Platform, with workflows and data integration designed specifically to enable pharmacies to become more services oriented.
Tracey concludes, "We are committed to changing the technology landscape in pharmacy. The first layer of any digital transformation is the customer experience. We want to hear your problems; they inspire us and they are our solutions of the future. Tell us your fears and we might just be able to help them go away."
You can access the full recording of their session here.