06 Oct 2021
Stockists wanted for Olsson Scandinavia, the ONLY haircare approved by Allergy UK*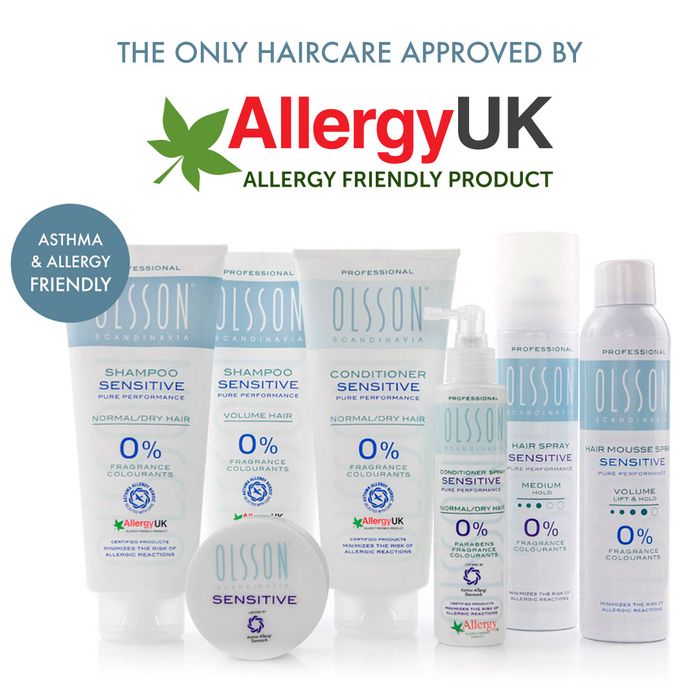 Offer the secret to high performance, sensitive haircare approved by leading allergy experts, perfect for the most sensitive individuals. Scientifically formulated over 3 years by salon professionals, chemists and allergy and asthma associations to create a no compromise salon performance haircare range for those suffering with sensitivities.
Accredited by Allergy UK and Asthma Allergy Nordic, the collection is famous for its Pure Performance clean and shine that is achieved with no fragrances, no colourants and no unnecessary additives.
The only haircare approved by Allergy UK as "Unlikely to Cause a Reaction", so you can retail with confidence.
By stocking Olsson Scandinavia, you're helping us achieve a dream of supporting the 13.5 million people in the UK that suffer from allergies and sensitivities. Since Olsson Scandinavia is approved by Allergy UK, you can feel confident with a range that carries the endorsement of the UK's leading allergy charity.
Olsson is loved by many nationwide and is helping those who suffer with sensitivities enjoy simple pleasures such as washing their hair in the shower, rather than over a bath. Perfect for those who tend to find beauty products make them itch, cause redness or trigger allergic reactions as well as those who suffer with conditions like;
Eczema
Asthma
Psoriasis
Seborrheic Dermatitis
Topical Steroid Withdrawal
Whilst mild enough for the most sensitive individual, Olsson's Pure Performance is suitable for all the family.
A complete haircare regime that is 100% fragrance free.
Increase retail revenue by stocking a complete, salon approved, fragrance free haircare regime. Olsson Scandinavia includes 7 products in the line, 5 of which are Allergy UK approved**:
Sensitive Shampoo (Normal/Dry Hair)
Sensitive Shampoo (Volume Hair)
Sensitive Conditioner
Leave-in Conditioner Spray
Mud Styling Wax
Mousse (Lift & Hold)
Hair Spray (Medium Hold)
Discover the Scandinavian luxury formula that is affordable for you and your customers. Enjoy low volumes, expect great margins.
Stockists of all sizes needed, nationwide. At Olsson we want our ultra-mild formula available at all local pharmacies, where the first line of clinical excellence is delivered to asthma and allergy sufferers UK wide.
Download Retail Guide and Pricing
If you're interested in becoming an Olsson Scandinavia haircare stockist, please complete our online retail form to open an account or call 01332 203444 and speak to a member of our team.
*At the time of publishing. September 2021.
**Aerosols are not approved by Allergy UK.