07 Jul 2021
The Intricacies of Vaccination with Mohammed Ibrahim, Founder of Rx Advisor Limited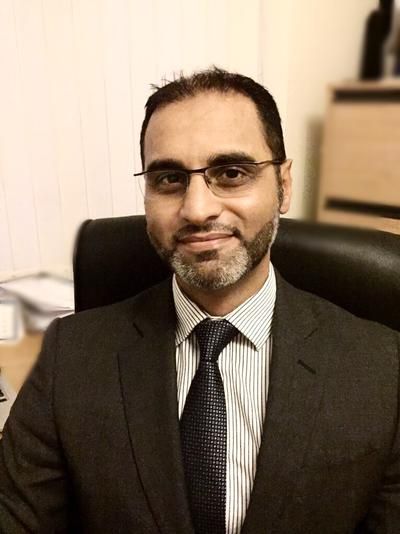 Gearing up to partner with The Pharmacy Show once again, Mohammed Ibrahim shares how he's adapted to the current business climate, the practicalities of safe vaccination and what visitors can expect from his workshop at our live show.
A qualified pharmacist since 1997, Mohammed Ibrahim has always been passionate about increasing the pharmacy services provided to patients in primary care. Based on the foundations of his GP practice and community pharmacy experience – along with winning the Pharmaceutical Care Award twice for 'Innovative Pharmacist Lead Services' – he formed Rx Advisor Ltd in 2007, a company that specialises in providing clinical pharmacist support to NHS GP practices. We caught up with Mohammed to discuss his career journey so far, the impact of Covid-19 and his training course.
Can you tell us a bit about your career journey?
"I love being a pharmacist! I've had an amazingly diverse career at the leading edge of primary care pharmacy – from working in community pharmacy multiples and developing pharmacist lead services that bridge the gap in primary and secondary care, to participating in pharmacist committees and advisory boards. After completing my clinical diploma early on in my career, I was one of the first pharmacists to complete the prescribing qualifications during my work in GP practices in the early 2000s. Based on the foundations of my GP practice and community pharmacy experience, I formed Rx Advisor Ltd in 2007."
"In 2009 my team and I were commissioned by NHS England to compile a vaccination training workshop to train healthcare professionals in delivering the swine flu vaccine. This formed the base of our vaccination training service which has grown over the years. We've continued to refine and update our course to support pharmacists and nurses."
"In 2012 my business partners and I applied for a community pharmacy contract, which was granted. Our vision for the pharmacy was to utilise our skills as clinical prescribers and focus on delivering a wide range of enhanced services; both NHS and private. We've realised this vision, and our pharmacy is primarily based on providing enhanced private services where we have incorporated a full vaccination clinic within the pharmacy. We also updated our vaccination training course so we could specialise in training pharmacists for the NHS commissioned flu vaccination service."
"Over the years we've partnered with a number of pharmaceutical organisations to deliver vaccination training for their teams. Since 2016 we've partnered with The Pharmacy Show to provide our flu jab training workshops. This partnership has been very successful, and we've trained thousands of pharmacists and other healthcare professionals on how to vaccinate safely and efficiently."
How have you found the last 12 months?
"Like most other businesses, the past year has been a challenging one for us with lots of learning and development! We'd made considerable investments in January 2020 to update our course for the 2020 flu vaccination season. However, due to the uncertainties of Covid-19 and the decision by NHS England to defer compulsory training to 2021, the majority of our workshops had to be cancelled. The Pharmacy Show was also cancelled, which meant we weren't able to use this platform either."
"We had to make difficult choices – either shut up shop or adapt our business to the current climate and needs of our customers. We chose the latter, and despite significant restrictions to indoor gatherings we were able to train delegates who'd never vaccinated before, and further develop our online courses so pharmacists and their staff were prepared to deliver flu vaccines in perhaps the busiest year for flu vaccination delivery!"
"We also took the opportunity to develop our Covid-19 jab course which resulted in us supporting pharmacists, nurses, pharmacy technicians, healthcare assistants and other healthcare professionals in delivering Covid-19 jabs. Our pharmacy has also been extremely busy delivering NHS services as well as private common ailment services."
You'll be running a training workshop at The Pharmacy Show again this year, what can we expect at the event?
"A fun, relaxed workshop focusing on the practical aspects of safe vaccination – where delegates will have ample time to practice and then demonstrate practical injection and CPR techniques learnt via our online learning resources, available to them prior to the event. We'll demonstrate the correct techniques and will also have injection pads, needles and syringes available for use by delegates, along with CPR dummies for them to practice on."
"We make sure all delegates are confident and competent to undertake the practical aspects of a vaccination service; and for those who are inexperienced or nervous, we'll provide one-to-one coaching to help improve their confidence and technique. The workshop will have an informal set-up and delegates will have plenty of opportunities to ask questions."
What are the benefits of attending the training course?
"Our vaccination training course has continued to evolve over the past 12 years. Not only is it designed and delivered by experienced pharmacists, but our team of pharmacist trainers are actually hands-on, administering vaccination services in community pharmacies – which allows us to incorporate practical real-world training in our courses."
"It's structured with a combination of online learning and face-to-face training, followed by an online assessment. Passing the simple assessment results in acquiring a certificate of course completion that can be used as CPD evidence. With the online content, delegates can work at their own pace at a time that's most convenient for them. They'll also have continued access to the online learning portal until the end of the year, so they can re-visit the training whenever they need to – as well as free access to our online Covid-19 and travel jab training courses."
"We've designed the course in a way that makes it easy to complete for both experienced and inexperienced vaccinators, providing support to all delegates so they can deliver injections safely. We also ensure our delegates receive any important information they need to deliver a safe and up-to-date service by contacting them when new information is published."
Find out more about the vaccination training course Visit the Flu Jab Training Website