05 Nov 2021
THE PHARMACY INDUSTRY REUNITES AT THE PHARMACY SHOW 2021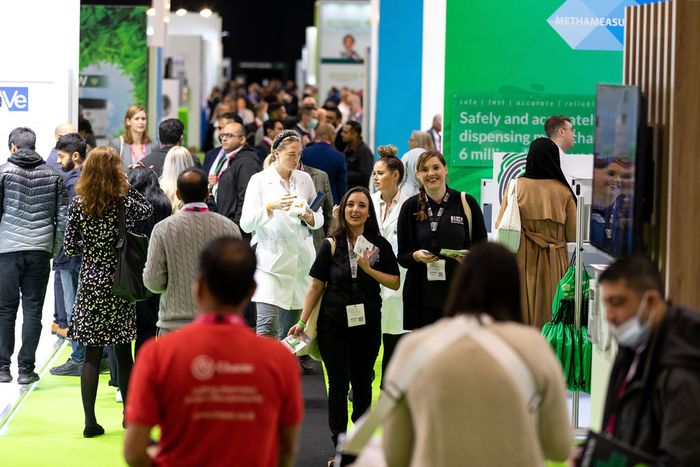 LONDON, UNITED KINGDOM: 19-October 2021 – The Pharmacy Show was back in action last month. The national event supporting the pharmacy industry in the UK was back at the NEC, Birmingham on 17-18 October, reuniting 6484 visitors, 254 exhibitors and 160 speakers across two days.
As the first major get-together for the profession in two years, and the only one taking place this year, the event offered inspiring new content, training courses and helpful resources for improving patient care, discovering new innovations, and for the business of running a pharmacy.
'After 2 years we are finally back – and it has been absolutely amazing. Seeing the smiles and faces of visitors and exhibitors has made this day truly special. It has been a journey to get here and the power of face to face is so important for our clients. The feedback I have received has been astonishing', said Garry Tyson, Event Director for the Pharmacy Show.
Lindsey Fairbrother, Superintendent Pharmacist & Owner, Good Life Pharmacy, Derbyshire mentioned: 'After so long away, because of the pandemic, it's just great to be able to catch up with some friends. It's also brilliant to be inspired by other people, to find out new things that are happening in pharmacy, and it gives us all a bit of that love back that we've been missing because we just haven't been able to catch up.'The feedback from exhibitors was hugely positive – with businesses reporting two extremely successful days of business and networking. They were delighted to be back at an in-person event networking with customers, building new relationships and showcasing new products and services. Products covered a variety of categories such as OTC, automatic dispensing, skincare, pharmacy software, education and training and natural products to wholesalers, distributors, and pharmaceutical manufacturers.
'Everyone at Pharmadoctor was pleased to be back at The Pharmacy Show this year. After the enforced break of two years, the event was a great opportunity for us to see some familiar faces and catch up with our partner pharmacists and organisations, as well as meet potential new clients. We find that the show always offers an interesting insight into industry changes and trends and, as a digital health company, it's extremely valuable to be able to meet with those who are also working with technology to aid and enhance the work that goes on in pharmacies across the UK. The return on investment is very good and we would thoroughly recommend exhibiting at the show', said Patrick Morgan, Business Development Director, Pharmadoctor.
Every year, the Pharmacy Show features a comprehensive speaker programme. Attendees were able to choose from 125 sessions of high-quality content to earn their CPD points and take-home practical, relevant insights to grow their practices, enhance patient care, and much more. Topics ranged from COVID-19, leadership, career development, national and local representation and workforce development to the future of pharmacy. In addition, the annual AIMp conference was hosted in line with the event as well as the Flu Jab and COVID-19 vaccination training delivered by RX Advisor.
'It's lovely to be here again, it's great to see lots of pharmacies and their teams and being able to network and learn from each other. It's always a pleasure to be at the Pharmacy Show, and I look forward to doing this for many, many years to come', said, Olutayo Arikawe, Superintendent Pharmacist, Priory Community Pharmacy, Dudley.
Richard Thomas, Editor at the Pharmacy Magazine added: 'Absolutely delighted to be back at the Pharmacy Show after two years. People have really missed coming together and catching up with their colleagues and their friends and digging into the weeds of what's happening in pharmacy now. The Pharmacy Show enables the pharmacy family to come together to do that. You don't get that many opportunities during the year to take time out of busy businesses and practices, so I'm delighted that we're back, it's been a long two years.'
The Pharmacy Show will return to the NEC, Birmingham on the 16-17 October 2022, with world-class conference sessions, an array of exhibitors, and more opportunities to explore the latest industry updates. For more information or to get involved in next year's event, visit pharmacyshow.co.uk.
[ends]