07 Jul 2021
The ProVen difference in friendly bacteria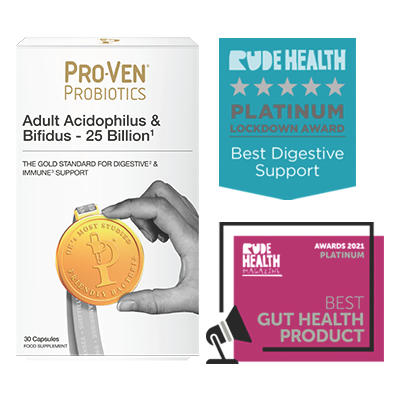 ProVen Probiotics was established in 2012 by Dr Nigel Plummer to bring gold standard clinically-researched friendly bacteria products to the general public at an affordable price.
The ProVen difference
There are so many brands of friendly bacteria, it can be confusing for customers to know which brand to trust with their health.
With this in mind, Dr Plummer, who is managing director of Cultech Ltd (a global supplement manufacturer) and a world-renowned expert in probiotics, developed the ProVen Probiotics range based on five key benefits:
All the probiotic strains used in the products are backed by extensive research, including more than 20 clinical trials.
The bacteria, the research and the products are all developed in the UK by a team of experts and scientists, some of whom have been involved in the probiotics industry for over 30 years.
Each product is developed with a specific end-user or need in mind and the probiotic strains are combined with other nutrients where this is deemed efficacious.
ProVen Probiotics are manufactured using proprietary techniques known as TriPhase and StabilityMax, which ensure stability of the bacteria when combined with other nutrients and combine airtight packaging and 'overage' of bacteria to guarantee the bacteria count to the end of the 18-month shelf-life at room temperature
Being owned by the manufacturer of both the bacteria strains and the end product ensures that ProVen Probiotics offer value for money.
The ProVen background
Dr Plummer produced his first human probiotic in 1994 and following another five years studying study this field, he and his team identified a blend of four probiotic strains, named Lab4.
Following a number of successful clinical trials, Lab4 was sold to existing probiotics retailers around the world for use in their products. Based upon this success, in 2012, Dr Plummer launched the ProVen Probiotics brand to take the Lab4 consortia direct to the general public.
Dr Plummer's primary objective has always been to show people the evidence that probiotics really do work and benefit family health. Despite the fact that the Lab4 consortium was already being sold in the UK, he felt that the general public lacked awareness of probiotics in general and the research-backed Lab4 consortia in particular.
To support this objective, Dr Plummer has a team of more than 15 research scientists working at our headquarters in South Wales, who manage two or three major research projects at any one time. To date, this team has published more than 20 clinical research studies.
The ProVen values
Being the manufacturer means that ProVen Probiotics can bring products to market more quickly, at a lower cost to the end customer and containing the formulations used in the Lab4 clinical research studies.
Integrity and trust are the two primary values of the ProVen Probiotics brand, which is committed to producing gold standard research to develop evidence-based products.
All clinical research involves double-blind, placebo-controlled studies, which are based on prior in vitro and in vivo research and a clear understanding of the objectives and we are increasingly investigating secondary outcomes as part of each project.
The latest research project focused on weight loss and is based on more than five years of work, involving in-vitro, in-vivo and clinical trials. The first clinical trial also studied changes in upper respiratory tract infections and quality of life. The second clinical trial focused on weight loss in a key group identified in the first study – those over 45 years of age and overweight (not obese).
The ProVen products
We have two different approaches to product development at ProVen Probiotics. The first is to base a product on the formulation used in our clinical research as we have in our Adult Acidophilus & Bifidus-25 Billion, ProVen Fit for School chewable tablets, the ProVen pregnancy and baby products and our latest product, 50 Billion-ShapeLine.
ProVen Adult-25 Billion is our flagship product used in many of our clinical trials – including the studies into irritable bowel syndrome and the use of Lab4 probiotics alongside antibiotics.
Fit for School contains 12.5 billion Lab4 probiotics with vitamin C and is the product used in our two ProChild trials, the second of which will be published later this year.
Our pregnancy and baby products all contain 10 billion colony-forming-units (CFUs) – the level used in our Swansea Baby Trial which involved more than 450 mother-baby pairs.
50 Billion-ShapeLine contains 50 billion Lab4P bacteria, which comprises the Lab4 consortium with Lactobacillus plantarum and is the same blend used in our two weight loss studies
The second approach to product development is to identify a market need and to launch a product that entrains our research and combines our Lab4 bacteria with other nutrients that also benefit from research supporting their use for the specific market need identified.
Examples of these products include ProVen Acidophilus & Bifidus with Digestive Enzymes, ProVen Women's Lactobacillus & Bifidus with Cranberry and ProVen Adult Acidophilus & Bifidus-50 Billion.