07 Jul 2021
The Science of CBD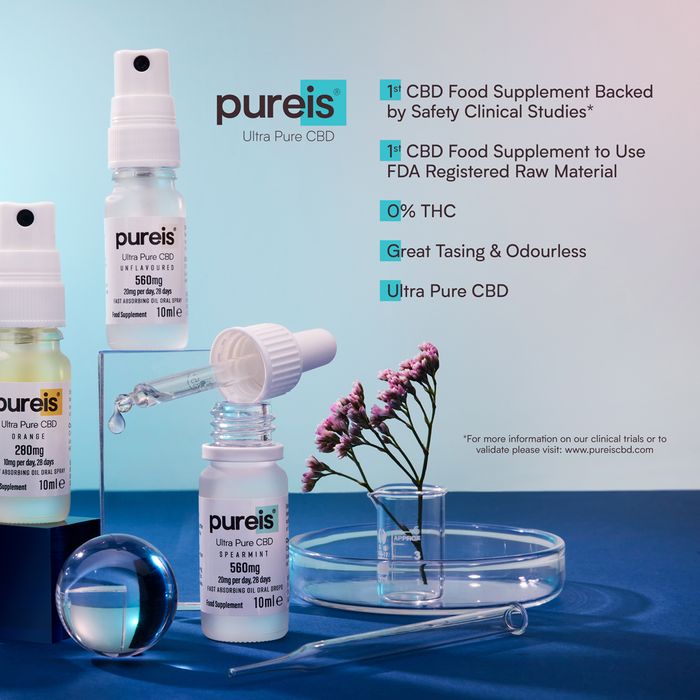 Pureis® is an Ultra Pure CBD, as it contains CBD and nothing else. Their product is derived from natural sources to mimic the DNA of the plant CBD. This guarantees NO pollutants, toxins, terpenes, heavy metals, pesticides and other cannabinoids that can occur naturally in the plant. They are the 1st CBD food supplement to use FDA registered raw material. With 0% THC, their products do not cause a 'high' and is non addictive. It is simply just pure CBD.
With health and wellbeing at the forefront of people's minds, Cannabidiol (CBD) food supplements are increasingly becoming a staple in many daily routines. A report published in 2019 projected the UK CBD market to hit £526 million in 2021, the sector is now expected to generate £690m in annual sales for this year.(1) It is becoming clear that CBD is not just a passing trend with millennials but is consumed across a range of age groups and used for a variety of ailments.
What is CBD?
CBD is short for Cannabidiol a chemical compound found within the cannabis plant; containing over 545 chemical entities of which more than 113 of them are cannabinoid compounds. Cannabis has suffered much bad press due to the psychotropic effects of the cannabis extract of tetrahydrocannabinol (THC). However, as science has evolved, we are able to now isolate other therapeutic constitutes of the cannabis plant such as CBD.
How does it work?
CBD binds with cannabinoid receptors found within the body's internal Endocannabinoid System (ECS). Our ECS maintains homeostasis and immunoregulation and plays a crucial role in regulating our mood, memory, energy levels, immune activity, blood pressure, bone density, glucose metabolism, pain, sleep and much more.
The market is changing
The implementation of EU and UK Novel Food regulations (which are stringent regulations to demonstrate clinical safety) is a positive step in the right direction for the CBD market, as it aims to provide consumers with the necessary reassurance that they are receiving, high quality, fully certified CBD products. To achieve a license, CBD companies are now required to undergo extensive analytical and clinical safety studies, ensuring products are safe to use and compliant.
Pureis® Ultra Pure CBD developed by Chanelle McCoy Health is the 1st company to receive dual validation with European Food Safety Authority (EFSA) and Food Standards Agency (FSA) UK. Pureis® is the 1st to appear on the FSA's list of CBD companies to remain on the market. CBD brands without a validated application will be removed from the UK market. Chanelle McCoy Health has already completed a full suite of clinical studies equivalent to phase I toxicology studies similar to what would be required for a new drug application.
Developed by pharmaceutical trailblazers, Chanelle Lady McCoy, and Caroline Glynn both with extensive experience in the pharmaceutical industry, meant they were highly competent when navigating the regulatory hurdles when compiling the data necessary for a Novel Food License application.
Backed by Science
Committed to providing a high quality, effective and safe products Pureis® to date have invested in excess of £1.5 million to conduct clinical studies and are currently initiating Phase II clinical trials for insomnia. These studies are supported by Pureis® consumers from a recent survey showing before and after Pureis® intake.
Graph 1. Assessment of quality of sleep before taking Pureis®
Graph 2. Assessment of quality of sleep after taking Pureis®
No participating respondents received any incentive or gratuity to take part in the survey.
The survey results forms that of the views, thoughts, and opinions expressed belong solely to the participants.
Pureis® CBD Key Facts*:
1st CBD food supplement backed by clinical studies: The results of a single dose and repeated dose studies show that Pureis® CBD was well tolerated after repeat dose in a sub chronic exposure.
Specially formulated to maximise bioavailability:

Our specialised capsules are acid-resistant to protect Pureis® from gastric degradation
Our liquid range uses MCT oil which helps Pureis® avoid the 1st pass metabolism.
0% THC, meaning it does have psychotropic effects and is not addictive.
1st CBD food supplement to use FDA registered raw material.
Great tasting and odourless. By working with the very best ingredients, we pride ourselves on great tasting products, as cannabis derived CBD is generally known to be bitter tasting and unpalatable.
100% Pure CBD, free from toxins and pollutants.
CBD is World-Anti Doping Agency (WADA) approved.
Suitable for vegans and gluten free.
Manufactured under Good Manufacturing Practice (GMP) & MHRA.
Pureis® is the 1st CBD food supplement in the world to receive dual validation from EFSA and FSA UK.
Packaging includes braille and ASMR appeal.
Start to feel the effects from 2-6 days. For maximum results take every day for at least a month.
To find out more information please visit: www.pureiscbd.com
1 Green shoots: sowing the seeds of the new UK cannabinoid market; associate for the cannabinoid industry
2 Ye L,et al.. New Insights in Cannabinoid Receptor Structure and Signaling
3 McGeoghie (2019), Gijsbrechts (2020), De Jong (2020), Eurlings (2020), McGeoghie (2020)