02 Oct 2023
Unlocking Growth for UK Pharmacies with Sharia-Compliant Pharmacy Finance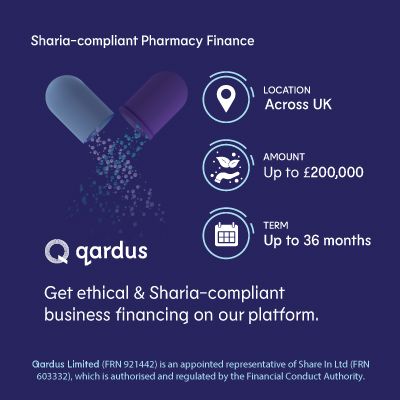 In the UK, Muslim-owned pharmacies have faced a unique challenge when it comes to securing Sharia-compliant financing for their growth initiatives. Qardus solves this problem by offering Sharia-compliant business financing to pharmacies and healthcare businesses.
Qardus, an FCA-regulated alternative financing provider, that specializes in healthcare funding solutions tailored to pharmacies across the UK. Our goal is to allow pharmacies to access business financing for working capital and expansion without compromising on their ethics and beliefs.
What is Islamic Finance?
Islamic finance offers an alternative approach to funding that adheres to Islamic principles. A core principle of this is the prohibition of interest payments, as well as the avoidance of financial activities that cause harm. Islamic finance aligns strongly with ethical and sustainable business practices as well as Environmental, Social, and Governance (ESG) considerations.
If the financial institution doesn't charge interest, how does it make money?
Rather than relying on interest charges, Islamic financial institutions generate profits through contracts permitted by Sharia law. These transactions are linked to real economic transactions and often involve sales, leasing, and partnership arrangements with clients to fulfill their various funding needs.
Is Islamic finance only available to Muslims?
It's important to note that Islamic finance is available to businesses and individuals of all backgrounds, regardless of faith. Its appeal extends to anyone seeking ethical and viable financial solutions.
What types of businesses does Qardus finance?
Qardus provides financing to pharmacies and other healthcare businesses that meet the following criteria:
Registered as a limited liability company in the UK
A minimum trading history of 2 years
No County Court Judgments
Stable cash flows

How can your business use the Qardus financing facility?
Your Qardus facility can be used for many purposes including:
Improving cash flow
Finance new inventory
Upgrading systems/ improvements
Facilitate pharmacy acquisitions
Repay other loans or creditors
Loan Amounts and Terms:
We offer business finance ranging from £50,000 to £200,000, with terms from 6 to 36 months. Our facility requires a Personal Guarantee (PG) as the only security, streamlining the financing process and eliminating the need for fixed assets as collateral. This approach removes barriers to growth for businesses operating in the asset-light service economy of the UK.
Recent Pharmacy Testimonials
"I had the pleasure of meeting Qardus at the 2022 Pharmacy Exhibition and was impressed with their sharia-compliant lending services. As a pharmacy business, we were in need of additional funds to expand our operations, and Qardus came through for us. Their team was highly professional and provided us with the support we needed to secure the funding we required. The process was very smooth and the team were brilliant with communication". Imraz Ashraf, ExpressMeds Limited
"I couldn't be happier with the experience. The team is knowledgeable, professional and most importantly, Qardus offers Sharia-compliant financing. Their process was smooth and the funds were received in a timely manner. I highly recommend Qardus to any business looking for a responsible and ethical financing solution". Zaakir Badat, AYP Healthcare Ltd
"I am very happy with the financing I received from Qardus to expand my pharmacy business. The process was smooth and efficient, and the team was very helpful in answering all of my questions. The funds have already made a significant impact on my business, and I am confident that this investment will pay off in the long run. I highly recommend Qardus to any small business owner looking for Islamic finance to grow their business". Zahid Patel, ZS Pharma Ltd
"We're pleased with the financing service provided by Qardus. Very professional and the process was quick and seamless. Highly recommend Qardus to other businesses seeking Islamic financing". Adeel Rehman, Stamchem Ltd
It was great working with Qardus for a second time to raise this working capital facility. The additional funding will help support stock control to service the high demand we are currently experiencing. Thank you for making the process from end to end seamless and straightforward, we highly appreciate it. Shahid Khan, One Dose Limited
You can contact us by filling out a simple and quick online application form
here
or calling us on 020 3997 4757. You can also learn more about how we support healthcare businesses
here
.