06 Apr 2022
Welcome to NORA profile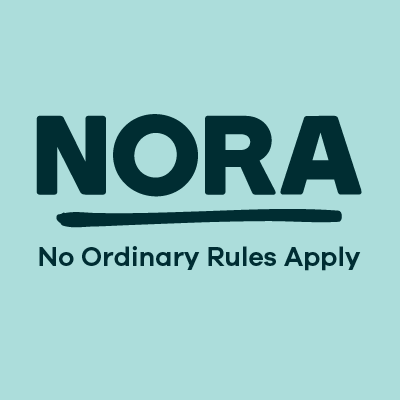 Profile'
Launching in June 2022, NORA is a new brand of reusable period wear products. NORA appeals to the growing eco-minded and planet-friendly consumers determined to switch from disposables to reusables helping cut back on thousands of tons of waste being sent to landfill each year. This waste problem, along with concern about the chemicals found in throwaway pads and tampons, has ensured that the NORA products are made from Oeko-tex certified fabrics ensuring they contain no harmful chemicals.'
NORA promises a movement for change in how we treat the planet and how we treat one another. A range of reusable liners and pads, period cups and period pants, this modern brand fosters a community who believes in uniqueness and individuality regardless of gender, age, ethnicity, or sexuality.
Frugi CEO Sarah Clark comments, 'We are excited and poised to introduce NORA to a young and passionate audience who not only care about our planet but also about gender equality and other relevant social issues today.'' NORA reusable period wear is ethically and sustainably produced and the launch communications will address the purchase barriers to this category - ensuring comfort, high performance, hygiene and convenience.''
NORA ' turning your cycle full cycle.'
'
Background'
NORA was created after we found that the on average 10-15,000 period products are used in a lifetime.' Any disposable period products end up in landfill, taking 500 years to decompose.' On top of that, the manufacturing processes of these disposable products uses chemicals like resin, binders and bleaching agents'
We have been making reusable products for over 20 years, and we are part of TotsBots Ltd, which started as a family business in 2000.'' The business was built up from a kitchen table in Glasgow, Scotland when Fiona Smyth, with concerns about the environment and harmful chemicals in disposable nappies designed washable, reusable nappies for her new-born baby girl.''
We are now building on this innovation and success with the launch of NORA - where No Ordinary Rules Apply - is launching June 2022.'
'
'
NORA breaks the negative cycle, creating a reusable and sustainable solution for period wear.'
Our reusable period wear offers the solution for people who want their periods to be chemical-free and future-friendly. Our teams have worked relentlessly to create our range, the results. Our products are comfy, chemical-free and result in fewer disposables going into landfills. Turning cycles full circle, its period wear you throw in the wash.'
Whether customers are buying reusable or disposable period wear they're always looking for comfort and performance.' Comfort is the key driver of period wear and customers are open to being convinced that reusable pads will be more comfortable than disposable sanitary towels.' No one wants to be let down by their period wear, ensuring absorbency, hygiene and odour is key.'''
We were the first brand in the UK to use recycled plastic waste to make the waterproof PUL, that is used for our reusable period pads and bags. We have been designing & crafting reusable period pads since 2015.'''
Our business is built on the principles of high performance, sustainability, ethical production, and consumer education.' We are also passionate about Period Poverty & the wellbeing of our user.'Since 2019 we have been the sole providers of reusable period pads for the Dept of Education free period product scheme.' In partnership with PHS, the scheme provides free period products to schools & education organisations in England.'
'
We offer a full range or reusable period wear:'''
NORA Daily Liner ' for everyday use and holds up to 15ml''
NORA Pad - Light ' for lighter days and holds 15ml'
NORA Pad ' Moderate for day wear and holds 25ml'
NORA Pad ' Heavy for heavier day/night and holds 60ml''
NORA Pad ' Maxi for maximum protection anytime and holds 85ml''
NORA Period Pants ' in 3 styles, Classic Bikini, Short and Full Brief.' Ranging from Light to Heavy across the 3 styles'
NORA Menstrual cups ' which come in two sizes and its own storage bag'
We use only the highest quality and most sustainable materials.'' Our pads are made with recycled polyester giving a waterproof layer to protect.' We use stay dry, stain repellent polyester in the core fabric and its unique honeycomb fabric allows for maximum absorbency and is super soft.'
When tested in lab conditions, results show our pads had a 99.55% reduction in bacterial growth. The addition of ionised bamboo charcoal to our polyester honeycomb fabric means that most bacteria will be neutralized along with 95% odour reduction
Our pads come in a range of different sizes and are contoured shaped to fit naturally and compliment the body.' We have a unique stay dry binding offering maximum protection against leakage and our largest pads can hold up to 8 tampons of absorbency.
The pads are held in place, comfortably against the body with secure poppers, for wearer confidence and gives complete comfort.'
Our Period pants are made with 95% organic cotton for comfort and 5% elastane adds stretch for a perfect fit.' We use polyester one-way wicking to keep moisture away from the skin and the inner has a polyester/polyamide blended super absorbent towelling for leakage protection. Our Full Brief can hold up to 75ml which is equivalent to 7 super tampons and can be confidently worn all day.''
The pricing of our reusable pads starts at '6.95 and goes up to '10.95 depending on the pad size and absorbency.' Our period pants are priced from '15.95 for the Classic Bikini and Short and from '19.95 for the Full Brief. Our menstrual cups are priced at '19.95.' We also sell Nora Try me Pad Packs, for customers who are new to these products, giving great quality at an affordable price.'
NORA is made at our factory in Glasgow and employ over 70 people in Glasgow, and the pants are made in Sri Lanka by a lingerie specialist manufacturer.' We are owned by sustainable children's clothing brand Frugi.'' With 20+ years in business, we turnover +'4m with investment in place to allow for our ambitious growth plans.' We sell direct to consumer and via Trade in the UK and distribute to over 19 countries worldwide.'
We are passionate and proud of our product range and are excited about the opportunity to showcasing our products at The Pharmacy Show in October and look forward to meeting you all at our stand.'''''
'