08 Mar 2021
Women in Leadership, An Interview with Liz Fidler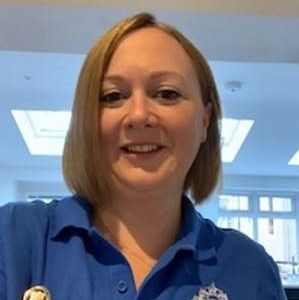 Tell us a bit about your journey so far?
I knew then that I wanted a career where I could make a difference, where no day would be the same. My journey in pharmacy started with some work experience. The school's careers advisor pointed me in the direction of nursing, I am not great with blood so quickly advised them that path was not for me! University was not an option for me and with the encouragement of a supportive pharmacist I began my career at the front of the pharmacy and my journey to be a pharmacy technician began.
After many happy years in community pharmacy, with wide ranging roles including supporting residential homes, I wanted to gain more experience in different sectors, so I drafted an advert and sent it into hospital pharmacies in my area.
Many wanted me to apply for 'student' posts as they were then, not recognising my qualifications or experience, I held out and got my first rotational MTO2 pharmacy technician job. From there I decided to seize every opportunity offered and work in as many rotations as I could. I fondly look back on my 7am starts working with the Radio pharmacy team (the time I had to leave to catch 2 buses and a train to get there, not so much!) working as part of a multidisciplinary team taught me lots about respecting each other's skills and expertise.
Throughout my early career I recognised the value of good education and worked in departments where I felt comfortable to ask the 'why' questions! Why can't I do that? I quickly learnt that with the right support and encouragement the opportunities available to pharmacy technicians were within reach and we as a profession needed to ask the questions and demonstrate what we can do.
I decided to move on, gather different experiences and took roles in Dispensary Management (not my cup of tea, but hats off to those that do that critical fabulous job) education and mental health, after jobs at Guys and St Thomas' and South London and Maudsley I then went for job at the Strategic Health Authority as lead Education and Training Pharmacy Technician.
This evolved over the years and my career took me to Interim Pharmacy Dean for Health Education England working across London and the South East. Working closely with medical education and Deaneries supporting Quality infrastructures, qualification development, Supervisor training and support for trainees requiring additional support.
Education and Workforce development are my passion, and roles over the last decade have been in this area. I am proud to have been involved or led some strategic pieces of work all with the goal of supporting the pharmacy technician with being the best it can be.
I currently work in a multi professional role as Associate Dean for Quality with Health Education England, this role provides me with the opportunity to engage with a range of regulators, education leads, system leaders, students, trainees, learners from all healthcare professions and roles. Ensuring and supporting the system with educational standards to ensure clinical placements are safe and effective. Quality improvement is at the heart of what I do, and my pharmacy technician roots are never far away! I often will still ask those 'why' questions and advocate for wider inclusion and representation during any discussions around workforce. When the role was advertised, I asked if it was open to anyone that held a professional registration rather than a specific one…. I was delighted when I was appointed and really enjoy working as part of a multiprofessional HEE and Deanery senior team. We can learn so much from each other.
The role has enabled me to get a broader sense of healthcare and education.
Along the way I have attended University (finally) albeit part time and in addition to my PGCert in Education I am currently working my way through and Executive Masters in Business Administration (Public Services).
Alongside substantive roles I am the current President of the Association of Pharmacy Technicians UK (APTUK) and that is a lovely link into the next question....
What is your biggest achievement?
On the 9th of February 2019, I took up post as the President of APTUK. Working with a highly dedicated group of voluntary professionals, we have been working tirelessly to raise the profile of the pharmacy technician profession and champion the roles undertaken. The pandemic paused some of our strategic plans, but I am so proud of what we have achieved. I look back on the last 2 years in post and being President during a pandemic is not what anyone would wish for, but I have never been prouder of how the profession has progressed and the role I play representing it. I have had to pinch myself on a few occasions like when I received a letter from the Secretary of State for Health and Social Care. The opportunity to present at roundtables, articulating the role the profession can lead and what enablers we need to continue progressing, were never part of a career plan, but I guess if you ask 'Why, why not or How?' enough times you must start thinking about providing solutions and stepping up.
What piece of advice would you give your younger self?
I would say: Stop worrying about what others think and go for it! I do not mean that in a disrespectful way as its important to demonstrate empathy and understand where others may be coming from, but I have learnt that it is not helpful to overthink or assume so going to add another 'Don't ask, don't get'. I am often uncomfortable when asking for things that directly impact me but very comfortable to ask on behalf of the profession! There have been a few personal missed opportunities on the way as I was not quite brave enough. All learning and part of the journey and when I am mentoring others, I always encourage people to build their inner confidence. I may come across as quite confident, but I have to say I have worked very hard on that. Oh, and one final one, do something that challenges you! I do not think I will ever stop learning and enjoying working with groups of people to find solutions especially workforce ones that benefit patients.
What piece of advice would you like to give other women in the industry?
It is ok to be you! We are all unique human beings, and being you is great. Skills, expertise, and knowledge will all grow as your career progresses. But being true to your values and being yourself at work will enhance who you are and what you do.
Learn more about Liz Fidler and the incredible work that the Association of Pharmacy Technicians UK (APTUK) is doing at www.aptuk.org or follow them on Twitter at @APTUK1.