28 May 2020
Working as an ACP during COVID-19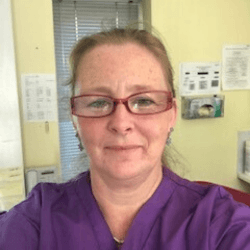 Tanya Walker was in touching distance of graduating as a rare breed of clinical pharmacist to qualify as an Advanced Clinical Practitioner when COVID struck.
While most of her post-graduate course at a London university could be finished online, she is unable to complete the vital OSCE assessment until January 2021 at the earliest, meaning she will be unable to practice as a fully-qualified ACP.
This hasn't stopped Tanya from working as a trainee ACP under supervision of a GP facilitator at her practice, the Albion Surgery in Bexley, London, part of the APL primary care network. She is taking on much of the routine work of fellow GPs, covering the full range of conditions, diagnosing, referring, ordering X-rays and blood tests.
"I am a generalist and I can now see anyone with any condition, apart from pregnant women and babies," she said.
Like her fellow GPs, she has lived through a technology revolution in general practice in response to COVID-19, quickly becoming confident about seeing patients via eConsult, an online consultation platform, or donning PPE to meet them face-to-face.
Tanya is a convert to video and other forms of online consultation, welcoming the fact it enables a much quicker turnaround of patients where appropriate and avoids unnecessary surgery visits.
"I think when I started, I was really quite scared and nervous about it. I had never done eConsult and I was concerned I would not have the information I needed and I was worried about not being able to physically examine patients. It was a very steep learning curve," Tanya admitted.
She now welcomes the opportunity to deal quickly and efficiently with patients by phone, text and video consultation for those who do not need to be seen in person, directing them to a pharmacist, for example, for eye drops for conjunctivitis. The system generates red flags for patients in advance of the consultation, providing her with a valuable safety net.
She is concerned that patients have not presented during the pandemic. "At the start what happened was that the general public went into a complete panic and prescription requests doubled over night. It was literally awful trying to process it all and being concerned that we wouldn't get through it. Also some people were seeking their medications in advance and then not collecting them anyway.
"Everything has calmed down nicely. The biggest thing is that people are reticent to have routine blood tests done, for example patients on blood pressure or thyroid medication."
"If and when it does come to an end there is going to be this big hill to climb over because all these people are going to present or worse still, they should have presented but something has happened to them. That is really quite worrying. I think there are a lot of people who are trying to stay home and pretend that everything is OK when it isn't.
She added: "I think there have been an awful lots of patients especially initially who were very grateful when we got in contact and sorted things out for them. We got an awful lot of patients saying thank you."
It doesn't stop there. In Tanya's street in Bexley, word got out on the neighbourhood WhatsApp Group that she is a key worker and families left chocolates and cards made by local children on her doorstep as a sign of appreciation. "It was very touching. It brought a tear to my eye when I came home. I think I'd had a really tough day," she confessed.
"I think people have been very grateful. I think they have realised how much we do and they appreciate it now."
Tanya registered as a community pharmacists in 1988 and switched to primary care four years ago as part of wave one of NHS England's GP pharmacist pilot scheme, along with six other community pharmacists in Bexley, including her husband, Jon, the senior pharmacist of the team. They all underwent 18 months of training with the CPPE (Centre for Pharmacy Post Graduate Education) to become clinical pharmacists and non-medical prescribers.
Eighteen months ago Tanya and Jon bit the bullet and enrolled in a university-run ACP course as two of only three pharmacists among a group of 40 students, the majority of them nurses.
Speaking of her decision to train as an ACP, she said: "It is very rewarding. It is an awful lot of hard work but I think it makes your life very interesting. I am very glad I did it but not to underestimate how much work it is. It is very much worthwhile doing. It is a natural progression really."
On the importance of clinical pharmacists working within PCNs, she said: "I think they are very important because where they are experts in medicines they complement what the doctor does very well. They come from two different directions and the combination of the two is much better for the patient."
She added: "Although perhaps initially some surgeries were like "do we need one?" once they have got a clinical pharmacist they will say they need more. It is all the extra things we can do and it is taking pressure off the doctor for all the routine things they don't actually need to do but they need somebody who is qualified to do it. It allows the doctor to get on with more complex things and more complex patients. I think it is a complementary role really and the surgeries that have got them have really benefited from them."
Her ambition beyond the pandemic and beyond graduating as an ACP, is to convert her post-graduate diploma into an MSC by completing two further modules.
Covid-19 may have delayed her career ambitions but it hasn't slowed her real-time learning or dented her passion for the job.